Baldwin Village — a cute neighbourhood where older homes have been remade into restaurants and stores lies Yunnan Noodle Shack. The location is close enough to Kensington Market and Chinatown that it receives their residual foot traffic, but far enough that it's not bustling with people and noise. "I choose this location because it's quiet, not on a main street where there is lots of competition. I think Baldwin street is full of history and culture," said co-owner and chef.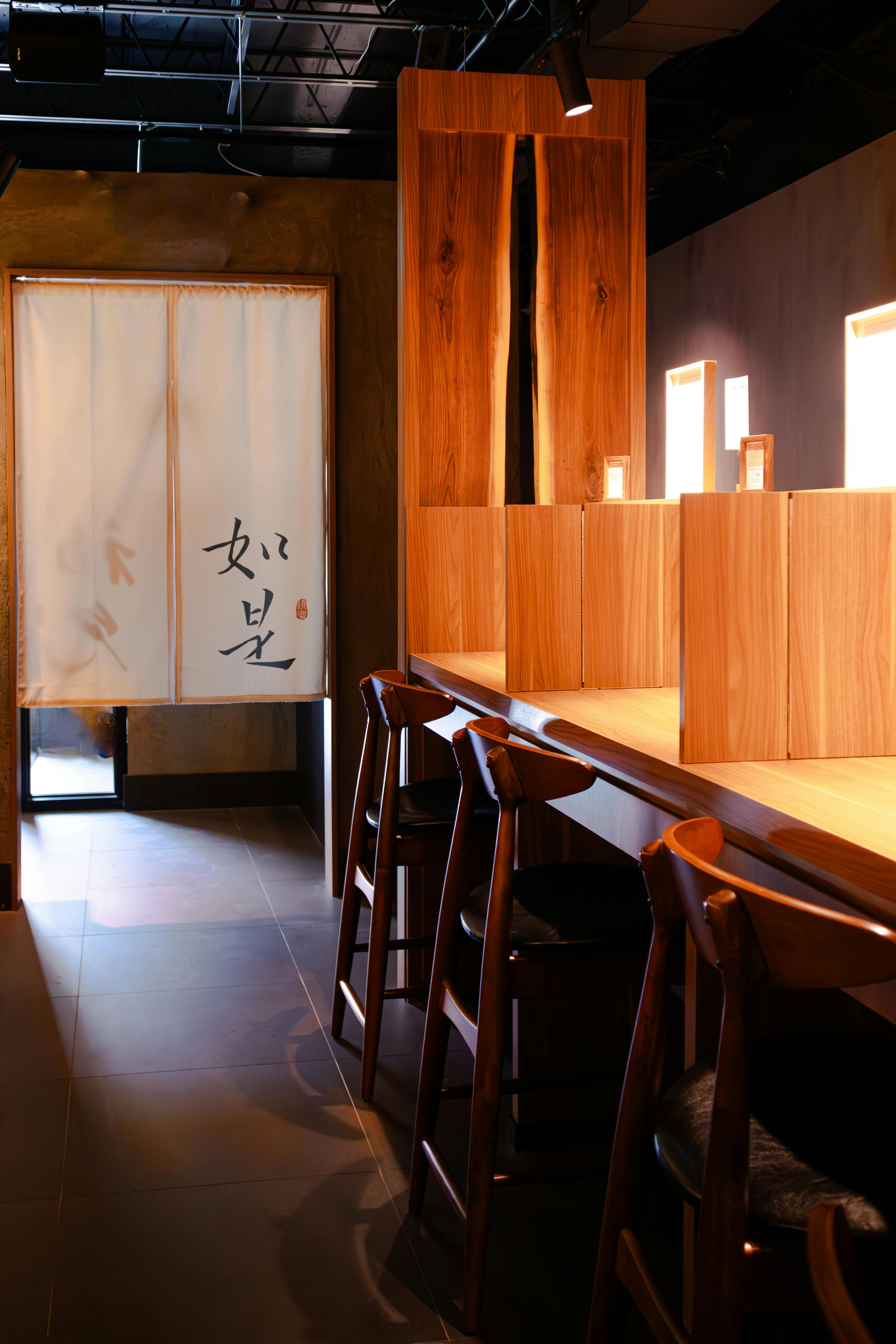 Yunnan Noodle Shack is the first solo dining restaurant in Toronto…or possibly in Ontario — a concept that is quite popular and socially acceptable in Japan. In Japan, eating alone is convenient. It's often a way to unwind after working late or sometimes you just don't feel like being social while eating. Whatever the reason, there are pros and cons to having a shared dining experience as well as a solo one.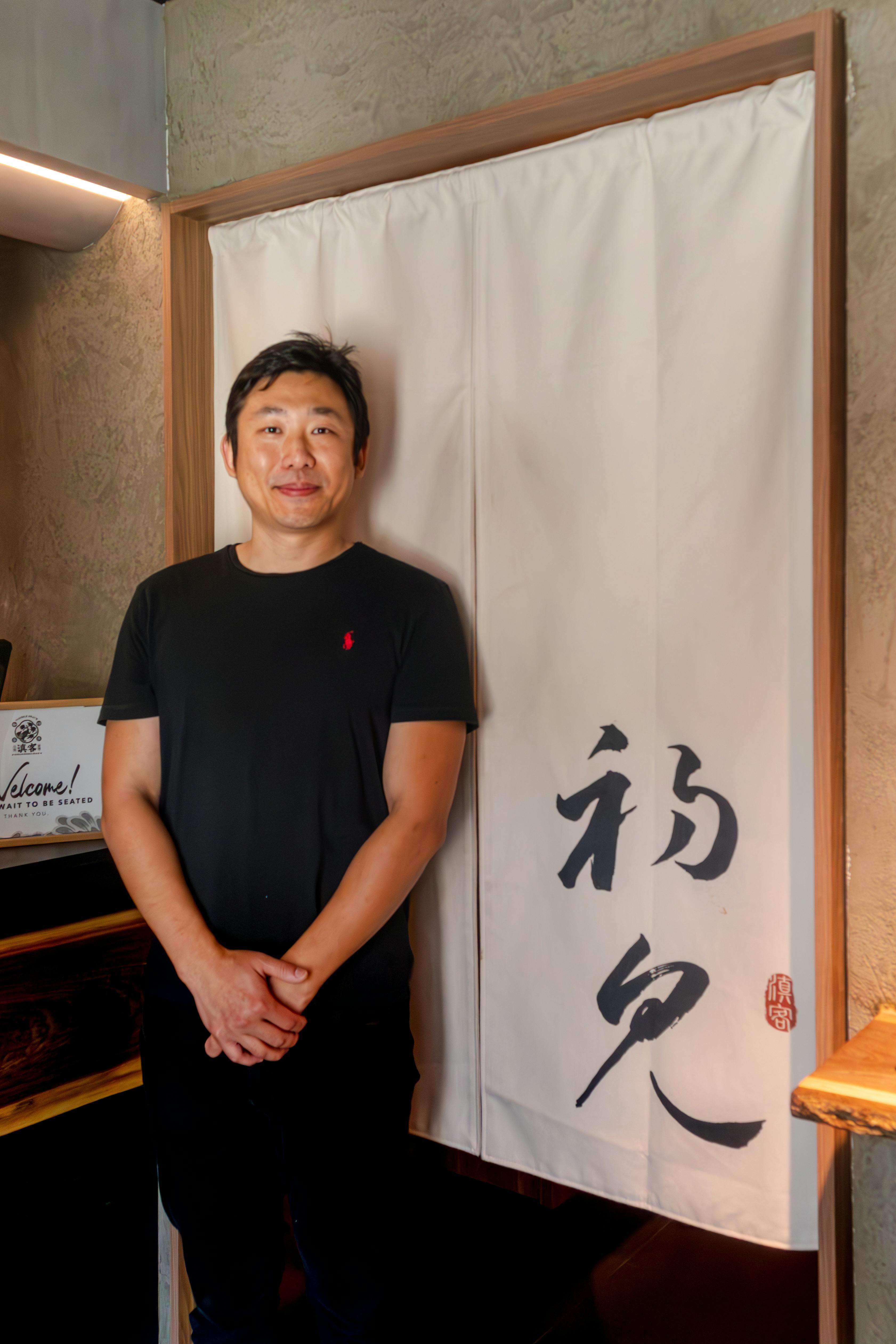 Husband and wife duo, Jane Yu and Andy Su, who are the owners and chefs wanted to bring the concept of eating alone to Toronto. Andy trained in Japan to learn how the table for one concept works, while he grew up in the province of Yunnan, China which is best known for its rice noodle dishes.
Everything in this space has been renovated. Andy said "we used the wabi-sabi style" which essentially means embracing simplicity and elegance. The restaurant is quite moody while Frank Sinatra plays in the background. "Personally, I really like jazz, it's calming." said Andy.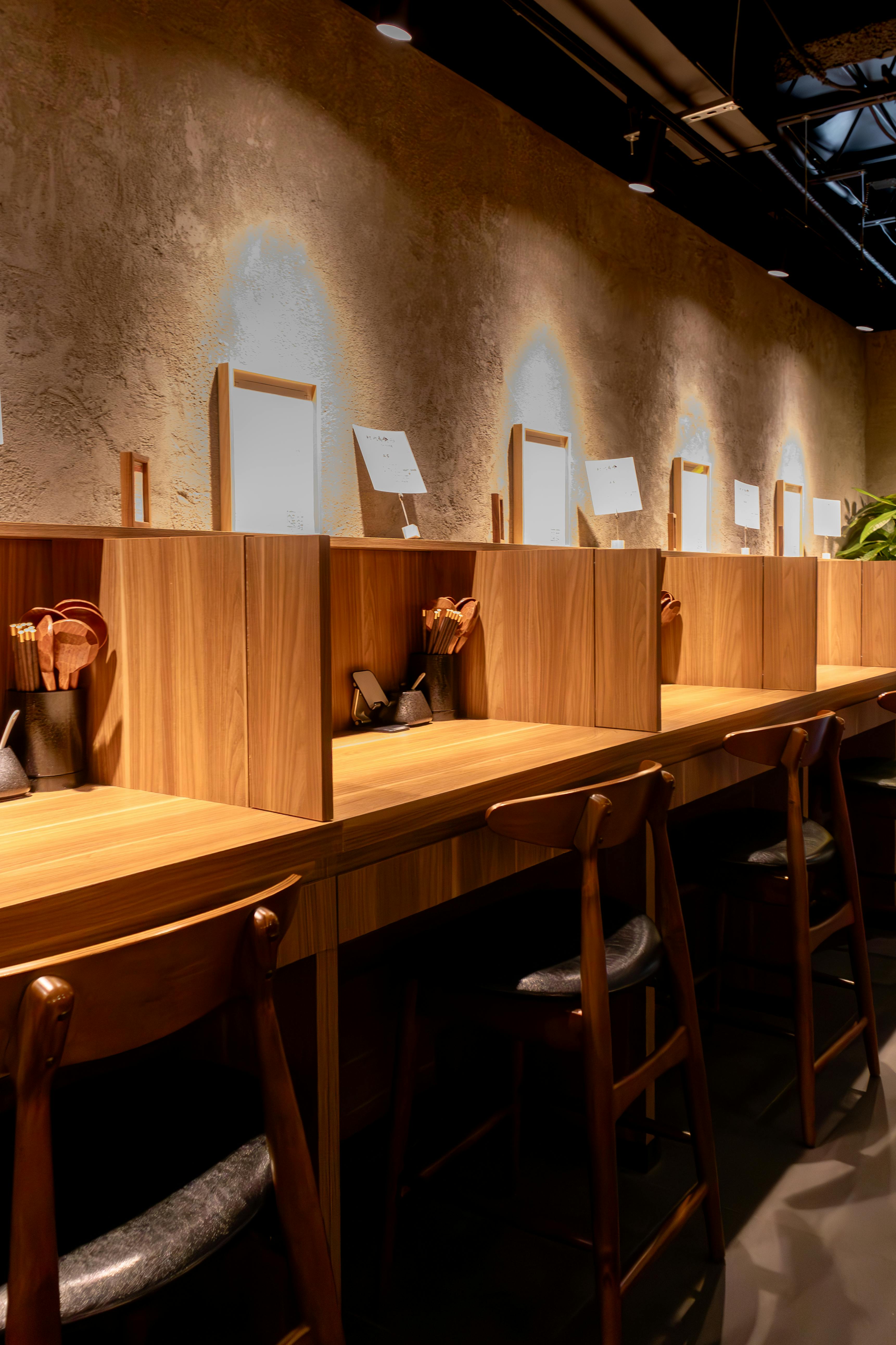 The space is designed with wooden dining stations that are reminiscent of traditional school desks with dividers. There are pull-out drawers for your things and a bracket to hold your phone. Ordering takes place through the QR code. Then there's a round button that has four essential mini buttons that take care of all your needs while you dine — "Bill," "Call," "Water" and "Cancel." "The whole time, you don't really see service," said Andy. This is a nice change from having waiters/waitresses come by too often, asking to take your plate away before you've finished eating.
The noodles are customized to the exact thickness and chewiness that Andy is used to enjoying in his hometown. "Actually, we're using the Ichiran ramen concept." The marinated vegetables are directly brought over from Yunnan as they are difficult to get here, while all the meats are sourced locally.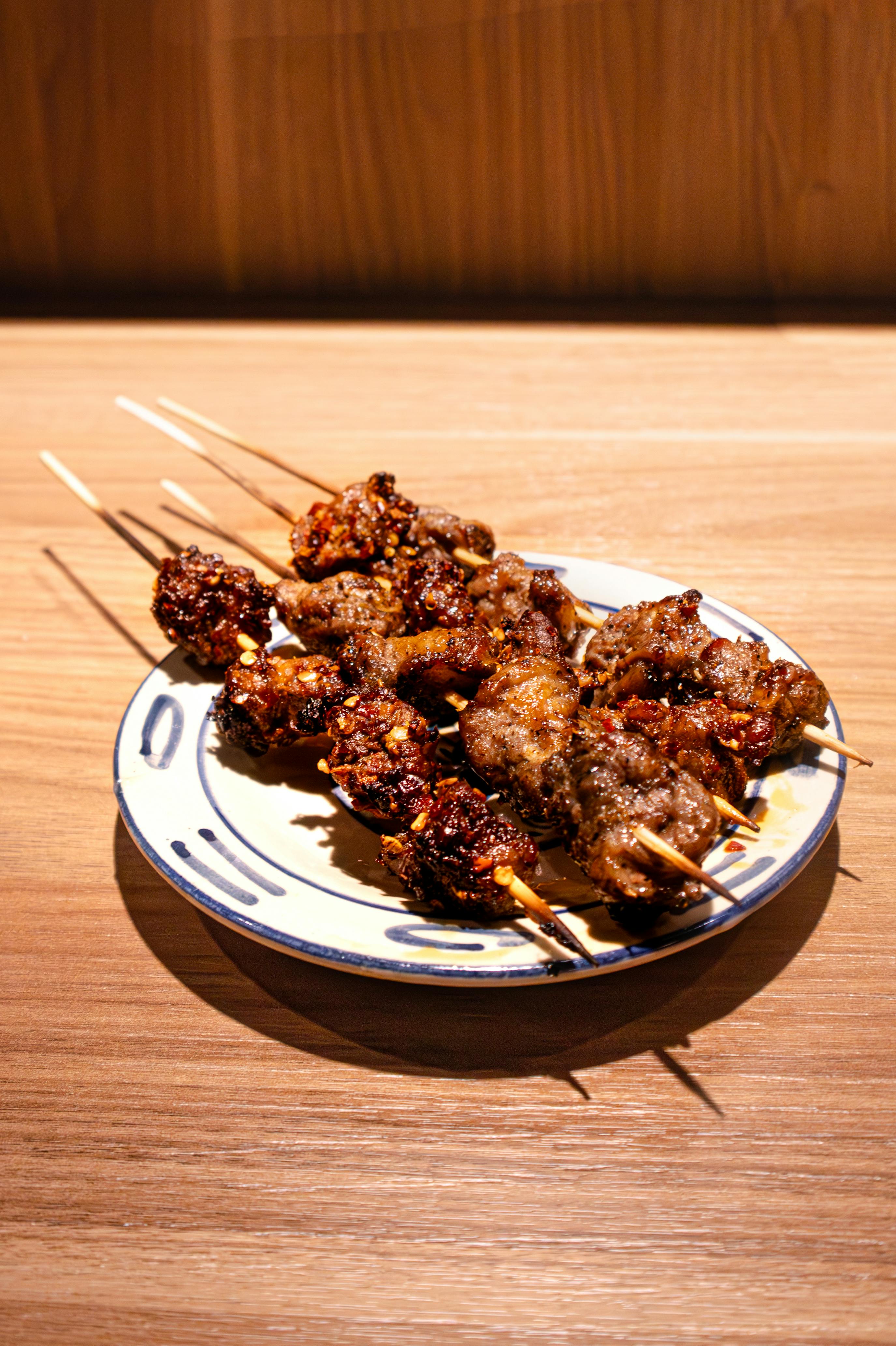 The Chilli Beef Skewers are marinated with Yunnan peppers. They're tender, juicy and have a kick to them because they come with numbing peppers. They're reminiscent of the delicious street food you'll find all over China. "All the peppers we use in our dishes is imported directly from Yunnan, China" said Andy.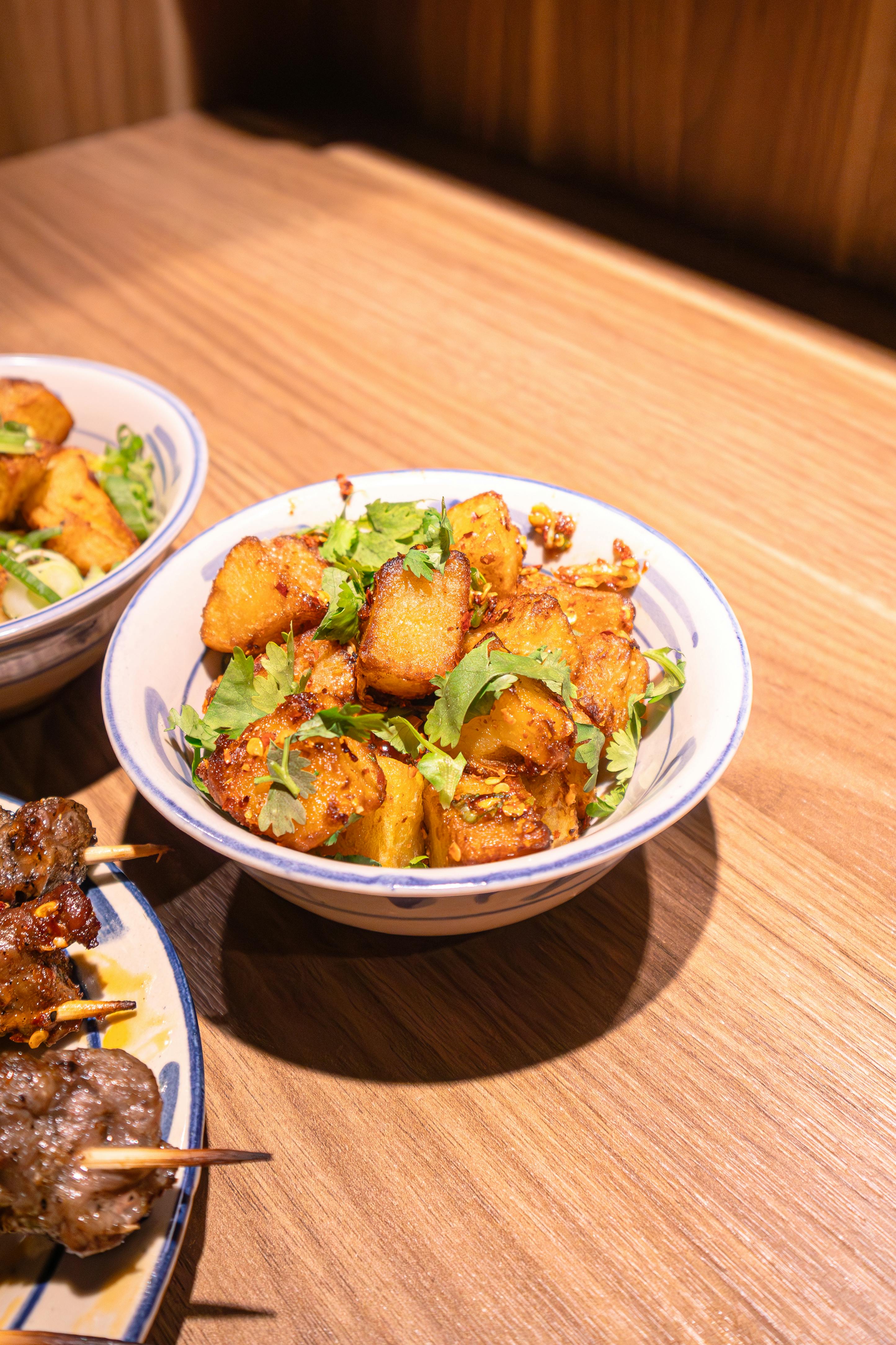 The Chilli Potatoes are chunky-cut potatoes seasoned with that same Sichuan numbing spice and their special secret blend. They're crispy on the outside, fluffy on the inside and served steamy hot as they should be. If you're into chilli crisp and potatoes, it's a must order. They also come in five spice.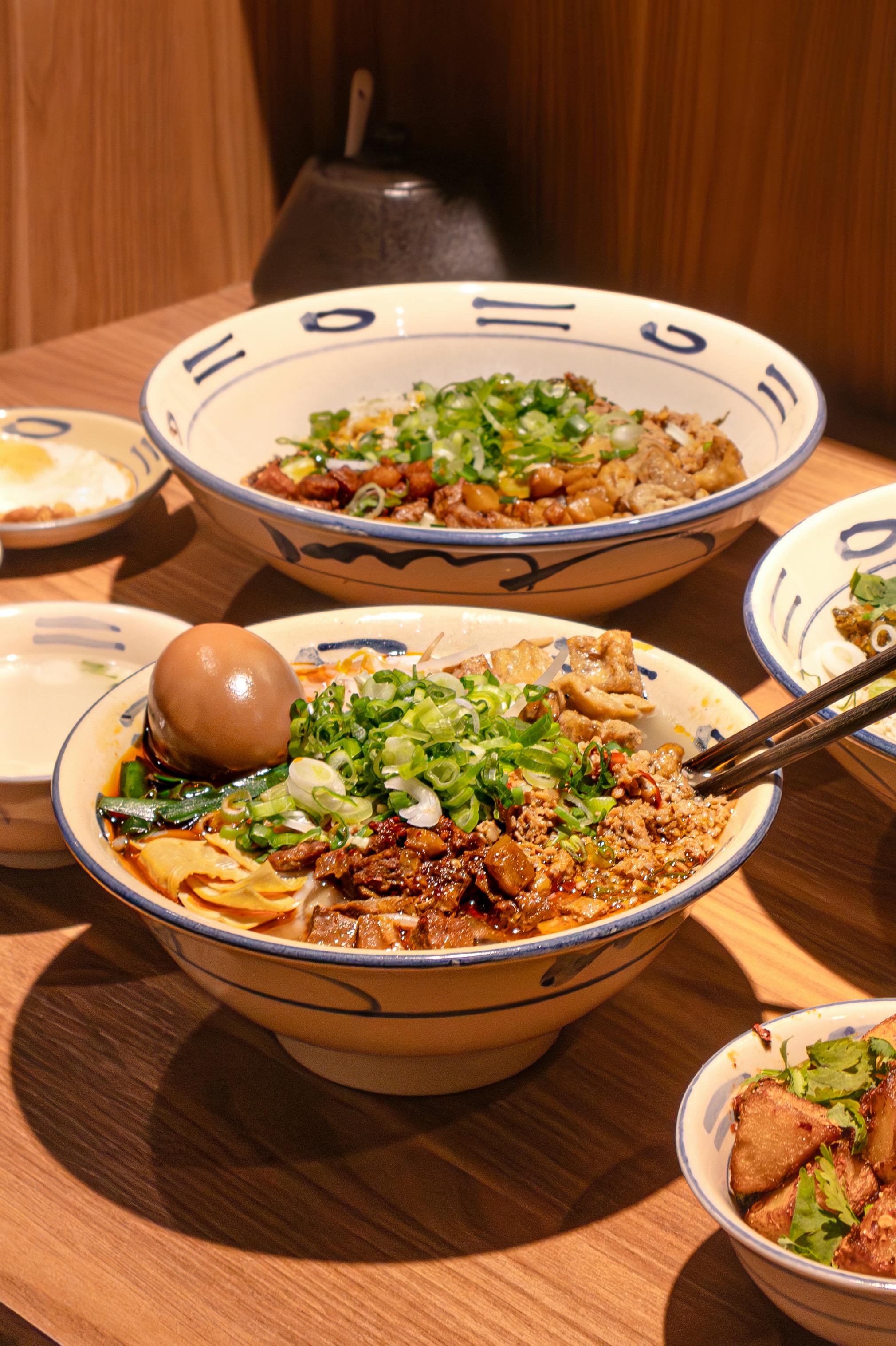 The Slow Cooked Garlic Pork Shoulder Rice Noodle includes the following toppings: braised pork, minced pork, braised tofu, Chinese chives, bean sprouts and bean curds. On the side, this dish come with a tea egg and in-house pickled cabbage. The broth is so comforting and flavourful with drops of chilli oil pooling together into little clusters. The light and slippery rice noodles are perfect for slurping. This is a meal made for any season.
The crunchy pickled cabbage is a nice change from the usual pickled ginger or cucumbers. Plus, it cuts through the heat from the spicy broth. This dish also comes with a clean, pork bone soup made in house every day that is simmered for eight hours. It's a nice palate cleanser between dishes.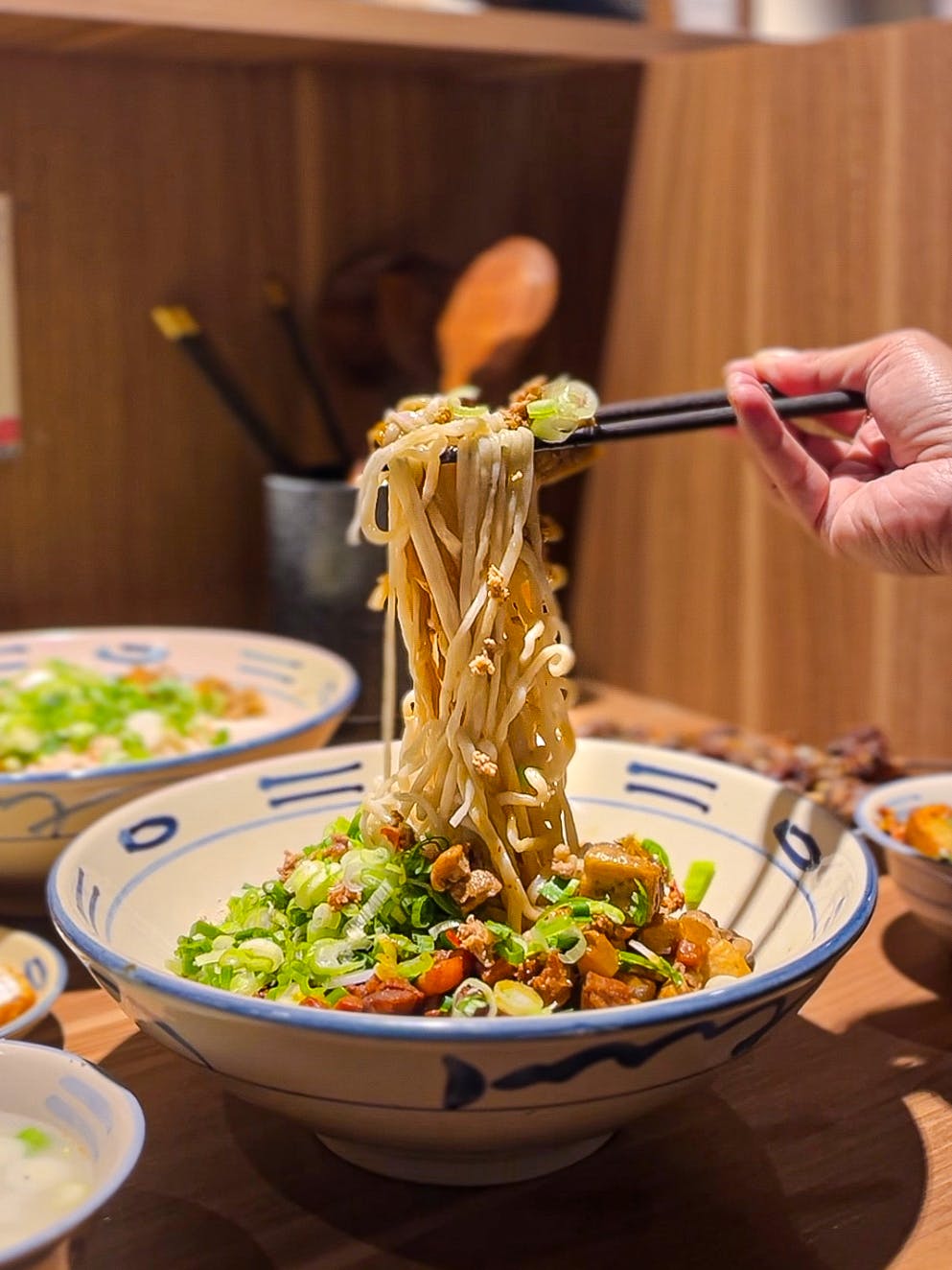 The Refreshing Pork Cold Rice Noodles carry the same toppings as the Kun-Ming Style Noodle dish. What makes this one slightly different is that it also comes with cucumber, carrots, beansprouts and Chinese lettuce. No need to get both. If you have to choose one, the Kun-Ming Noodles are the way to go as it carries more flavour. 
One ingredient that made a recurring appearance in many of the dishes at Yunnan Noodle Shack are the numbing chillies — a Szechuan pepper that hits you with a distinctive tingle that numbs your lips and mouth after the initial burn goes away. The chillies come from the high mountains in the province of Yunnan. It's different from the homemade chilli oil that sits at each station.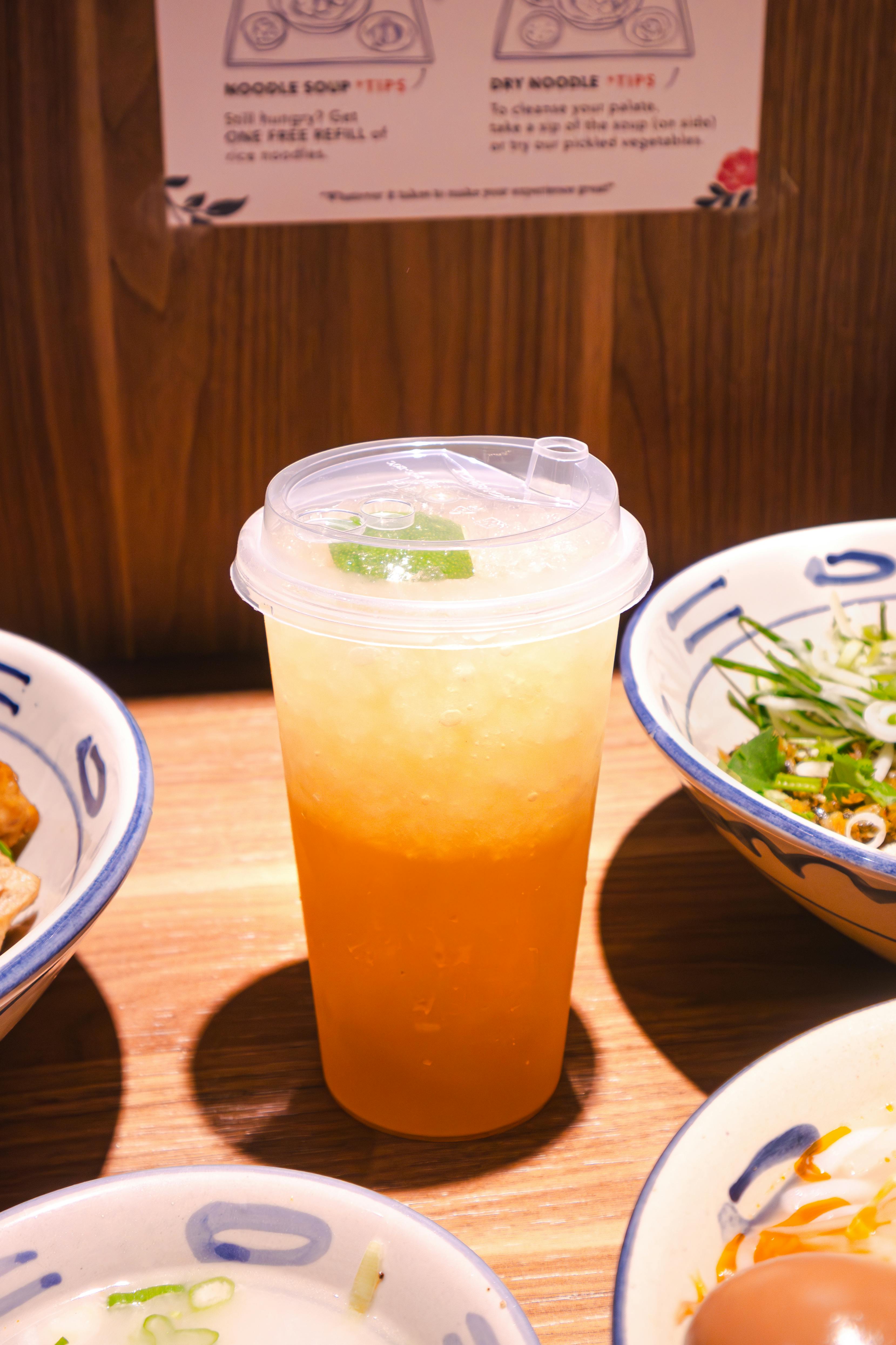 The Pu'er Lemon Tea is unique because it involves a 16-year fermentation process. It's famous in Yunnan for its rich, citrusy flavour profile. At Yunnan Noodle Shack, they add the juice of a whole lemon in each cup, which sounds like citrus overkill, but it's not. There's a lovely earthy, tangy and sweet balanced in each sip.
The Yunnan Iced Green Tea is mixed with glutinous rice fragrance leaves, a speciality from Xishuangbanna, a region in Yunnan. This drink uses a good amount of lime. If you're looking for something with more of a pungent lime flavour, this is the one.
When eating solo "you're opening up all your senses … when we a have group setting, our focus is on each other, instead of focusing on yourself," said Andy. With his soft-spoken voice, Andy adds "everything, the ingredients we're using are very simple, but it takes time to make. It's made with heart." Naturally, he wants customers to take in the flavours and culture without distractions, which he and his partner have managed to do well. 

Yunnan Noodle Shack is open everyday from 11:30 a.m.-3 p.m. and 5 p.m.-9 p.m.