Like a jewel in the crown of 1 Hotel Toronto, Harriet's Rooftop combines stunning vistas, a sleek, sophisticated space and a menu of upscale bites into one destination-worthy gem. With a mission to uphold 1 Hotel's eco-conscious, sustainable ethos, Harriet's is the spot for locally sourced, in-season eats and wellness cocktails enjoyed against a backdrop of Toronto's vibrant skyline.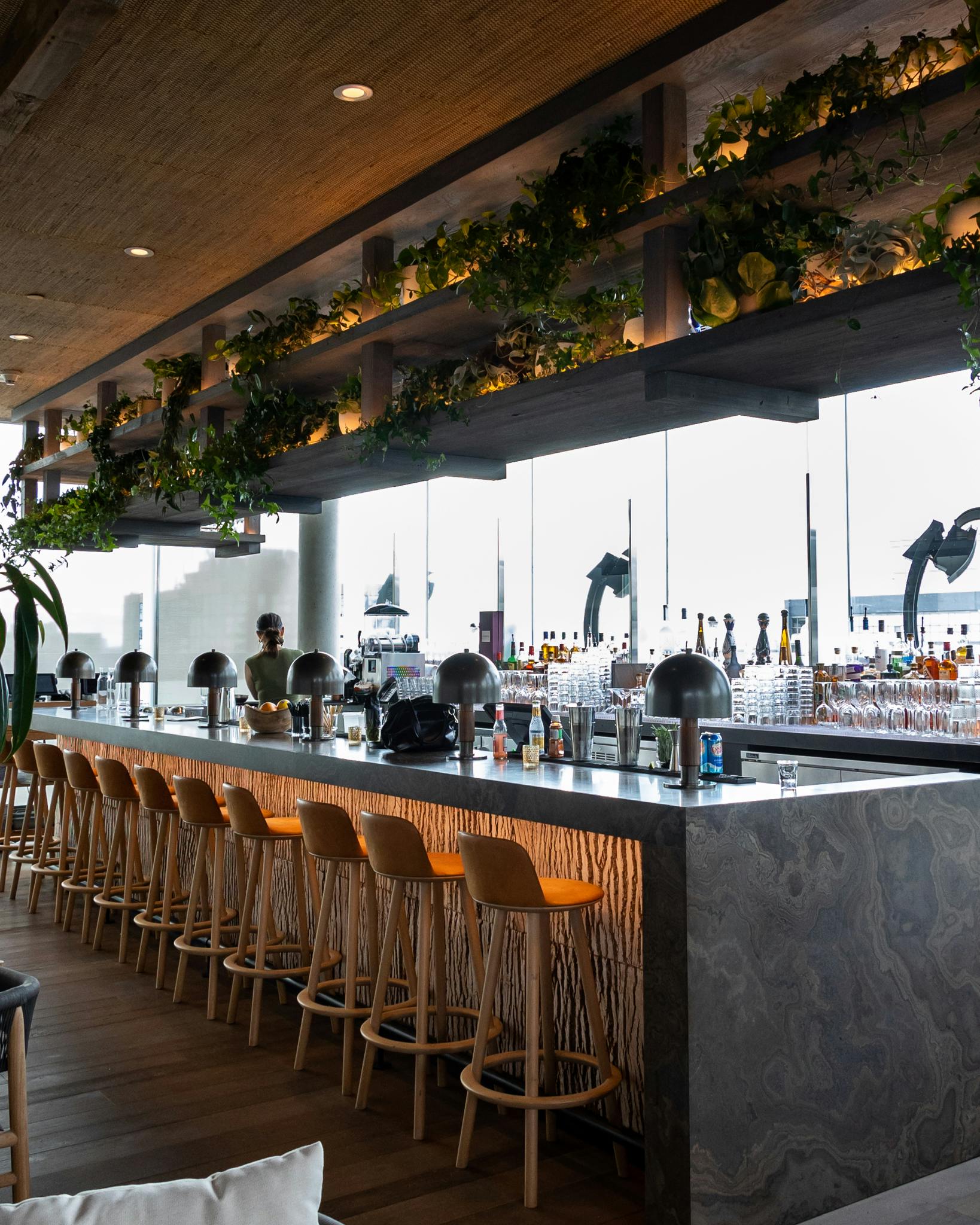 Opened this past September, Harriet's Rooftop is already a beacon for Toronto's well-heeled and after-work crowds. Both cozy and chic, the impressive space is comfortable without being frumpy, elegant without pretension. Decorated in warm, nature-inspired shades, the room's profusion of greenery and reclaimed wood feels like a garden oasis against the urban sprawl below.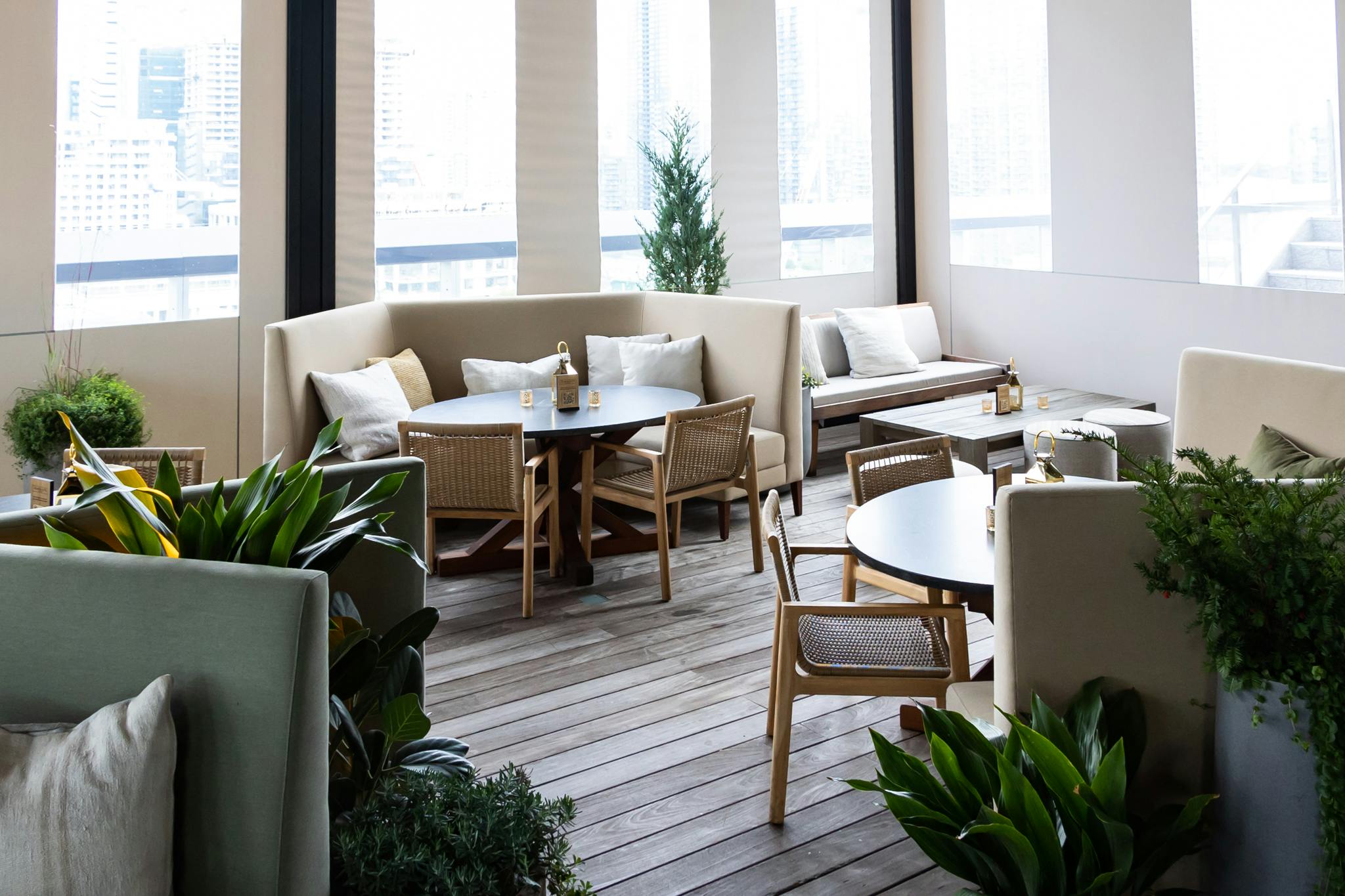 Named for other 1 Hotel Harriet's locations — in Brooklyn, West Hollywood and soon, Nashville — Toronto's iteration is faithful to its sister spots while boasting enviable attributes. Toronto's rooftop spot features a wrap-around terrace sure to draw crowds when the city swelters. In cooler months, a retractable roof keeps customers toasty. A lounge, more than a formal restaurant, Harriet's combines a marble bar with larger tables flanked by pillow-strewn, tan- and sage-green banquettes. Additional nooks, tucked away from prying eyes, provide spaces for quiet chats and date-night escapes.
Music streaming through the space changes as the sun sets. Earlier on, there's "a mix between Stevie Wonder and the Jackson Five, Aloe Black, Calvin Harris and Daft Punk," says general manager Kristy Paul. "DJs start at 9 p.m. from Wednesday to Saturday, and on Sunday, from 3-8 p.m.," giving the laidback lounge vibe an energetic push.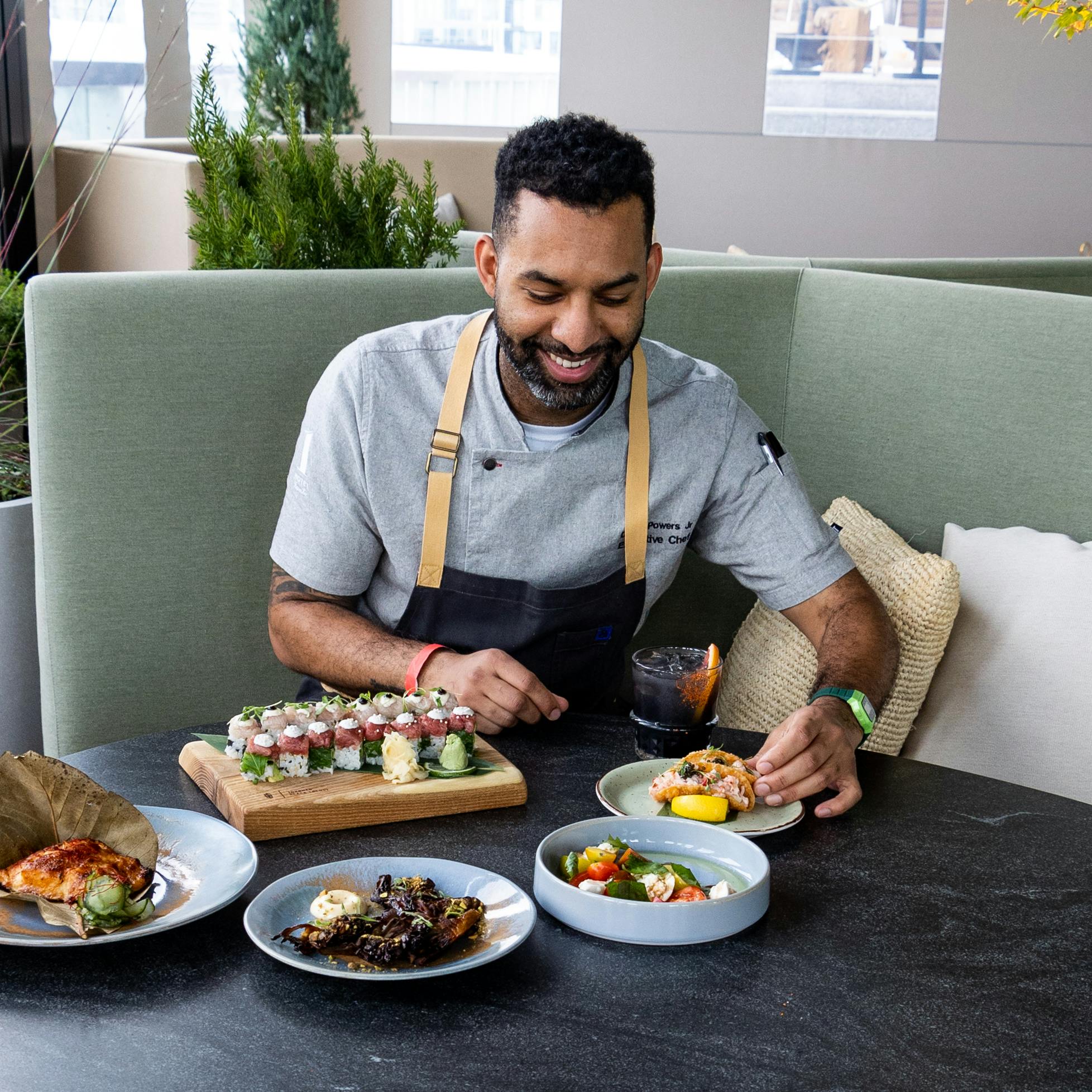 Executive Chef Derek Powers of 1 Hotel Toronto.
"When you come up here, it's more of an atmosphere where you want to grab a cocktail. You want to be seen and the dishes reflect that feeling," says Derek Powers Jr., executive chef at 1 Hotel Toronto. "If you notice, a lot of tables are lounge-feel, so we try to give [Harriet's] a lounge-feel as far as bites. You'll see sliders on the menu, mini tacos, things that you can eat with your hands," he adds.
An array of appealing choices plump up the dinner menu at Harriet's Rooftop, with several gluten-free options and a heavy seafood focus. Classic sushi, cut rolls and hand rolls are all freshly made at the room's small sushi bar. "I have a pretty extensive Japanese background," says Powers Jr. "I've worked in Japanese restaurants for 10 plus years. Coming here, this is my comfort spot."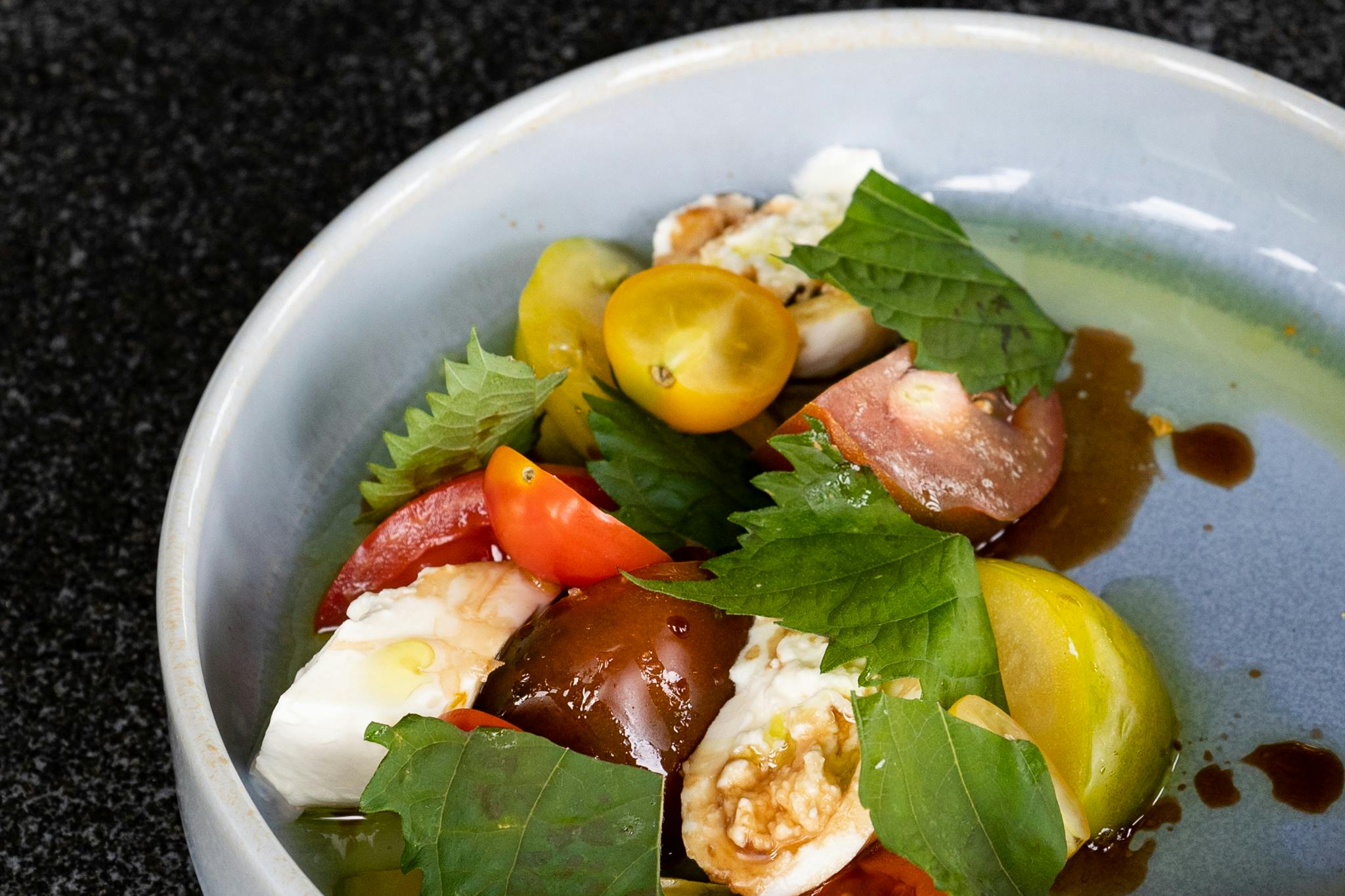 A range of global influences, including Japanese and more, infuse the menu of small plates and larger dishes. A Japanese caprese combines heirloom tomatoes and burrata with shiso leaves and light vinaigrette.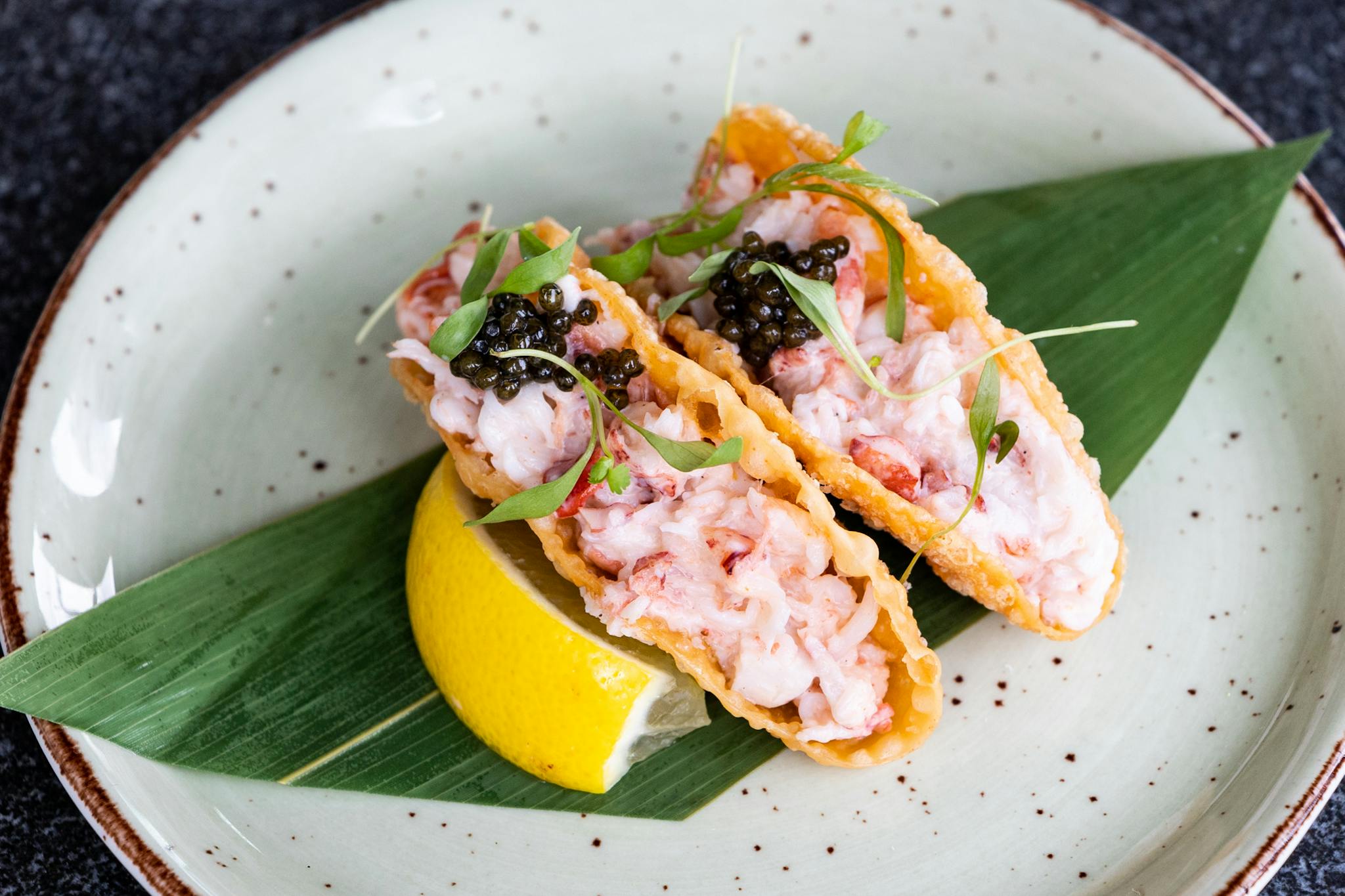 Lobster tacos — already a menu darling — find a generous filling of lobster meat tucked inside fried-until-crisp gyoza shells and garnished with sustainable caviar. "When I was able to find sustainable caviar," says Powers Jr., "I was like, 'Yes!' I wanted to throw that on everything."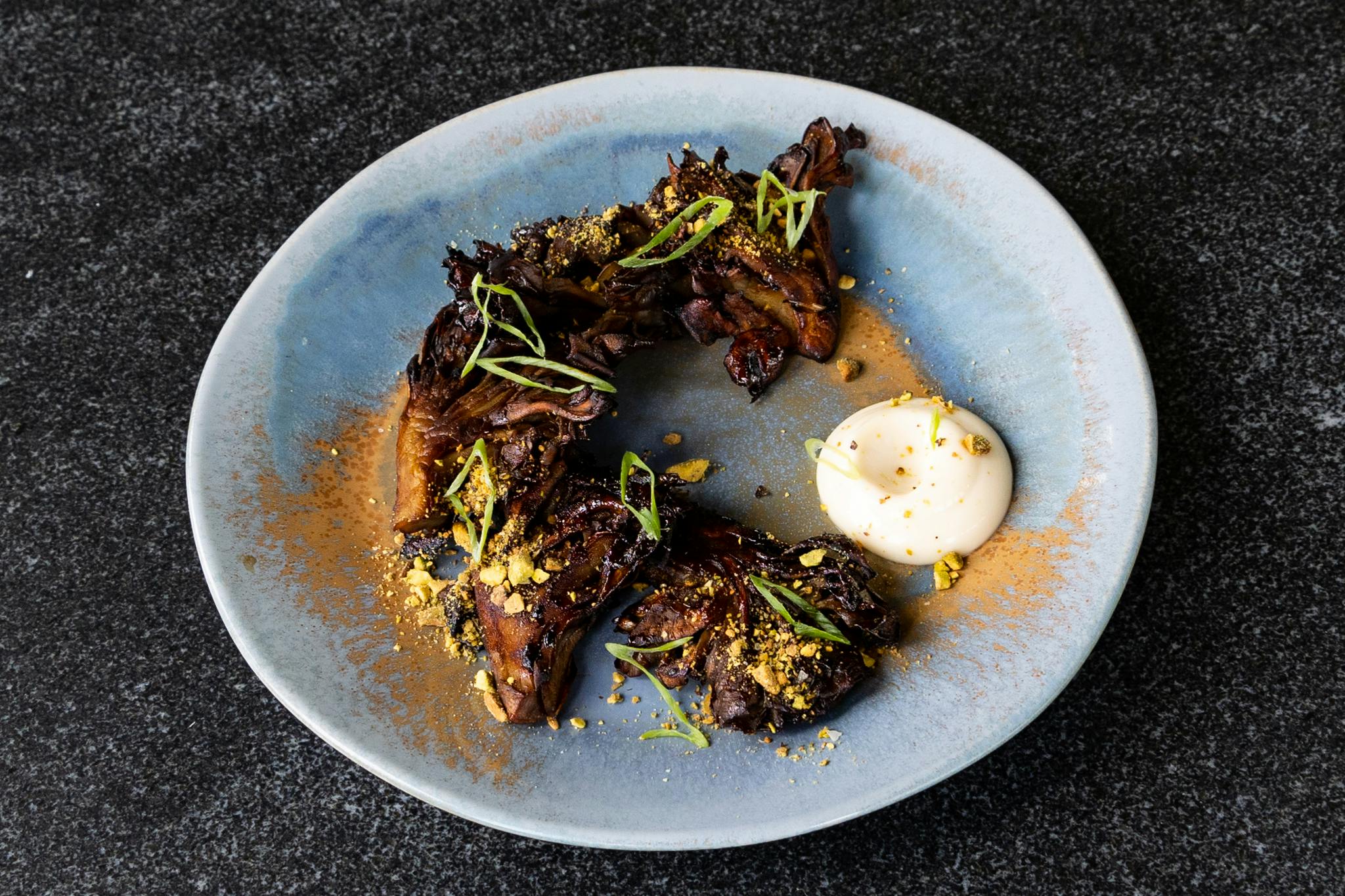 Maitake mushrooms — the city's latest "it" ingredient — are pan-seared with maple soy, and served encircling a bed of pungent garlic aioli.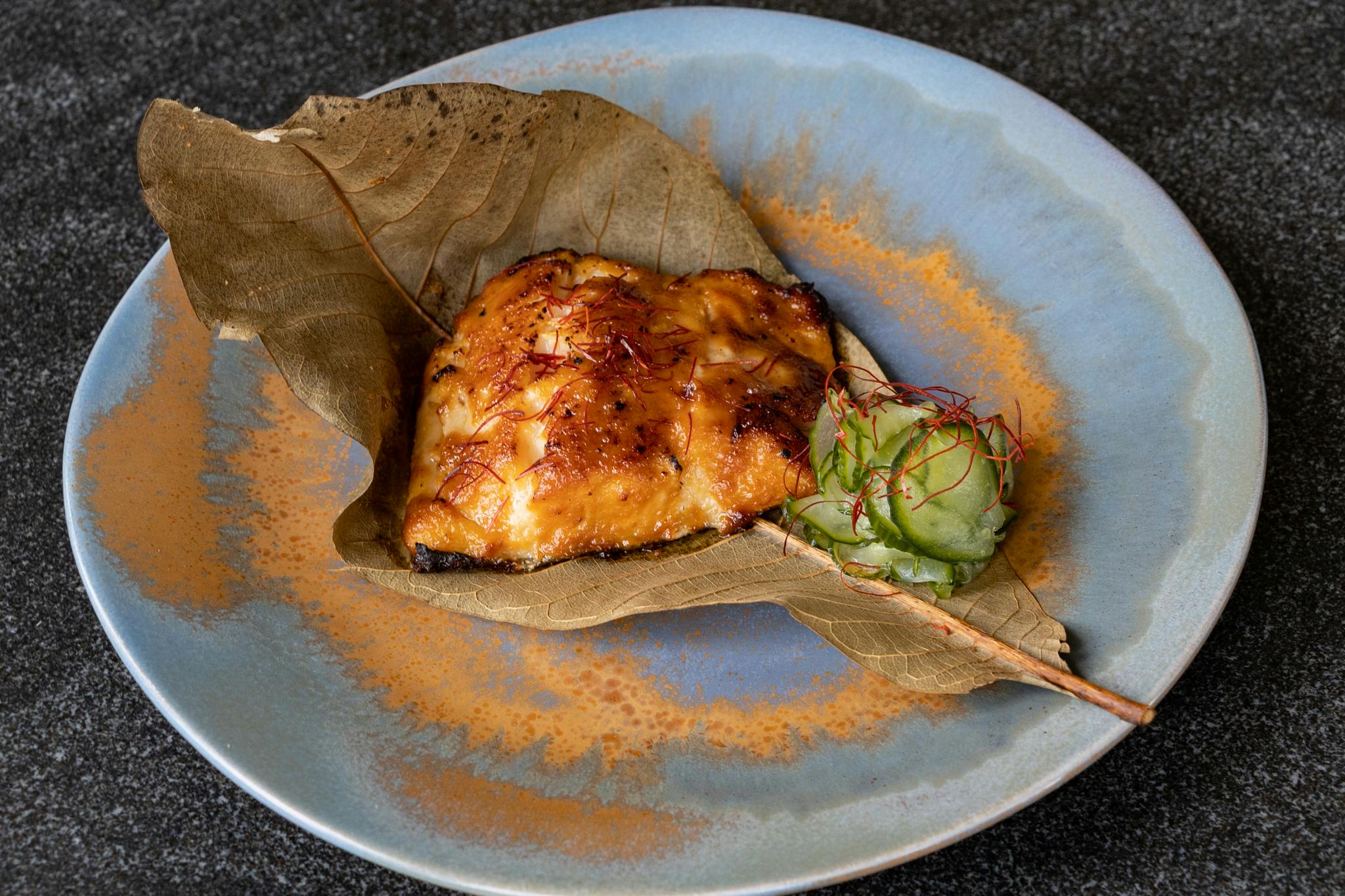 A concise selection of larger plates includes meat- and fish-based temptations. Miso-marinated Fogo Island cod is as photogenic as it is delectable, showing off a lacquered finish, silken texture and buttery flavour. Served with pickled cucumber and daikon, this gluten-free dish is a standout for the gluten-averse.
On weekends, bubbles wash down brunch dishes meant to impress. Chicken karaage sliders are constructed from buttermilk fried chicken, cabbage, and green onion remoulade. There's also "an amazing waffle," says chef Powers Jr. "I fold in some kinako (roasted soybean flour), so it's very, very flavourful." Each order is then served with local Rocky Run maple syrup and berries. Yuzu hollandaise makes traditional eggs Benedict feel fresh; like they've returned from abroad, glowing from within.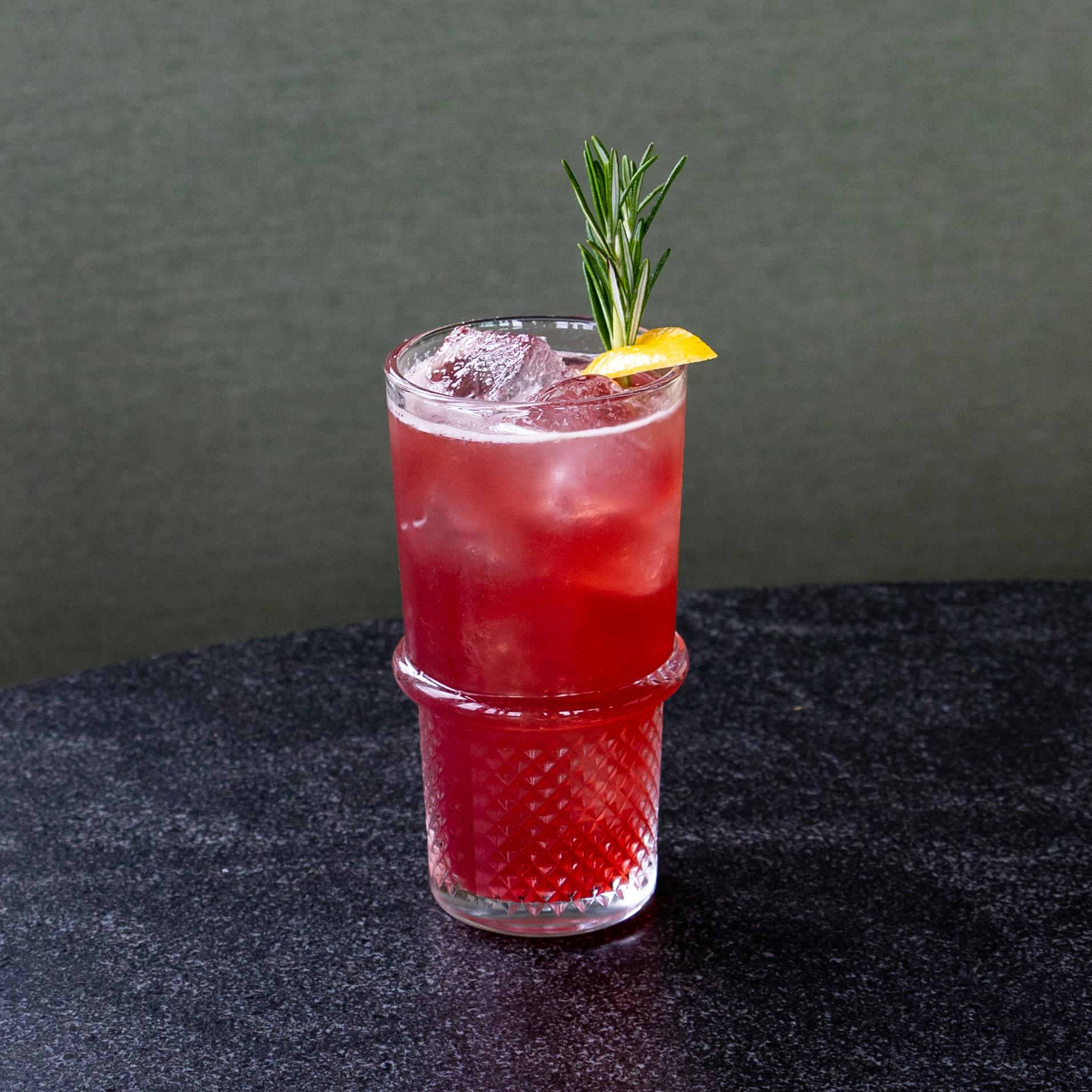 A selection of wellness cocktails made with freshly-squeezed juices can be found alongside craft cocktails on the drinks menu at Harriet's. The Parkdale Prince, an ode to Toronto's eclectic west-side neighbourhood, is a bright, light tipple with Empress 1908 Gin, Pimm's No. 1, lemon, rosemary and hibiscus syrup and club soda.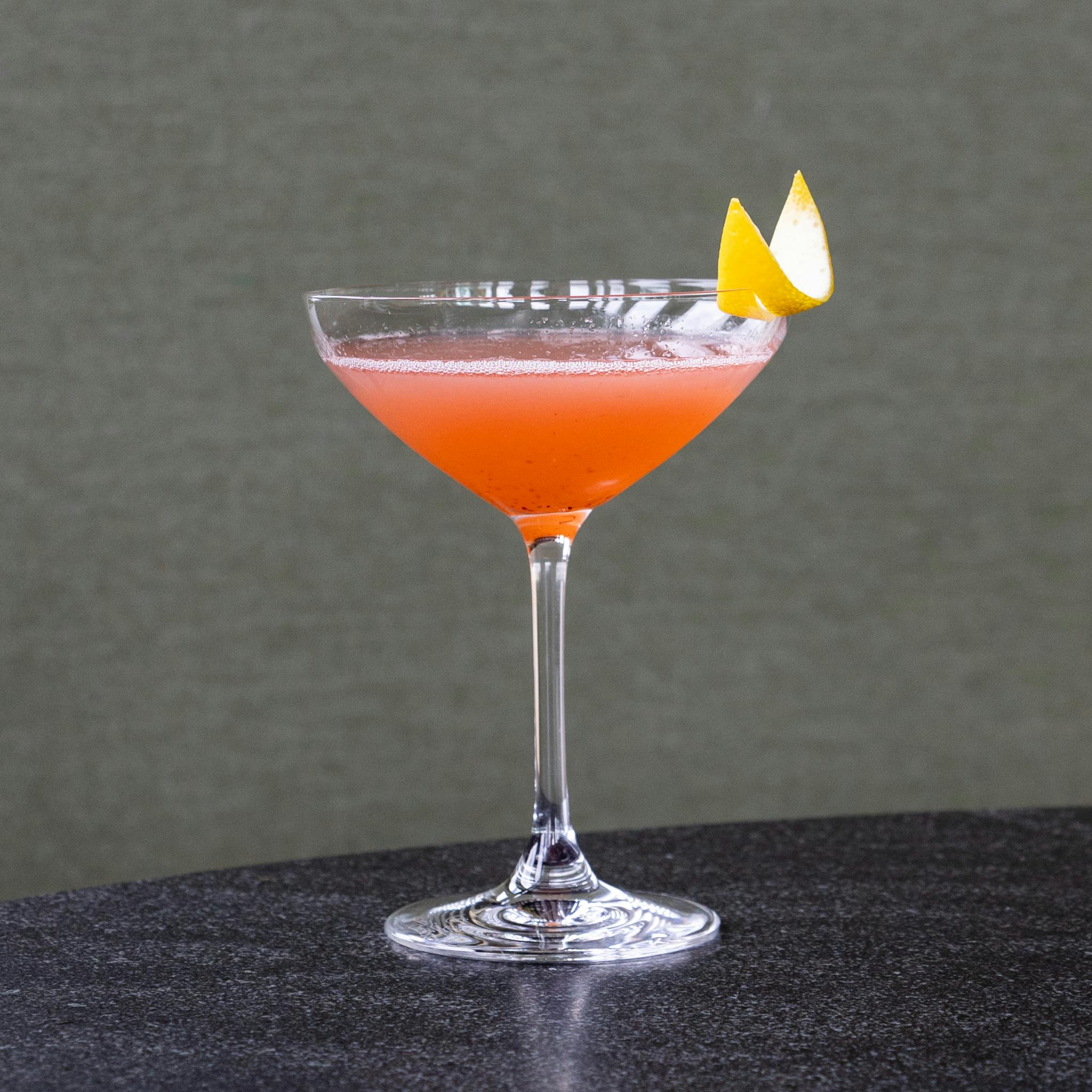 Fruit-forward and reminiscent of languid summer days, JoJo is a mix of Absolut Elyx Vodka, St. Germain Elderflower Liqueur, Mionetto Prosecco, fresh strawberries and lemon.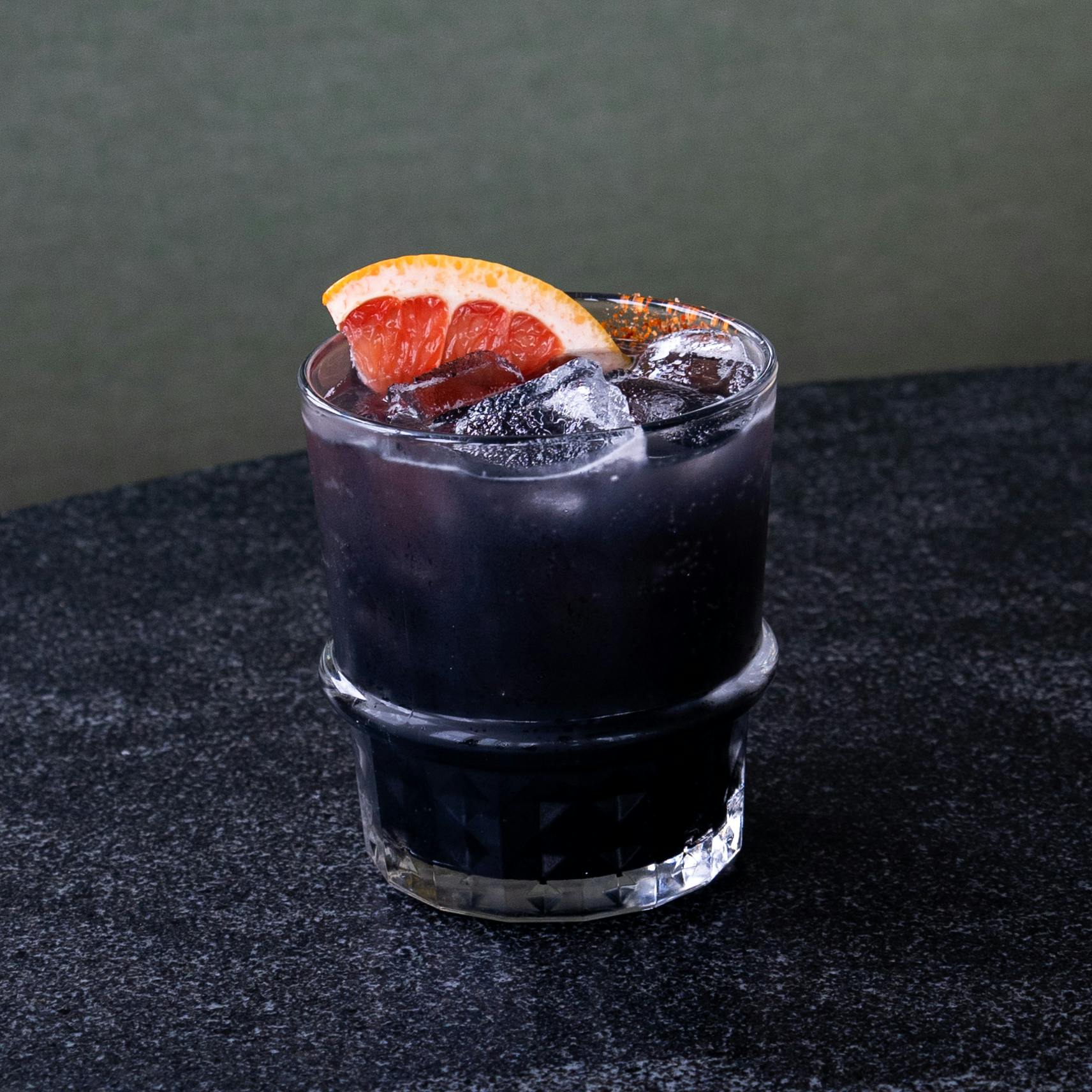 Tequila-based potions include The Dark Side — a smoky medley of Sombra Mezcal, Cazadores Tequila, Briottet Liqueur de Pamplemousse Rose, activated charcoal, lime and grapefruit soda — and the signature Spicy Sienna. Recognizable from other Harriet's locations, the cocktail combines Cazadores Blanco Tequila, jalapeño, lime juice and agave into an easily-sipped beverage with a sly kick.
Wines, including an enticing selection of bubbles, are mostly old-world finds, with a few popular California selections added in.
Hop an elevator to the 16th floor of 1 Hotel Toronto and leave the stress of the day at ground level. Equal parts exclusive and inviting, Harriet's Rooftop is a haven above the clouds where you can eat, drink and lose yourself in some of the best views the city has to offer.