Photographs by Paolina Loseto
Opened a few weeks ago, Orote Restaurant is the type of blink-and-you'll-miss-it gem Toronto's food cognoscenti adore. Brought to life by an Actinolite-trained chef, the eatery is an ode to the flavours of Korea creatively crafted from Canada's bounty. Like eating at an exceptionally-talented friend's house, a dinner at Orote is equal parts comfortable and sophisticated and will leave you wanting more.
Tucked down Havelock Street, just off of Bloor, Orote sits in a heroically reimagined tax office. The same vision that turned the dreariest, most soulless type of workplace into a minimalist, chic restaurant is evident in dishes that play on tradition in an exciting new way.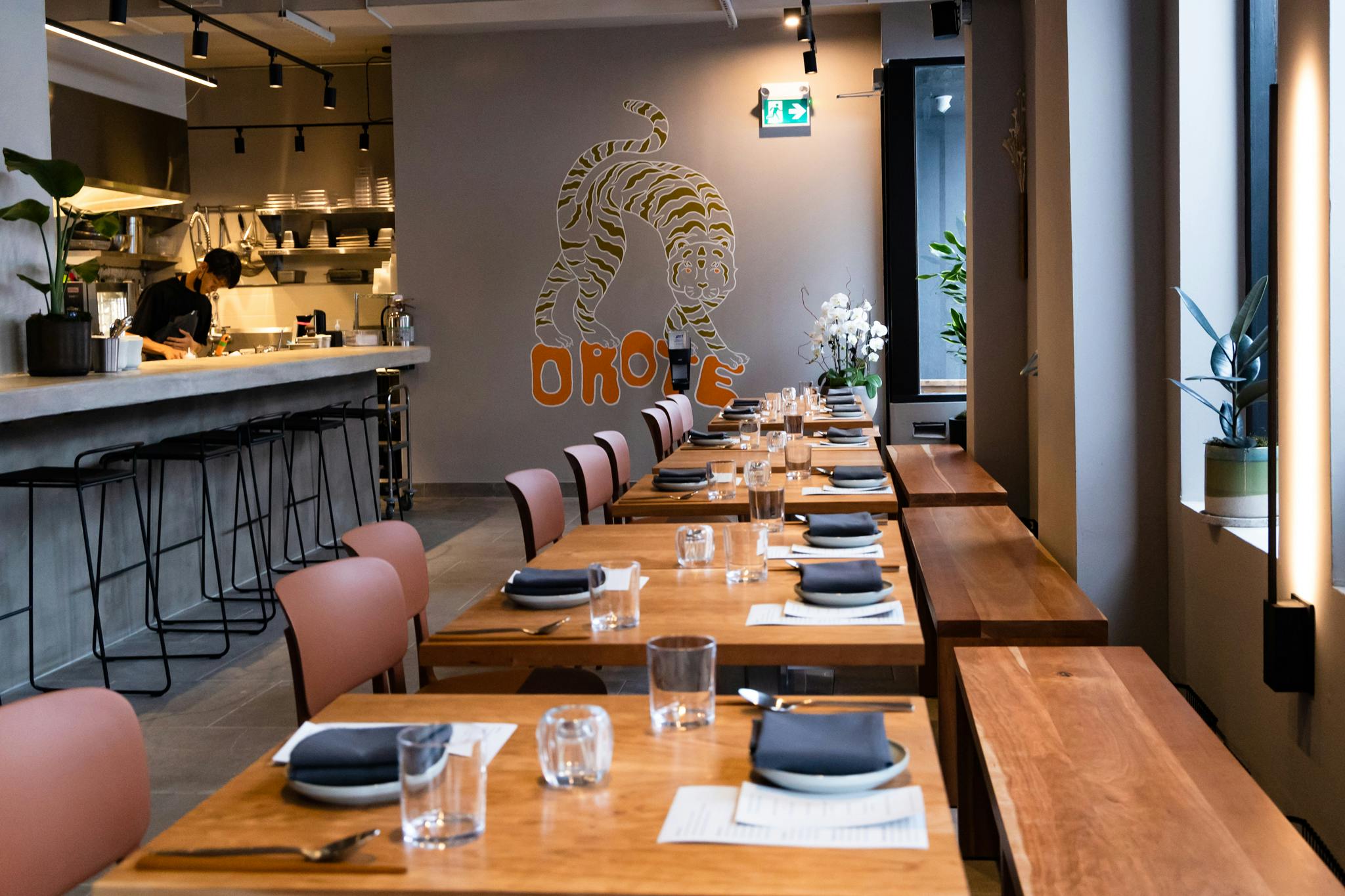 "The restaurant is called Orote," says chef Kwangtaek Lee, who goes by Kwang. "[It's] kind of hard to translate but kind of like 'completeness,'" he adds. The restaurant's one room is sparse yet well-appointed, with clean lines and a concrete bar stretching from one end to the other. On the far wall, is an image of a tiger hand-painted by local artist, illustrator and muralist Madison van Rijn. The tiger, a symbol of strength and power in Korean culture, jumps out amid the room's cool grey tones.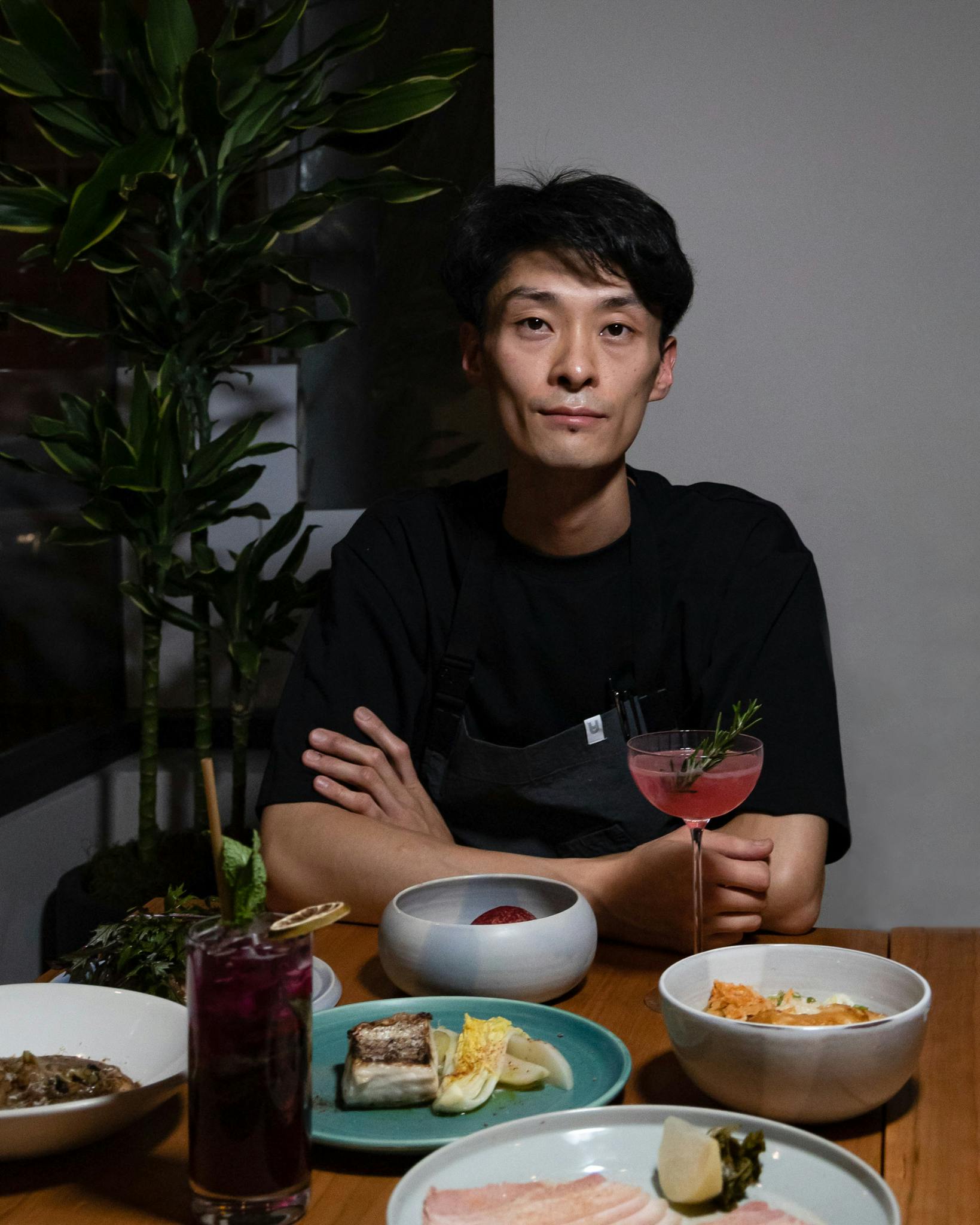 Chef Kwangtaek Lee, who goes by Kwang, pictured above.
Chef Kwang worked at Actinolite Restaurant for more than four years. During that time, his cooking was defined by Actinolite owner and chef Justin Cournoyer's devotion to deeply Canadian cuisine assembled from Ontario's foraged, seasonal, local best. Still, "the biggest lesson that I learned from him," says Kwang, "is how to think and approach food in your own way." Chef Cournoyer encouraged his cooks to connect to their roots, to know their culture. "I really had to go back to my background, which is Korean," says Kwang. "This idea gave me inspiration to create the food that I miss but that also fits in Canadian culture. He gave me the biggest inspiration to look back at what my culture is and what it means to me.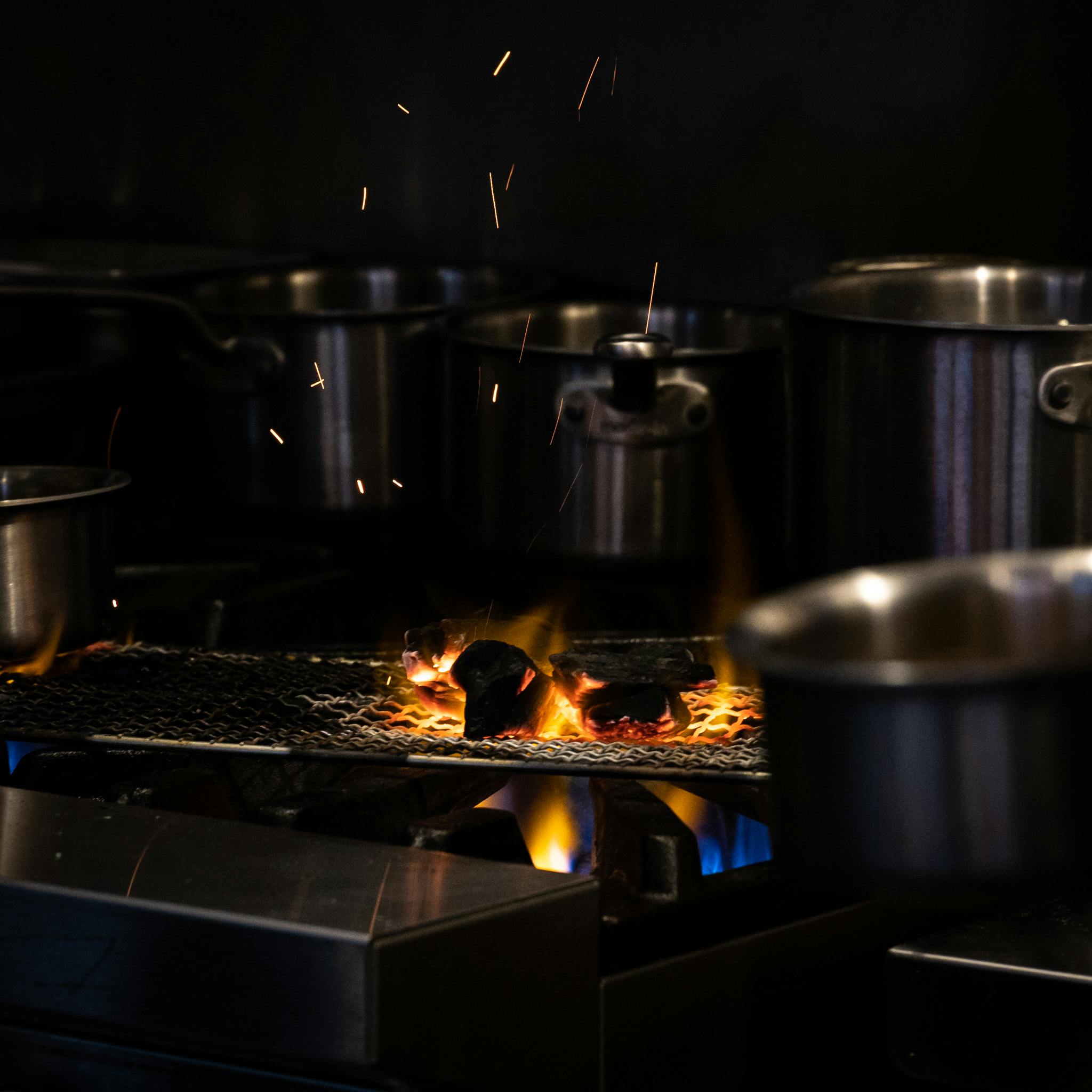 At the same time, says Kwang, "I was really not happy with Korean food in Toronto. There are good restaurants, definitely, but they stick to the more common stuff," he adds. "I wanted to combine my experience in Canada as a chef and cook with my background to try new, different, Korean food."
At their heart, dishes here are inspired by Korean flavours and techniques, but chef Kwang and his small team are not aiming to be traditional. The food "has nothing to do with authentic. It's just me trying to do something new and creative," says Kwang.
Though à la carte may be an option in the future, for now, Orote guests sit down to a six-course, prix-fixe dinner that relies heavily on the seasons. "Korean meals are often rice-based meals with a lot of different condiments," says Kwang. For the succession of dishes on his menu, he aims to turn these condiments and soups into different plates, including vegetables, fish, meat and various fermented ingredients throughout the meal.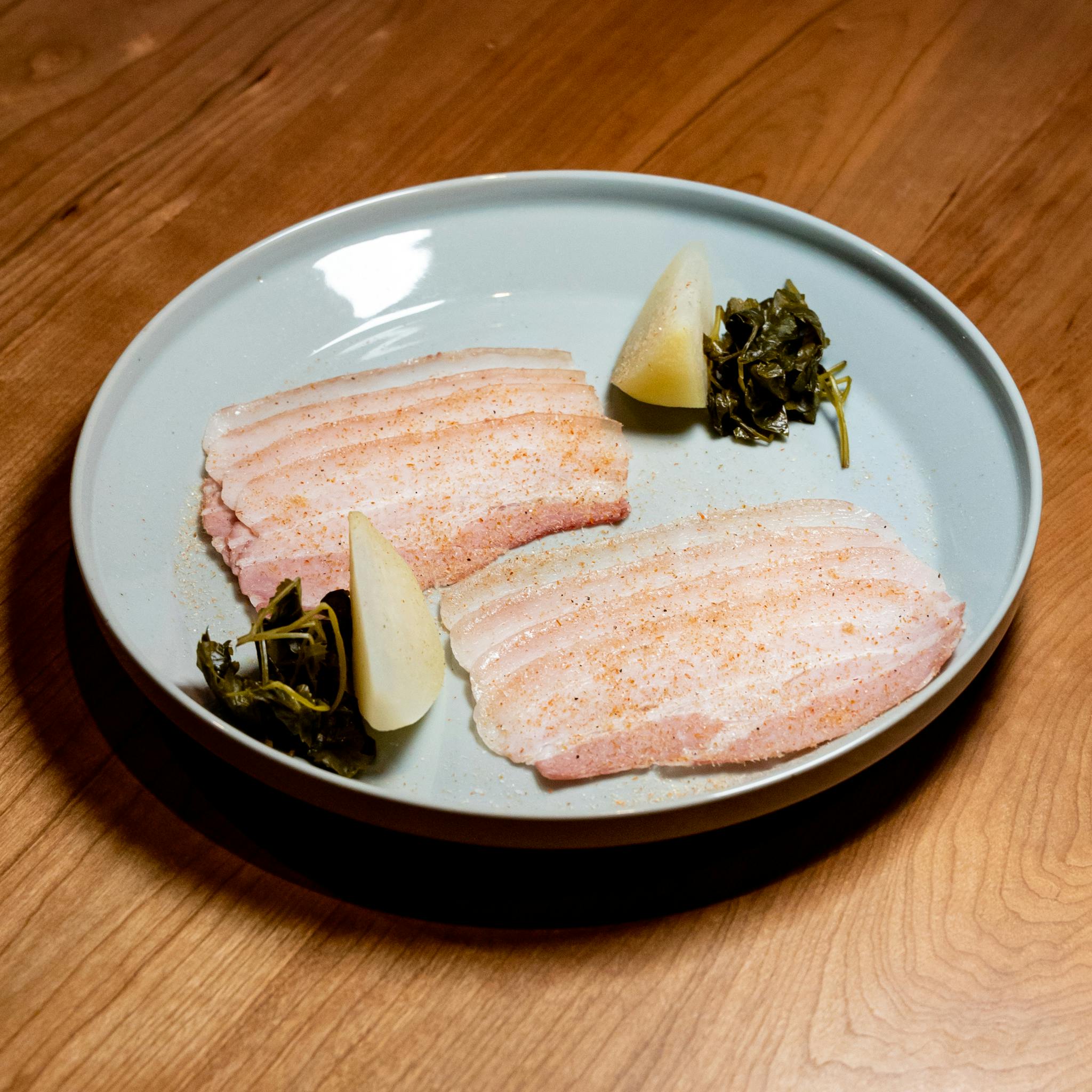 To begin, there is a plate of thinly-sliced pork ham garnished with kohlrabi and shrimp powder. The epitome of simple, there is nowhere for chef to hide on the unadorned plate. Each slice is meltingly tender, sporting a simple seasoning that calls your tastebuds to attention. A handheld treat of chicken ssam with perilla leaf and radish follows.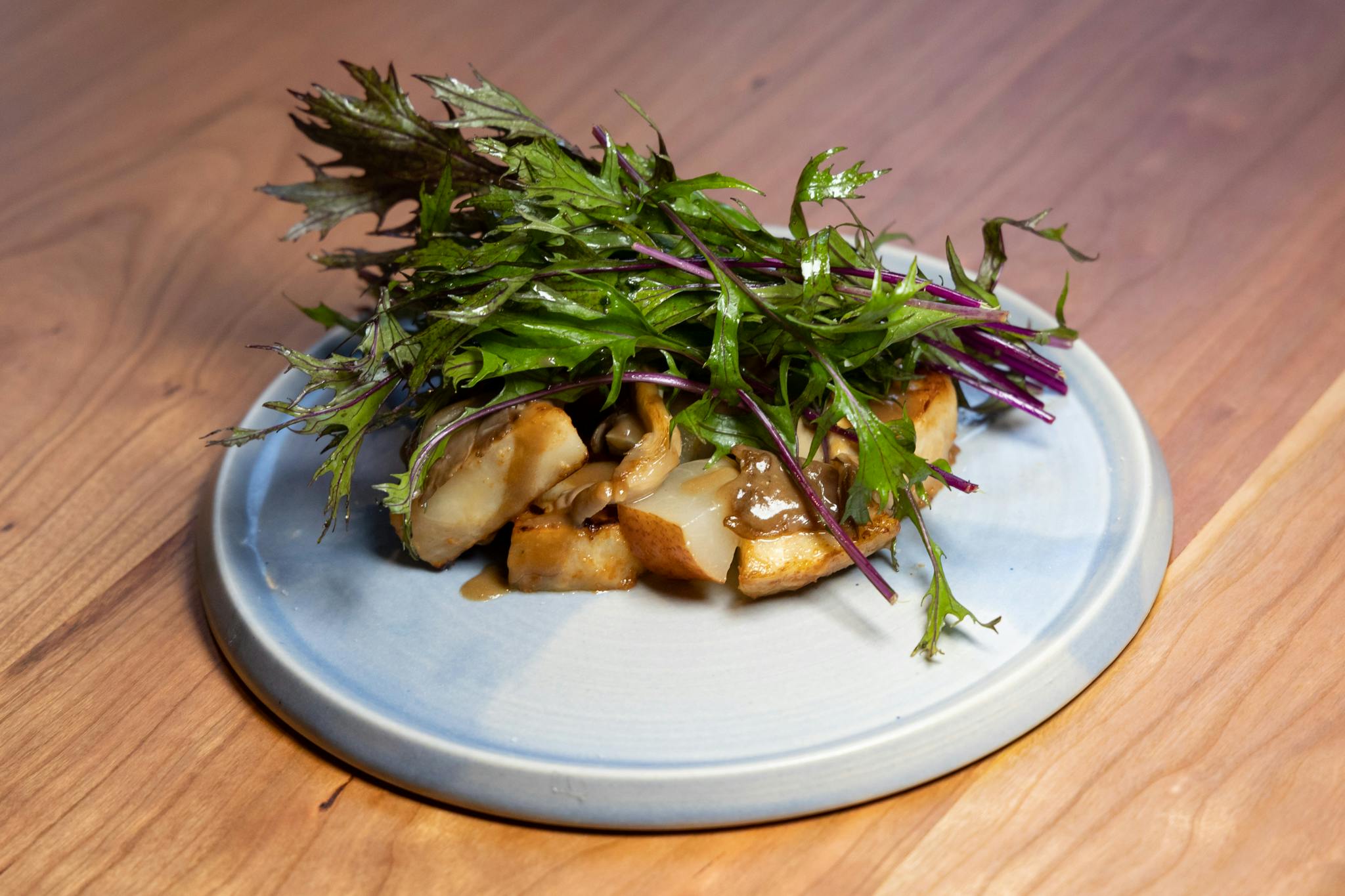 For certain courses, guests are offered a choice of items, yet sparse menu descriptions reveal no hints as to the complexity to come. A salad of roasted celeriac and pear with fermented porcini mushroom dressing and mizuna leaves is bright, fresh and reminds that winter salads deserve a place at the table.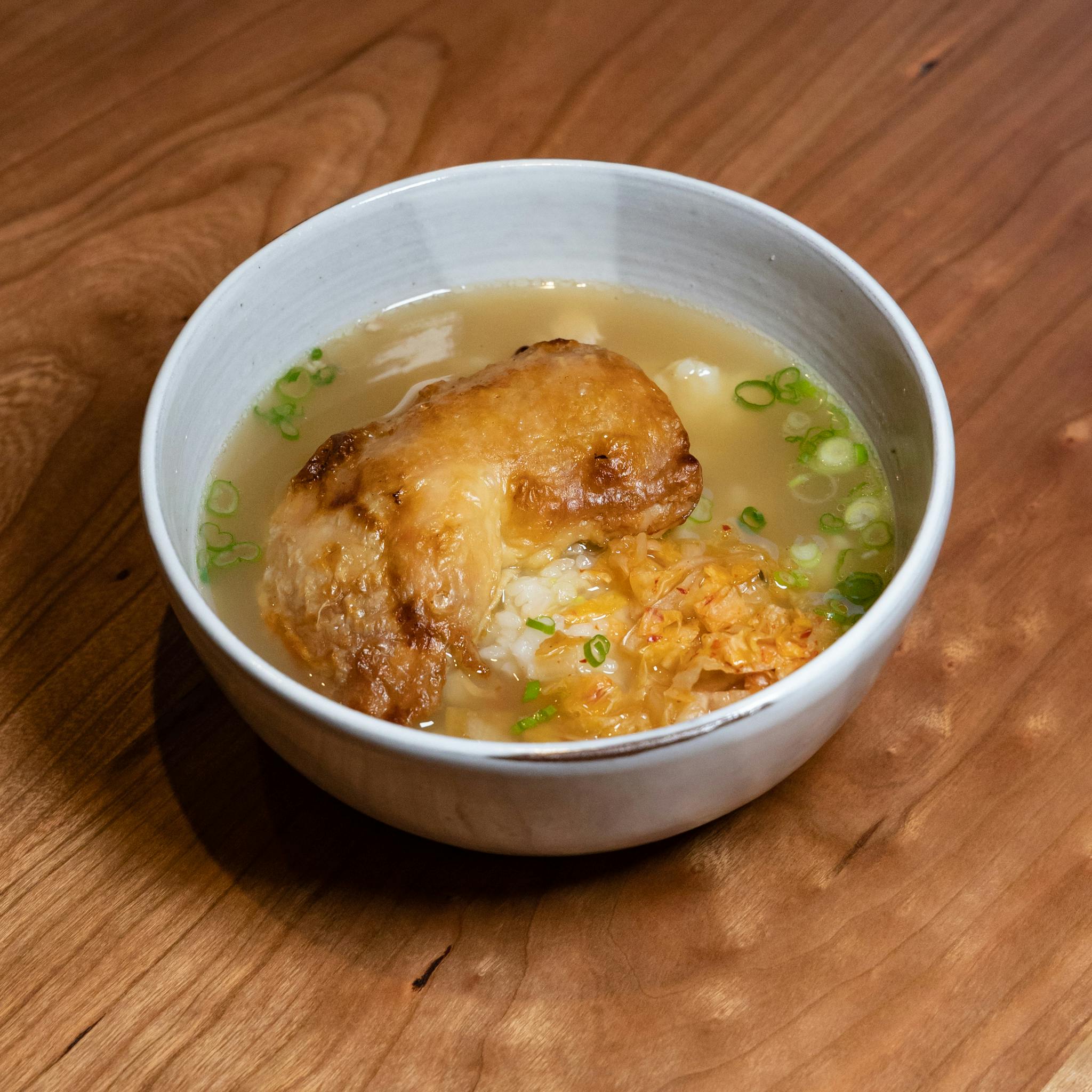 What follows is a bowl of pure comfort dressed up for an evening out. Deeply-flavoured broth embraces rice and chicken in a dish that calls to mind congee and a warm embrace. Redolent of anchovy and green onion, the broth flavours each bite and makes for an addictive sip.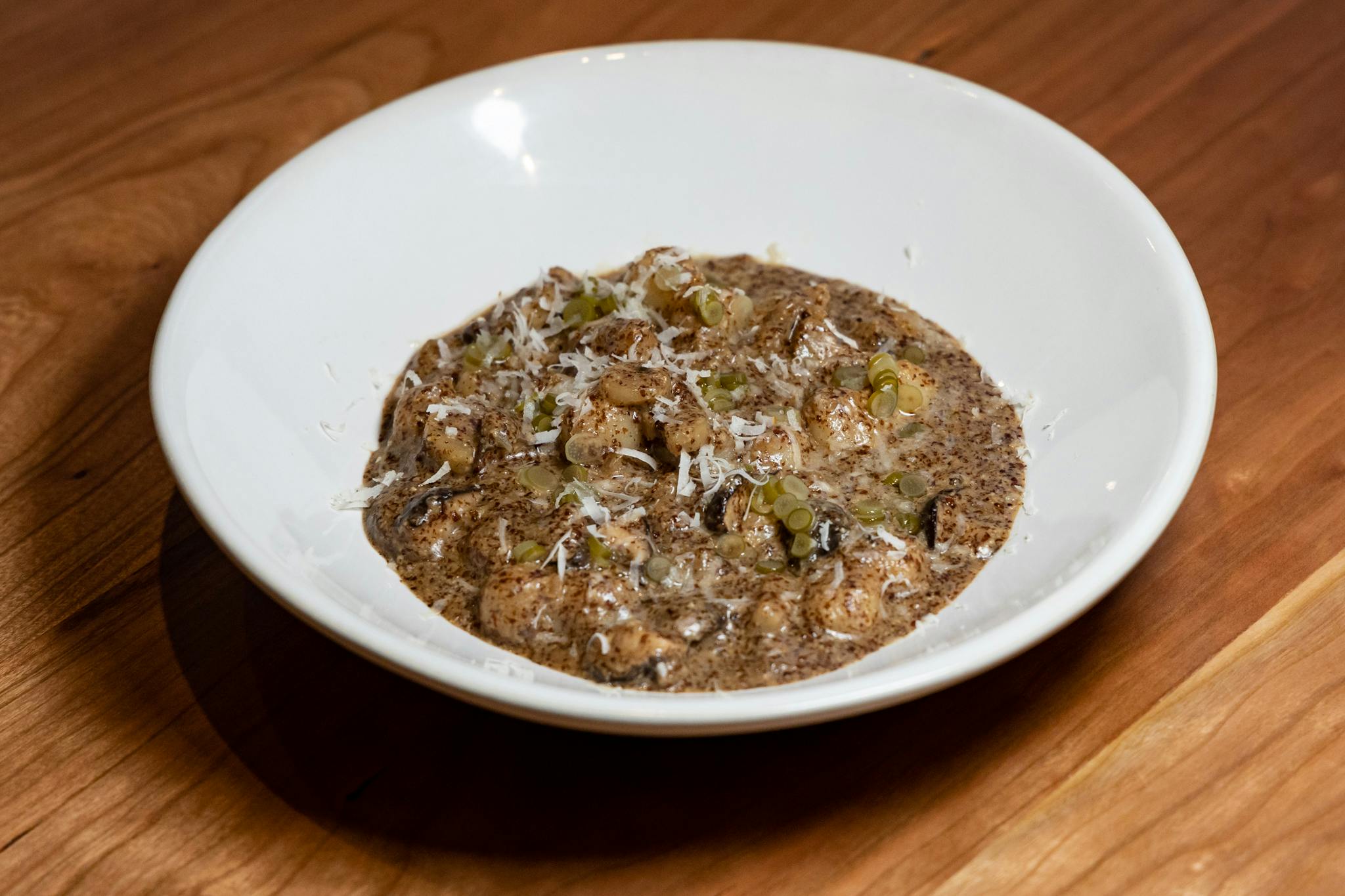 Rice cakes arrive in a thick sauce made with gobo, or Japanese burdock root, and perilla seeds. What the dish lacks in glamour, it makes up for in bounds with layers of flavour that are as intriguing as they are familiar. Combined with an enjoyably resistant mouthfeel, this is a dish that demands repeat servings.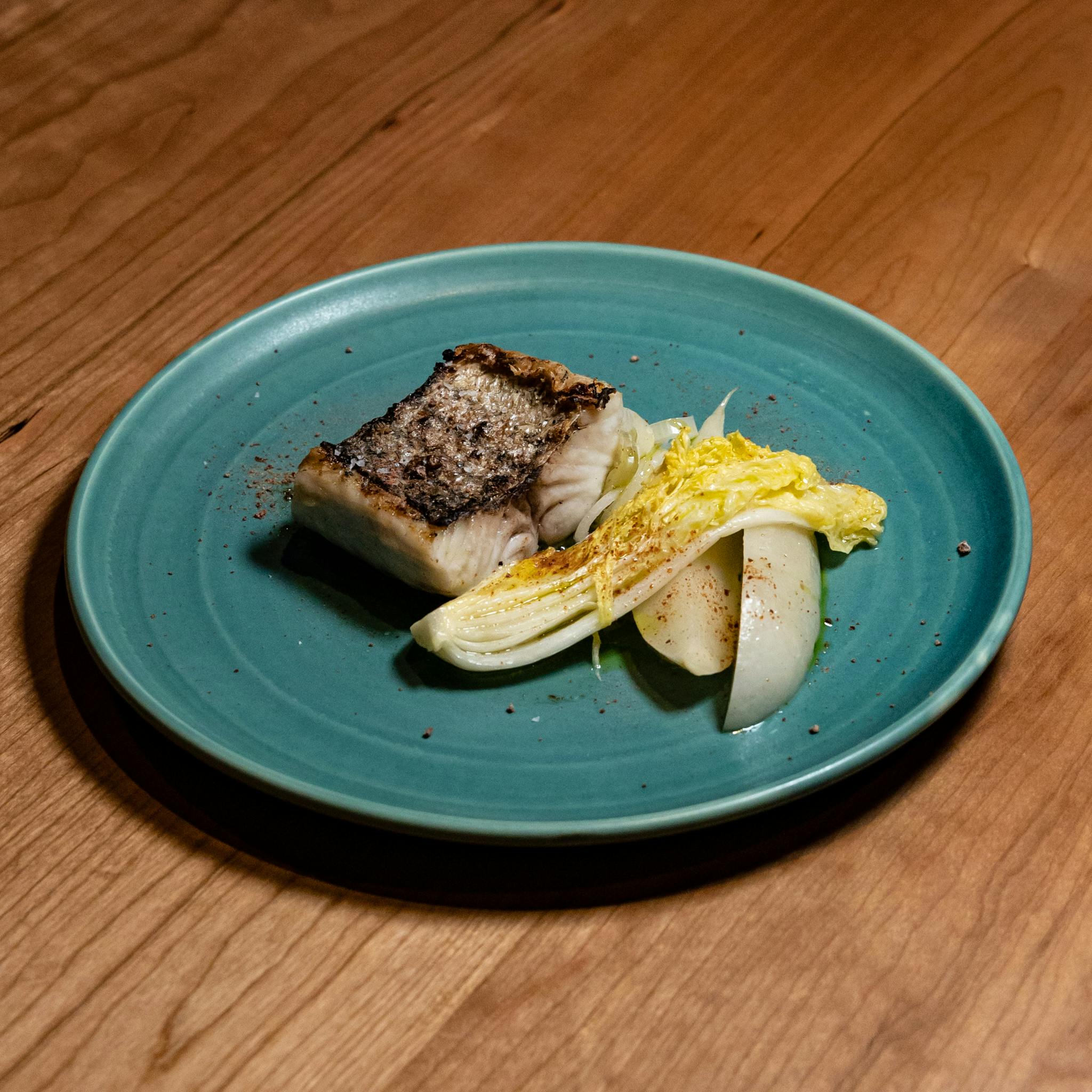 Grilled over charcoal, lending the room a tempting aroma of barbecue, ume-glazed sea bass is sprinkled with ume powder then served with daikon and baby Napa cabbage. Exceptionally tender, the fish requires little more than a whisper to flake apart.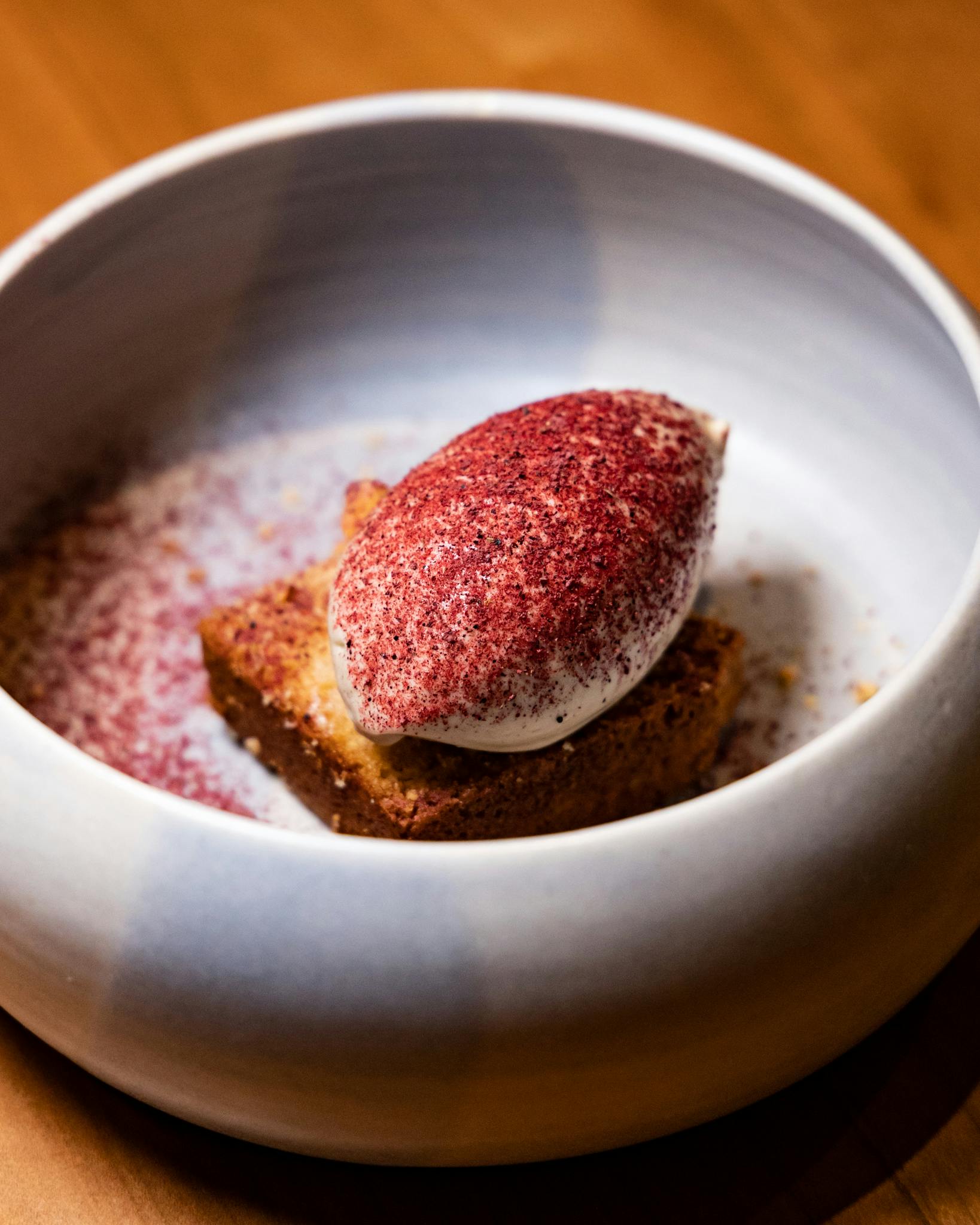 Dessert is a toasted cube of brown butter cake topped with silken sweet potato ice cream. Dusted with blackcurrant powder, it's cute, colourful, creamy and supremely delicious. If it has any fault, it's only that its petite size leaves us pining for a larger piece.
A concise list of red and white bottles vie for attention with beer, ciders, cocktails and mocktails on the drink menu. "We try to focus on natural wine," says chef Kwang. Adding that "in terms of the flavour, it matches better [with the food] because we use some funky stuff."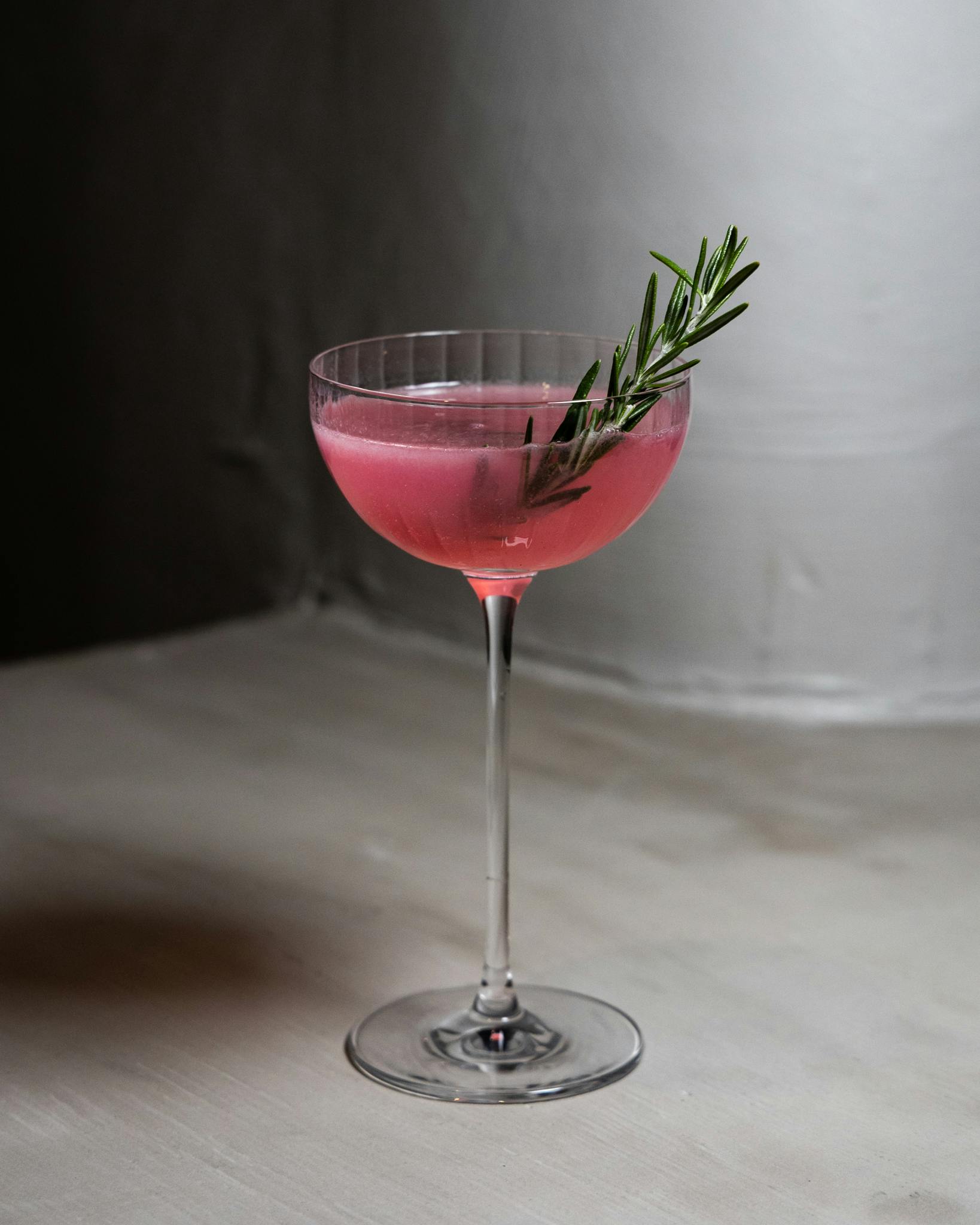 Among the four cocktails, Nui stands out for its bright tone and soju base. With white cranberry, lemon and sugar, the drink is tart, sweet and lighter than vodka-based drinks.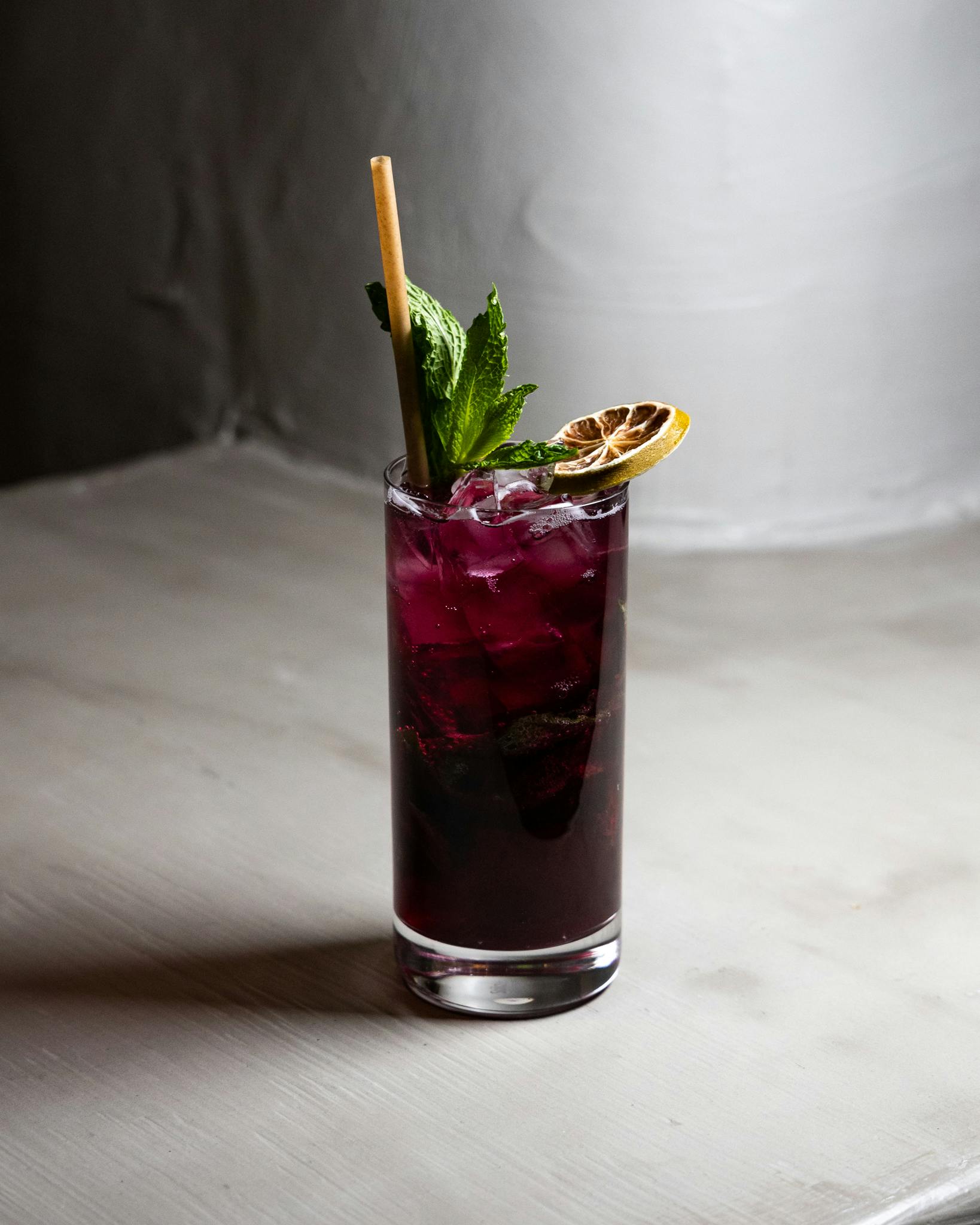 A non-alcoholic berry mojito turns house-made berry syrup into a refreshing, summery sip with added lime, mint and sparkling water.
In the future, the team hopes to import Korean makgeolli, or sparkling rice wine, to pair with its Korean-influenced menu. If that plan falls through, chef Kwang's homemade makgeolli may one day make it onto the menu.
With a large patio set to debut next spring, Orote has plenty of room to grow. With its menu of elegantly-composed dishes that belie their comfort-food origins, Orote's food is the type you'll crave whenever you need to feel whole. If completeness is the goal, Orote is hitting the mark. Reserve now on Tock before word gets out.