A fairly new, post-COVID phenomenon, local bottle shops can be intimidating to those unversed in the world of natural wine. If you're bewildered by indigenous grape varietals, flummoxed by filtering, confounded by biodynamic farming practices, and unsure what constitutes an acceptable amount of intervention, walking into a natural wine shop can be an unnerving experience. Until, that is, you visit The Daughter. Opened late last year, The Daughter is a natural wine bar and bottle shop with a singular focus — to guide customers on a thoughtful, personalized journey through the world of natural wine.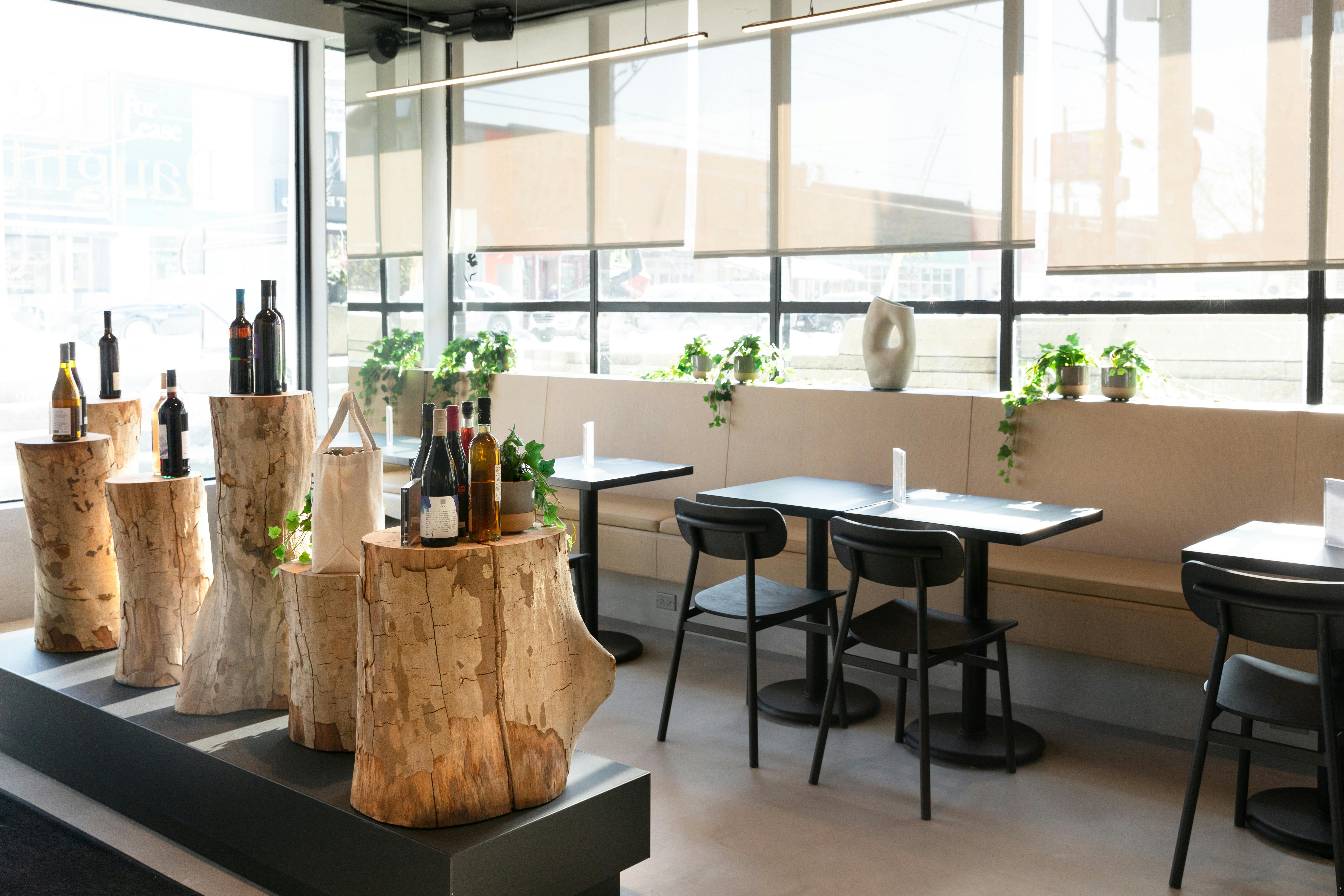 Located on a bustling corner of Bayview Avenue, The Daughter is a first foray into hospitality for owner and chef Marissa Goldstein. It's a passion project that follows a brief career in commercial real estate and law. "I knew that I was working there for a time and then I was going to move onto something else," she explains. That "something else," ended up being culinary school, including a transformative farm-to-table program in partnership with Blue Hill Farm, in Upstate New York. "In the mornings, we would do farming exercises and in the afternoon, culinary challenges in the kitchen," says Goldstein. "I just tried to absorb as much information and as much inspiration as possible," she adds. "The baker was like a mad scientist; the chefs were so inspirational and hard-working and creative and organized. When I came back here, I was so inspired to do something that supported local, seasonal cuisine that I had an idea to open up a prepared foods café in this space."
As with many pre-COVID plans, Goldstein's were soon altered. "I saw what was going on around the world," says Goldstein. "We were about to start construction and I was like, we need to not." When the Ontario government made bottle shops permanent, Goldstein got a clear vision of her future. "When I heard that, I called the architect and said, 'We've got to design something and shift the focus to natural wine.'"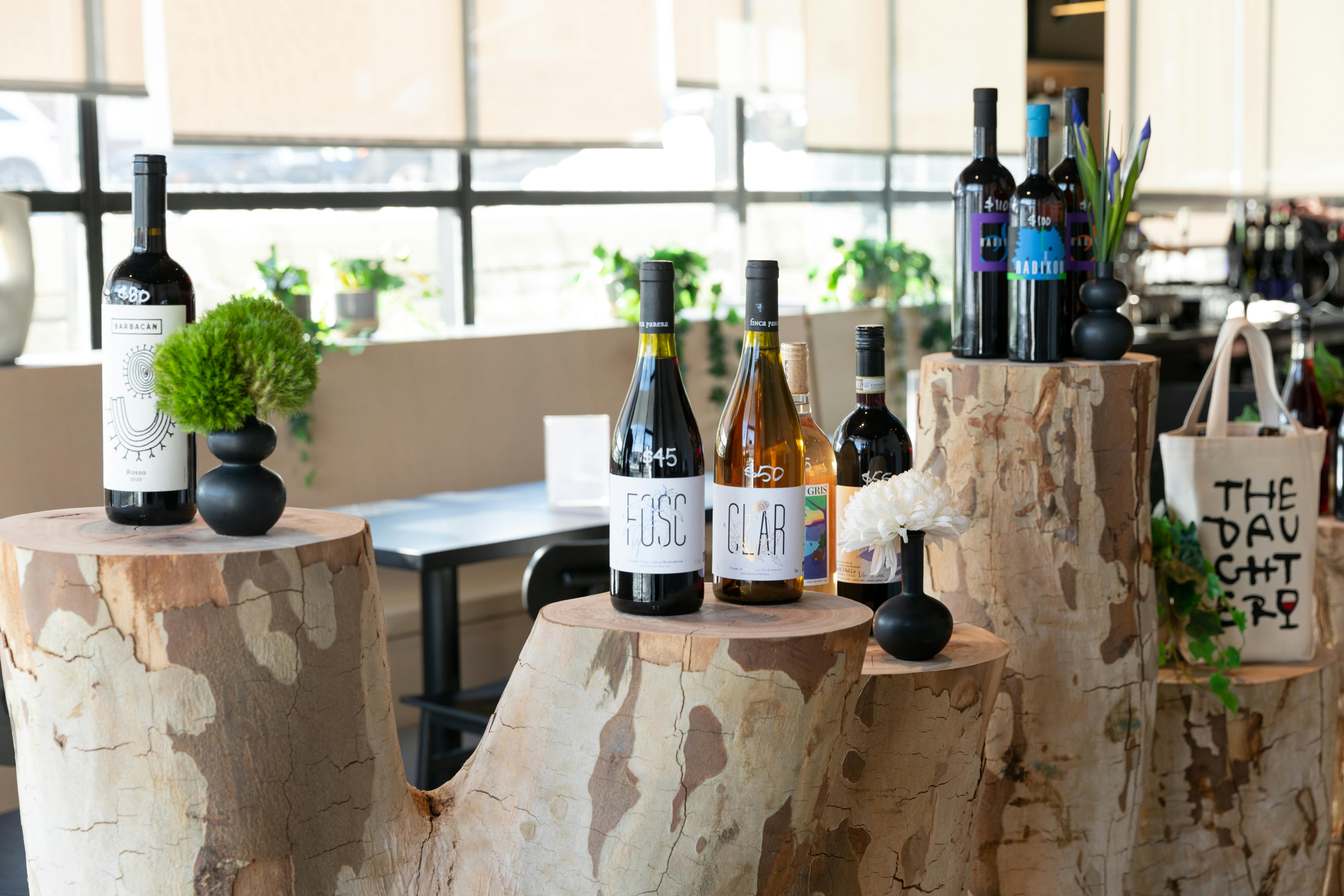 Designed with Andria Y.Y. Fong, of Y.Y. Architecture Studio, The Daughter is a minimalist space, with natural tones and materials used to highlight the stars of the show. "The wines are so beautiful," gushes Goldstein. "It's all just so gorgeous. It shines on its own." Flooded in sunlight from a wall of south-facing windows, the room is cozy, welcoming and joyously bright. Beyond the multihued mosaic of the wine wall, the space features a rugged stone bar, and artistic alcoves inhabited by official merch, bags of coffee and take-home bottles.
"I'm very creative," shares Goldstein. "I really love to create spaces for people to enjoy themselves." In The Daughter, Goldstein has created just that: a space where people have the option to enjoy themselves in myriad ways. Choose a few bottles from the kaleidoscopic wine wall as you revive over coffee, stop in for a drink at the bar, or prattle with friends over glasses of wine and plates brimming with beautiful, simple snacks. With a name that Goldstein says is "personal but also familiar to other people," The Daughter is also "an ode to all the amazing people in the world." It's a place that ardently celebrates women — the ones we live and work with every day, those who have come before us and those who will come after. As a youngest daughter herself, Goldstein says that the name also cheekily refers to her role as the arbiter of "cool" for her older siblings and parents. "I'm the one introducing the new stuff," she laughs. "This is this new cool concept that, as a daughter, I'm introducing to my dad, to the neighbourhood."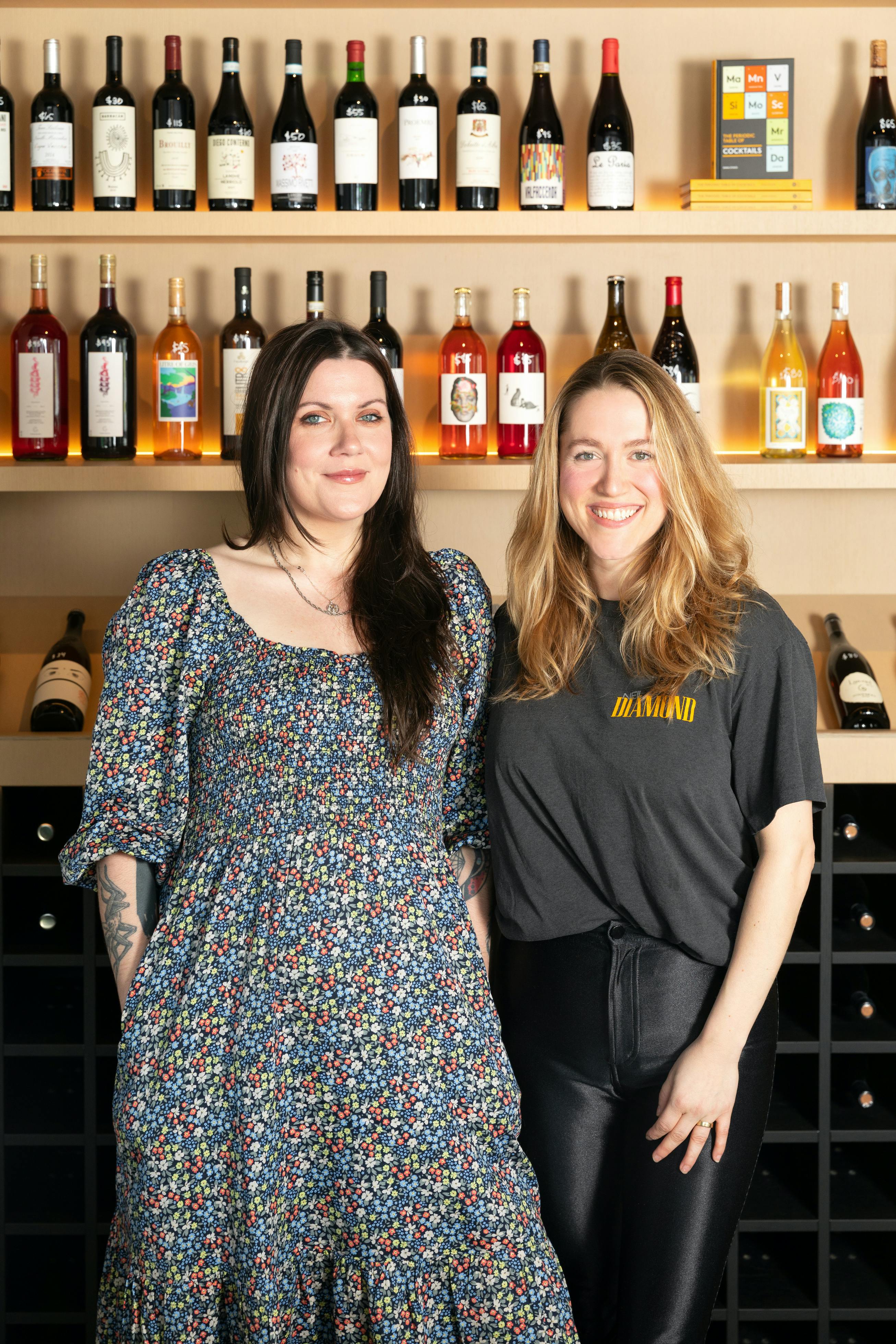 GM and official wine selector Lauren Wilkins (left) and owner and chef Marissa Goldstein (right) pictured above.
With GM and official wine selector Lauren Wilkins to inform every decision, every guest at The Daughter is in excellent hands. A veteran of Toronto's hospitality scene, Wilkins was part of the opening team for Après Wine Bar, in 2019. "I've always been a wine lover, a beverage lover," explains Wilkins, "but working with natural wines, learning the story, learning how different, fun and exciting they were really just piqued my interest. Marissa and I met and embarked on this project together." For Wilkins, the beauty of natural wine lies in its complexity, its singularity, its connection to the land, and the sheer range of possibilities it offers. It's an ever-evolving realm that offers a lifetime of charm. Beyond choosing a rotating selection of interesting bottles for customers to sample and take home, Wilkins' job, is to learn as much about natural wine as possible and then distill what she knows down for the customer, she says. "Wine is farming when you break it down," she explains. "It's so much about how you're growing your grapes, how you're feeding the land. The long-term sustainability is so important to the conversation."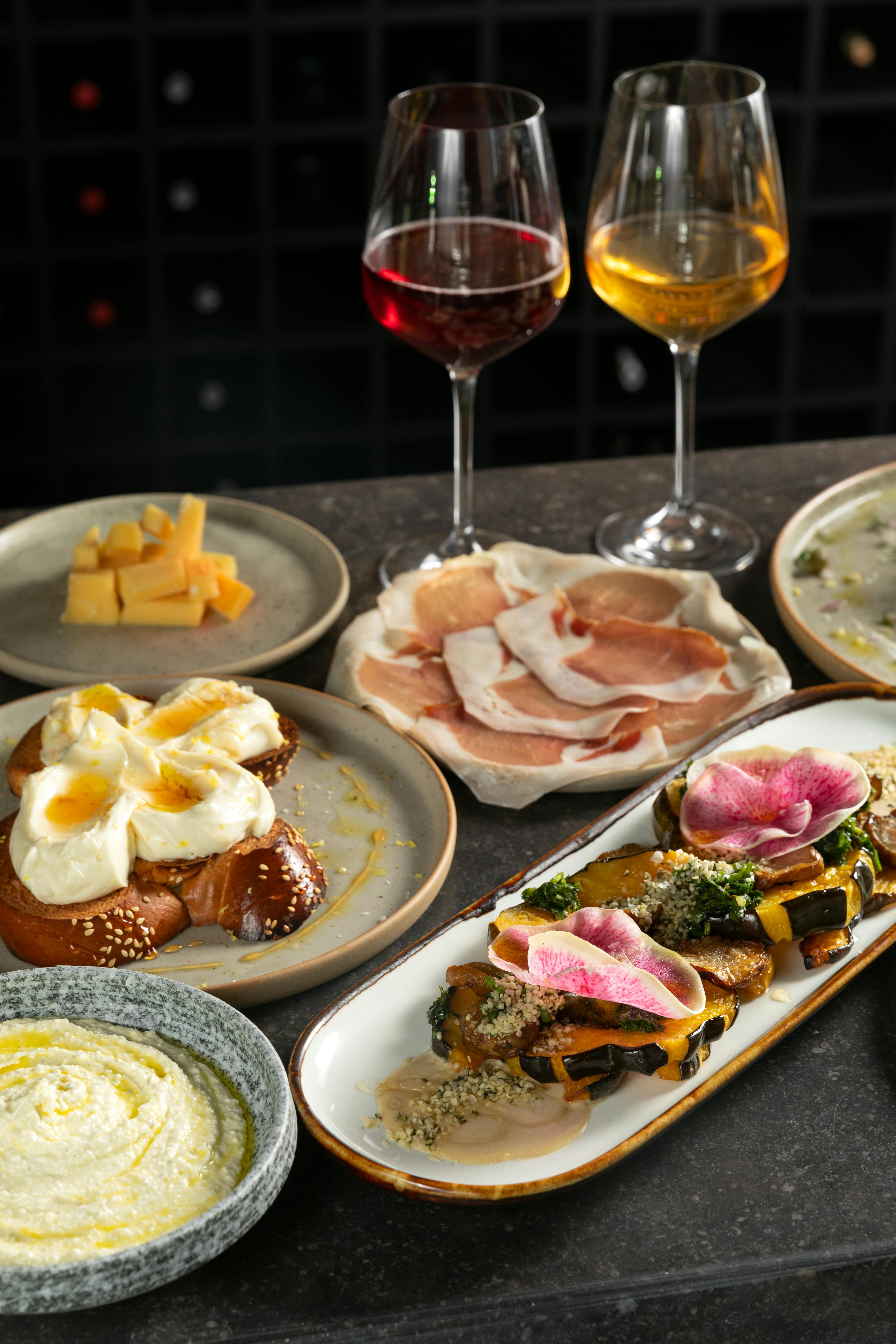 "Lauren is extremely passionate and knowledgeable about wine, and natural wine, in particular. She's a key contributor to our curated selection," explains Goldstein. Together, the team worked on creating a list that covers the spectrum, from natural wines with clout, such as those from Radikon and Frank Cornelissen, to what Wilkins calls "wilder and weirder" wines. "We want everything to be accessible but also challenging in a very friendly way," she adds. The team also wanted to ensure that everyone — from natural wine enthusiasts to those more familiar with the bottles habitually lining LCBO shelves — could find something to enjoy. "We worked really hard in making sure that we have a selection that varies from covering the funkier, trendier stuff that natural wine is known for to the classic, beautiful wine flavours and varietals and regions," adds Goldstein. "If they walk in, and Lauren has a conversation with them and they say, 'I'm a pinot drinker,' we say, 'Ok! We have a pinot. We also have this other wine that you might like it.' We'll taste you on it, give you a little splash, see what you like. Seven times out of 10, they go for the new bottle." In the interest of inclusivity, the menu also lists local beer and ciders, along with classic cocktails. Naturally, you'll be drawn to the wine at The Daughter. Just know that Wilkins "makes the best martinis and negronis," according to Goldstein.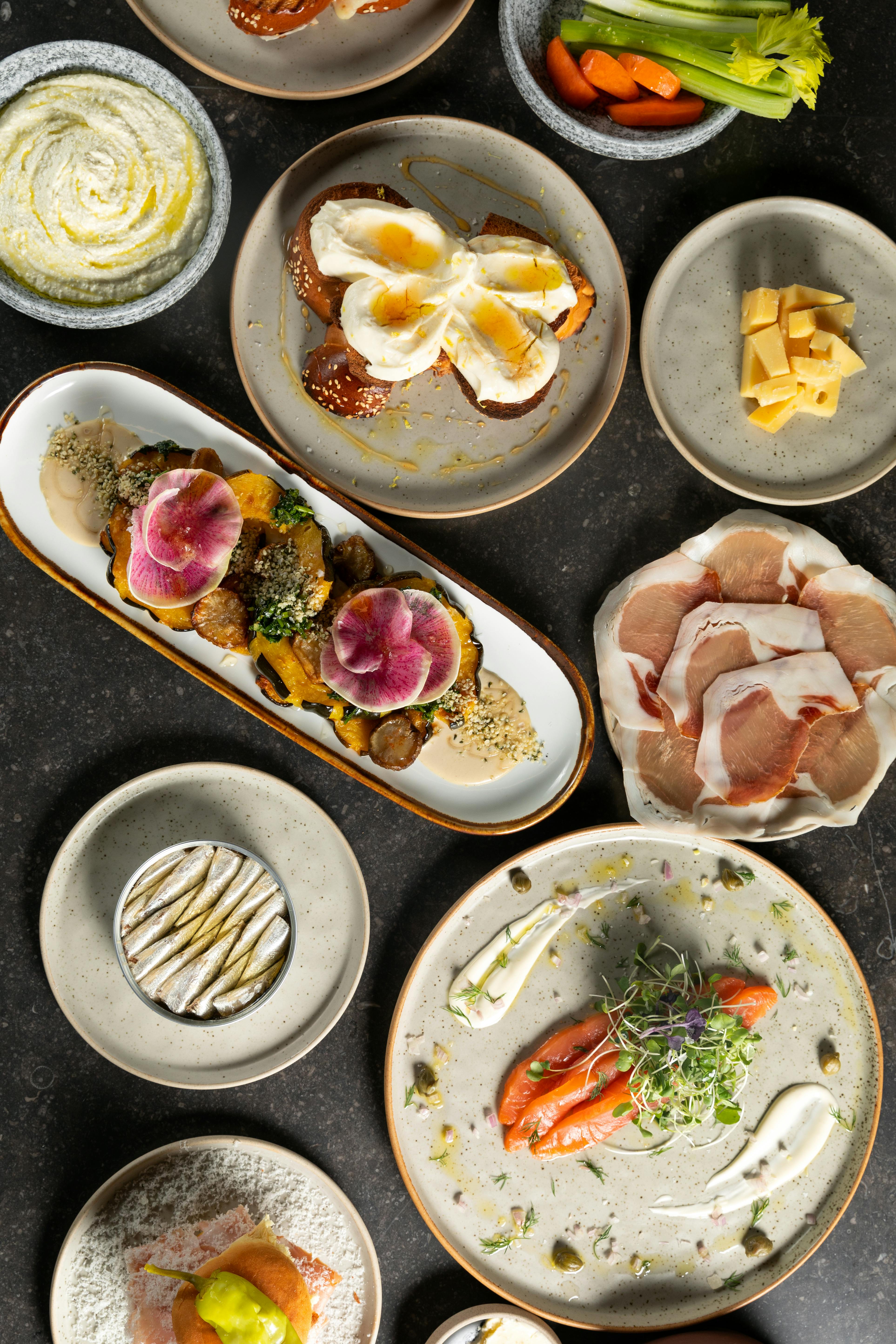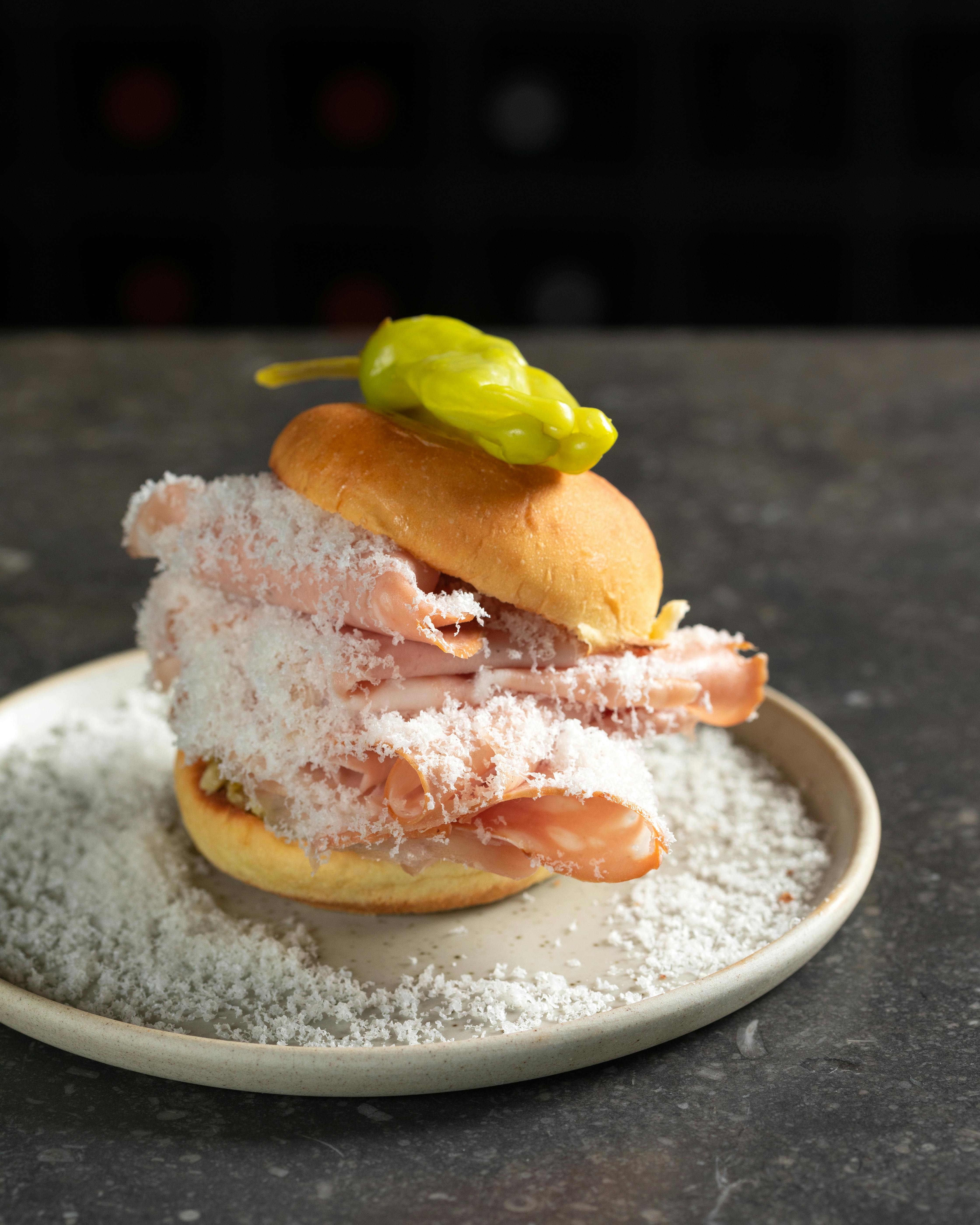 Designed to pair with every stellar sip of wine, The Daughter's approachable menu is sprinkled with a tempting array of snacks and sandwiches. Crafted from top quality ingredients — interfered with minimally, yet to stunning effect— dishes here are the perfect counterpoint to the bar's wines. Order a selection of items and enjoy what it means to eat well. Lighter bites include tinned conservas, plates draped with whisper-thin slices of chorizo or piled high with one-bite morsels of Montana Intenso cheese.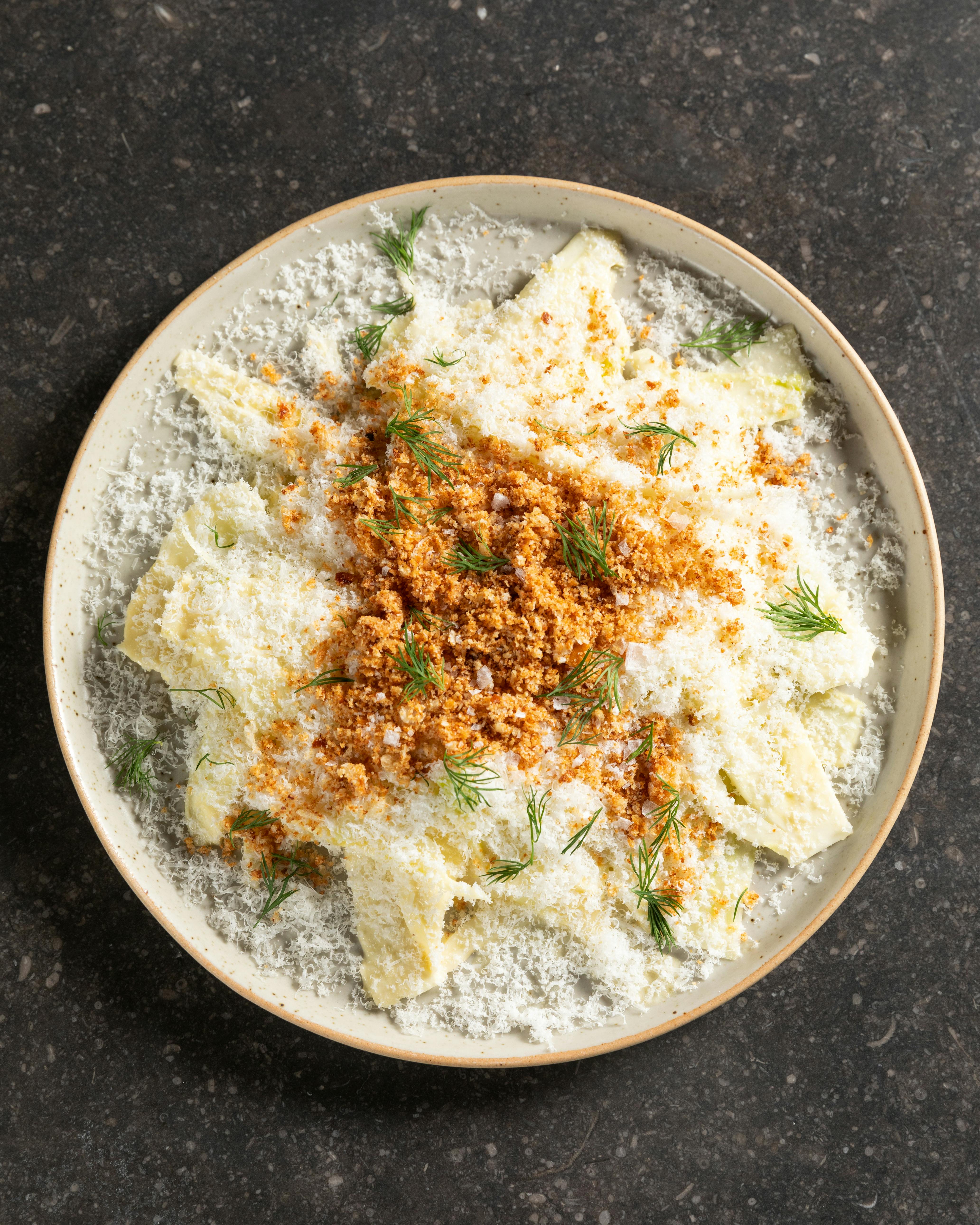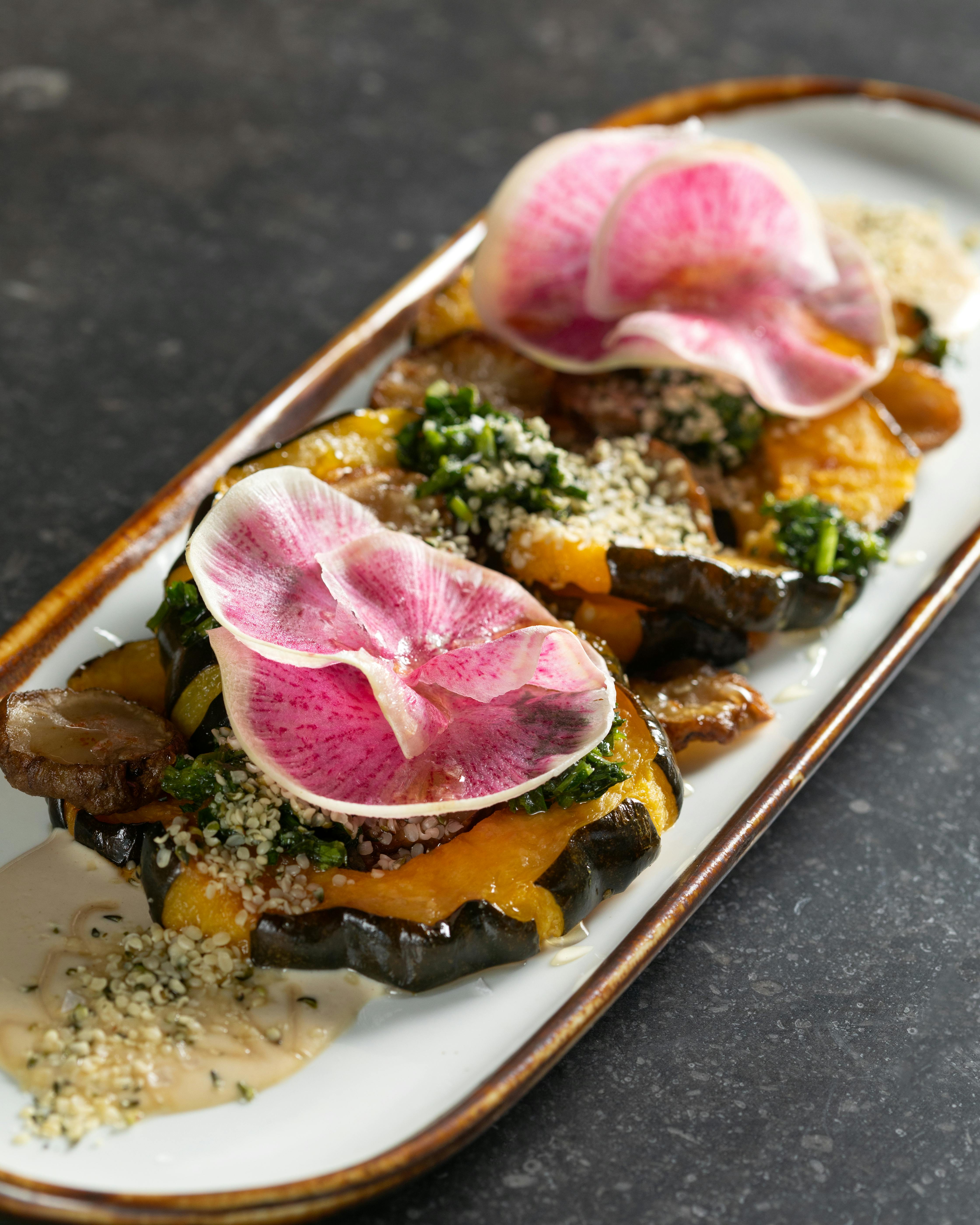 Seasonal and locally-sourced, vegetables appear thinly shaved and topped with heavy blankets of cheese (as in the case of austerely dubbed Shaved Fennel Salad) or roasted until tender (like acorn squash) and garnished with ingredients that brighten, heighten, add texture and ultimately elicit contended sighs.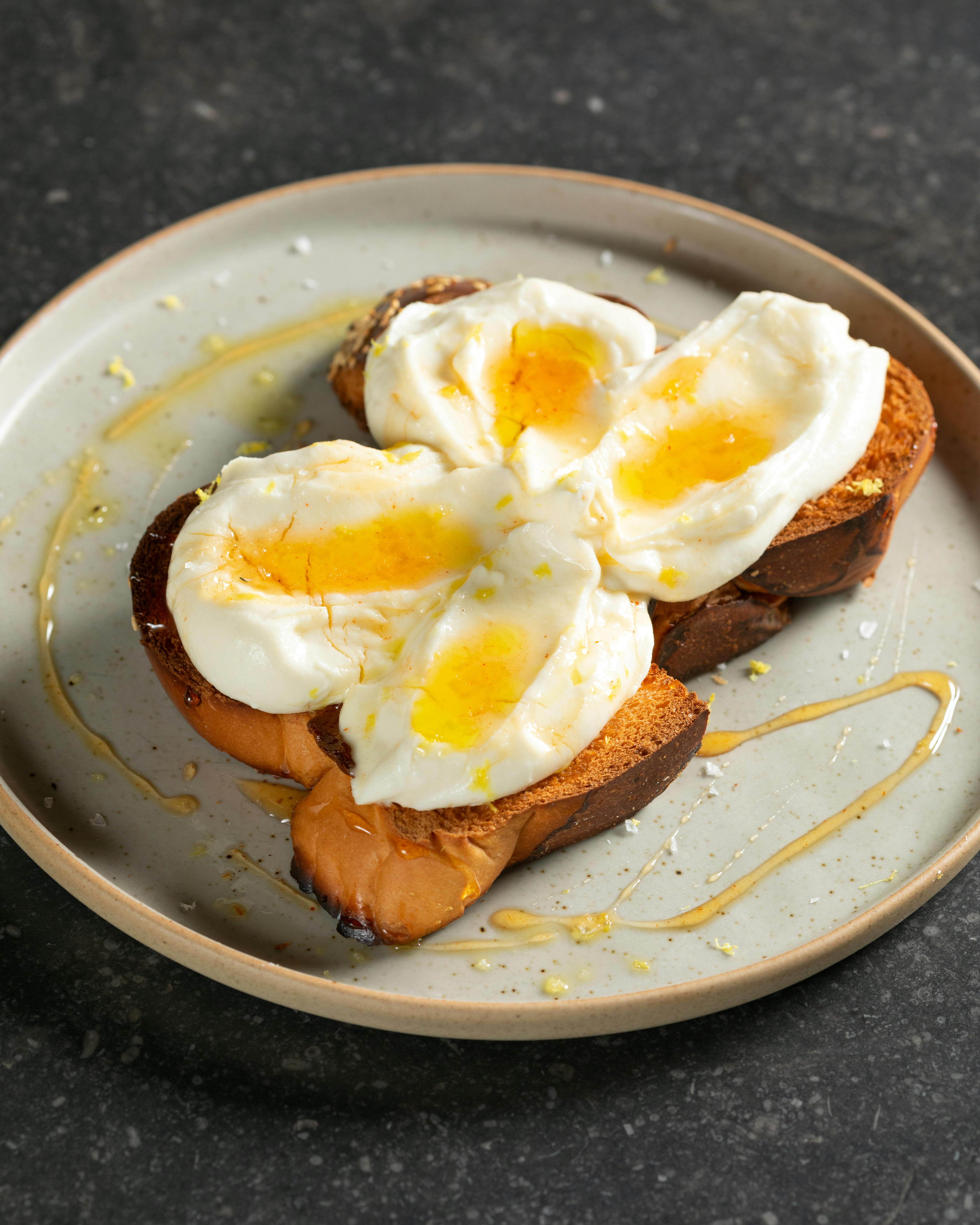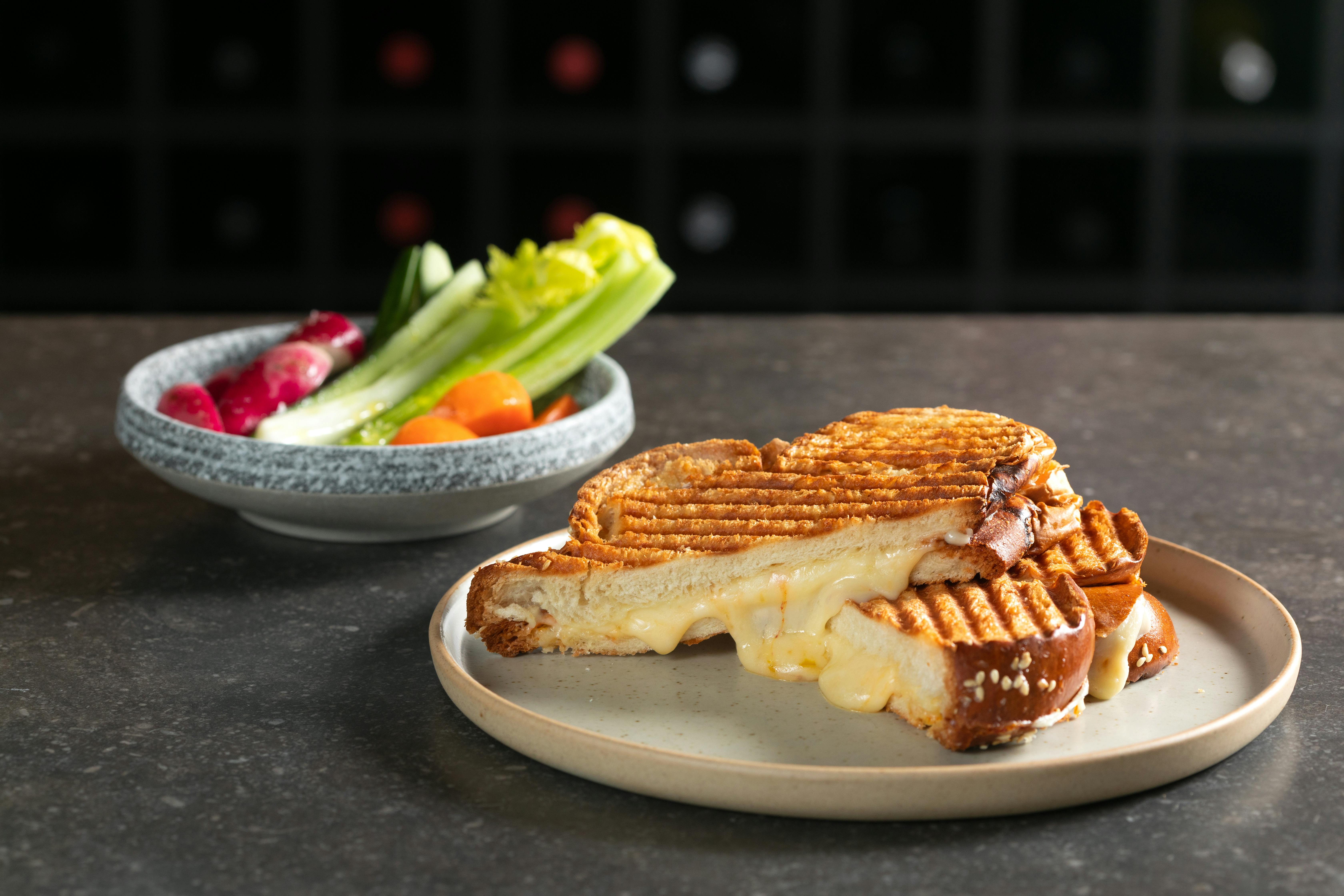 Just don't leave without sampling the challah. An exceptional base for sandwiches, this is no run-of-the-mill bread. "We searched long and hard for this challah," says Goldstein, adding that she was "looking for a very specific challah." The victor, from Bagel Nash, in Thornhill, is tender with the scent of yeast, and a golden, glistening crust. Beyond its flavour, for Goldstein, it's edible nostalgia. "This challah reminds me of my family, my culture, going to my parents for Shabbat dinner and having challah. At the same time, each bite takes Goldstein back to time spent in Israel, with relatives. "Challah there, it's just sweet and beautiful and delicious and I found an Israeli baker who makes the challah that reminds me of sitting in Tel Aviv, dipping in tahina and that whole atmosphere." Even if you don't share Goldstein's cultural heritage, you'll treasure this challah however it's served — lightly toasted, coupled with salted, cultured butter, in a molten grilled cheese, or covered with swirls of whipped ricotta, a drizzle of hot honey and lemon zest. With every bite it's clear — challah-hunt was a resounding success.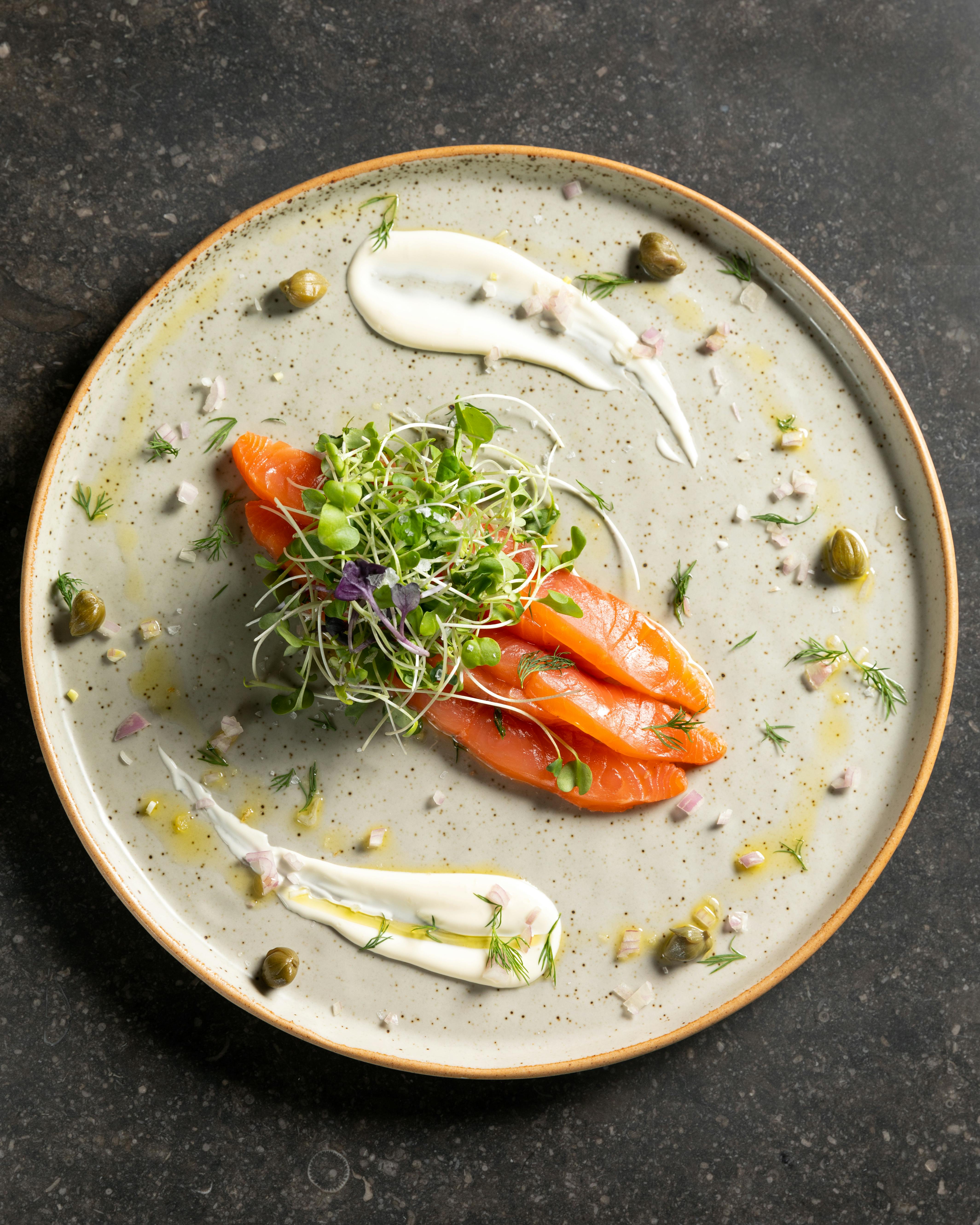 Slotted amongst the mom-and-pop butcher shops and bakeries, the fish shops and cheese stores of Bayview Avenue, The Daughter is a natural addition to a vibrant, family-friendly strip. Forget your natural wine naiveté, and head to a place where all are welcome, no question needs be left unsaid, you can eat well, and (though by now it probably goes without saying), you can drink something fresh, fabulous and exhilaratingly delicious in the company of new-found friends.