If you've only ever had Vietnamese coffee next to a bowl of pho, it's time to rethink your routine. Spearheaded by owner David Tong and recipe developer Sara Tam, District 3 doesn't offer that five-page menu of Vietnamese dishes you already know and love—instead, the café is all about bringing to Toronto a different side of Vietnamese cuisine: its bustling, contemporary coffee culture.
"Next to Brazil, Vietnam is the second producer of coffee in the world," says Tong. "Vietnamese coffee shouldn't be hidden on the last page of the menu at a pho shop. It should be highlighted on its own—it's amazing, strong, and there's so much tradition behind it."
Unlike the historic, pared-down Vietnamese spots Toronto has grown used to, District 3 showcases a much more colourful experience of Vietnam's contemporary street-side culture. For Tong and Tam, it's an homage to what they call the "loud and proud" generation of Vietnamese youths that are redefining traditions back home.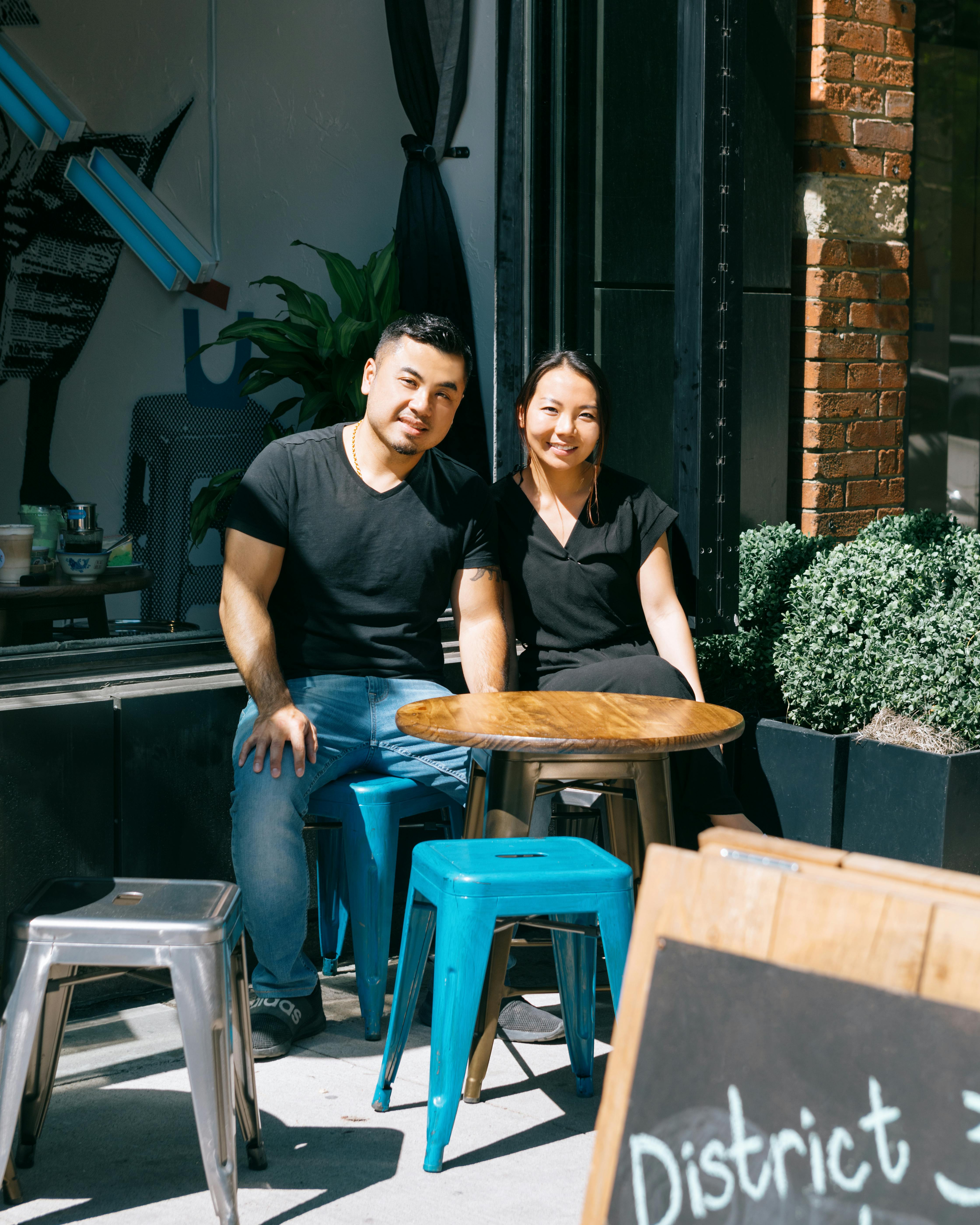 Named after an urban area in Ho Chi Minh City (formerly known as Saigon), Tong's café was inspired by his visit to the Vietnamese capital in 2016, where he felt inspired and impressed by the spontaneous artistry and energy inside each of these small, casual coffee shops in District 3. 
His previous project with Jackson Mou, Dzô Viet Eatery, was about modernizing Vietnamese cuisine with revamped versions of classic recipes, including debuting their weekend Vietnamese brunch menu a few months back. With District 3, Tong hopes to accomplish the same kind of renewal, this time for a more casual midday crowd.
"The cafés in Vietnam's District 3 are very relaxing and chill environments. People just sit street-side on small stools, sipping strong phin-drip Vietnamese coffee and having a good time," Tong recalls. "For them, it doesn't have to be, 'let's arrange a time and meet for coffee.' They just go whenever they're free."
Another unique experience Tong hopes to recreate is a space for artists to sit, daydream, and just create.
"I remember all these indie artists—people who are trying to make it. They're just there writing and singing songs. It was just such an amazing energy."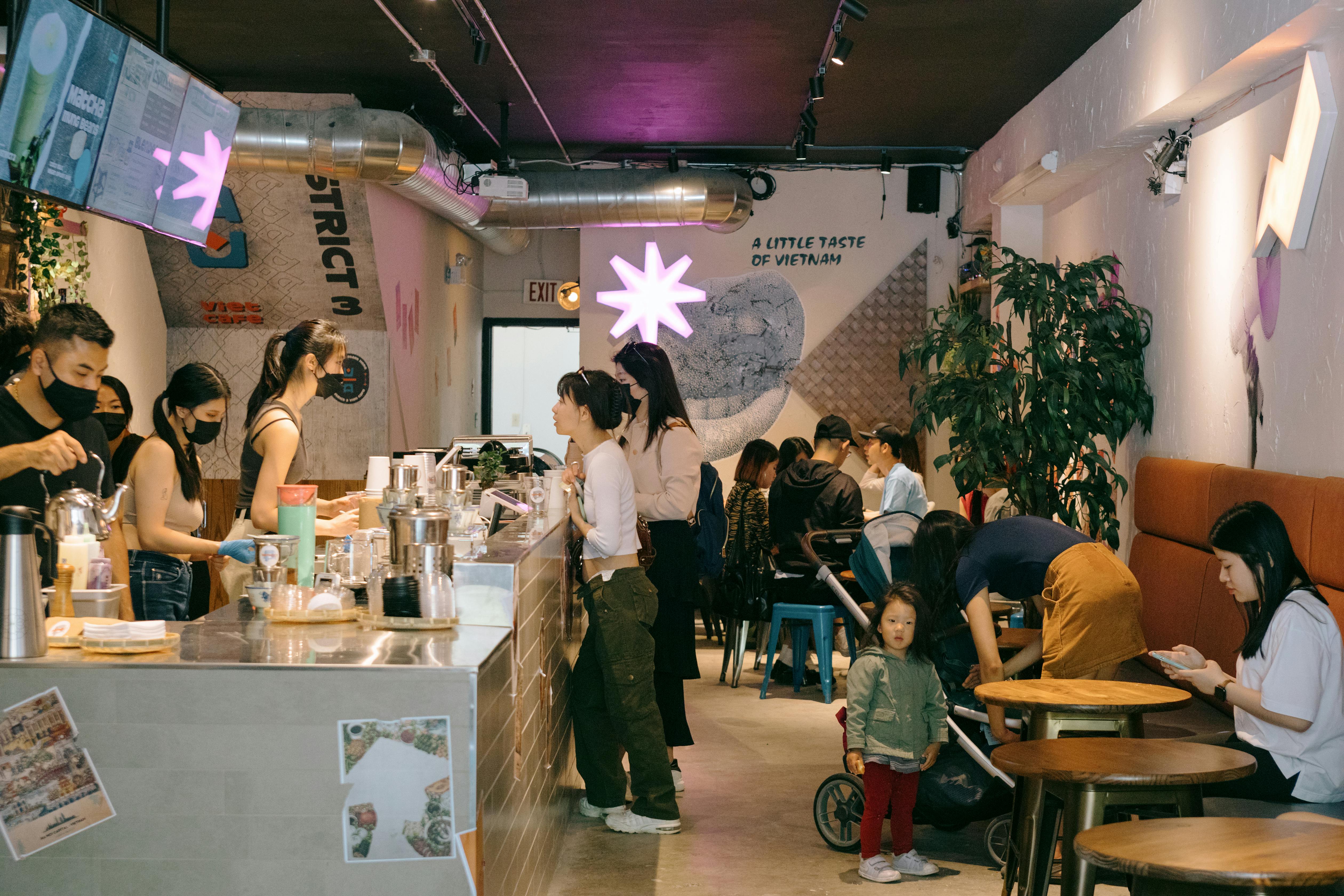 Reflecting the mix of tradition and hip youthfulness that Tong discovered on his visit, the design of District 3 feels at once rustic and rebellious. Small wooden tables and coloured metal stools are spread across an exposed concrete floor, while the walls are adorned with abstract, graffiti-inspired art, antique posters, and accents of bright neon shapes. Combined with indoor plants and a large window that opens all the way, the café simply invites the outdoors in, and vice versa.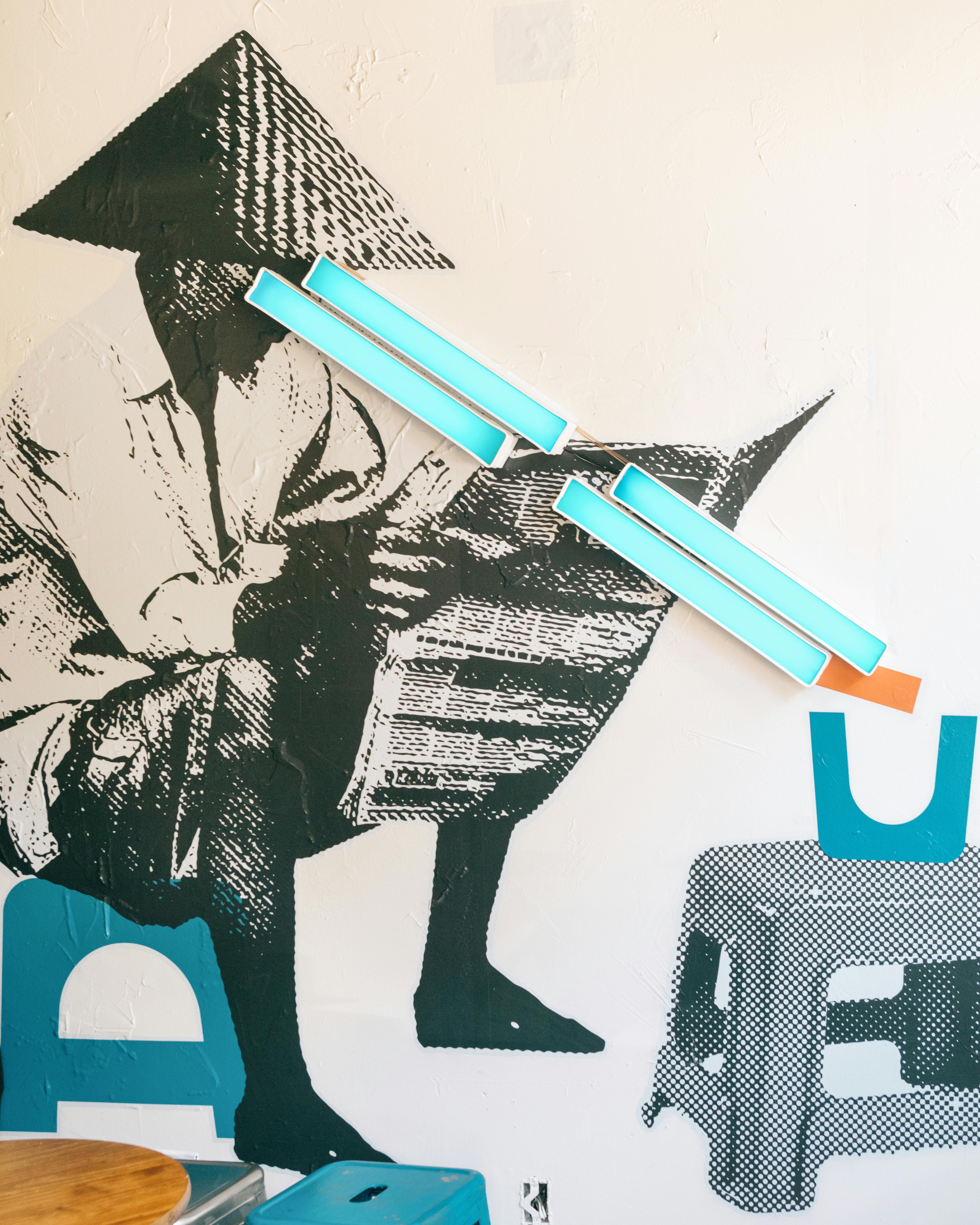 "Like the menu, the interiors are inspired by that 'loud and proud' generation of Vietnam," Tong explains. "It's 'proud' because we're paying homage to tradition with vintage décor, aged wood, and historic phin-drip coffee, and 'loud' because this younger generation represents new ways of thinking and bolder creativity, like graffiti and pop art."
There's zero doubt that coffee is the star at District 3. Every cup of Viet Coffee here is made from coffee beans sourced directly from Vietnam's Central Highlands region to support their farmers.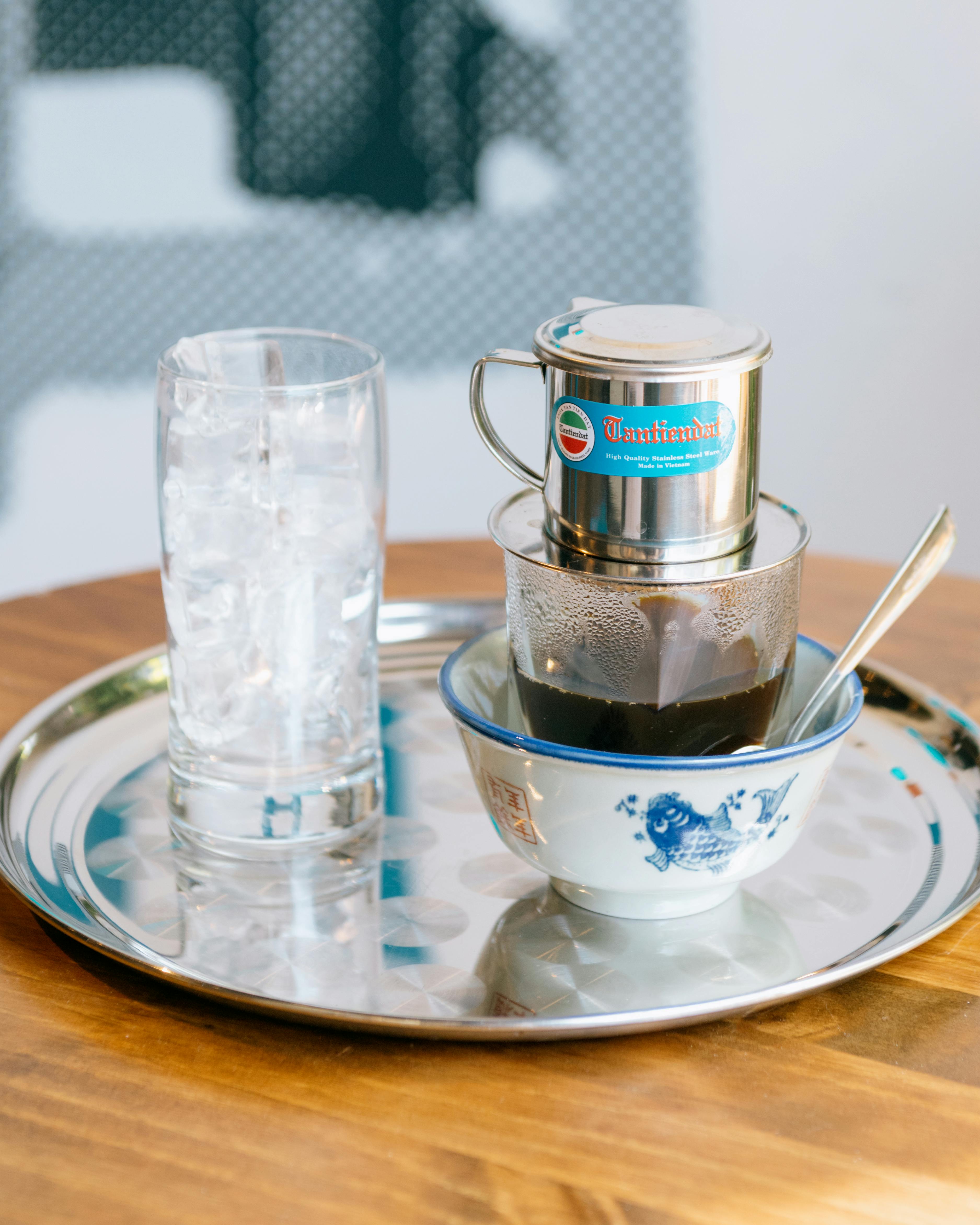 In addition to the no-frills Viet Iced Coffee, dine-in customers can also enjoy a cup of Cà Phê Den Phin Black Coffee with an authentic slow-drip phin filter.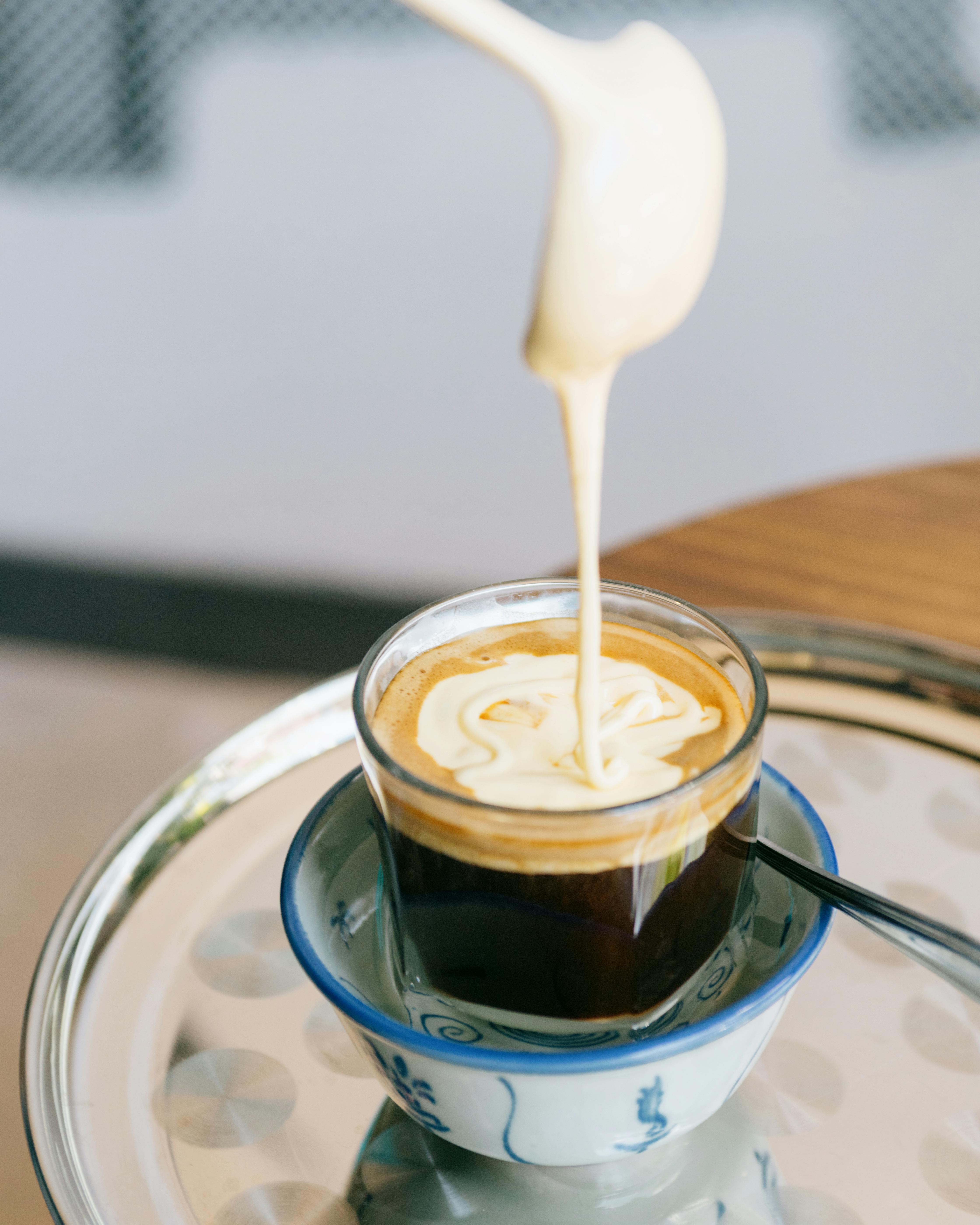 Another rare traditional drink that can be found here is the velvety Egg Crème Coffee. Made with a raw egg yolk-based crème, the strong and creamy coffee is given an extra airy texture without taking over the coffee's natural aromas.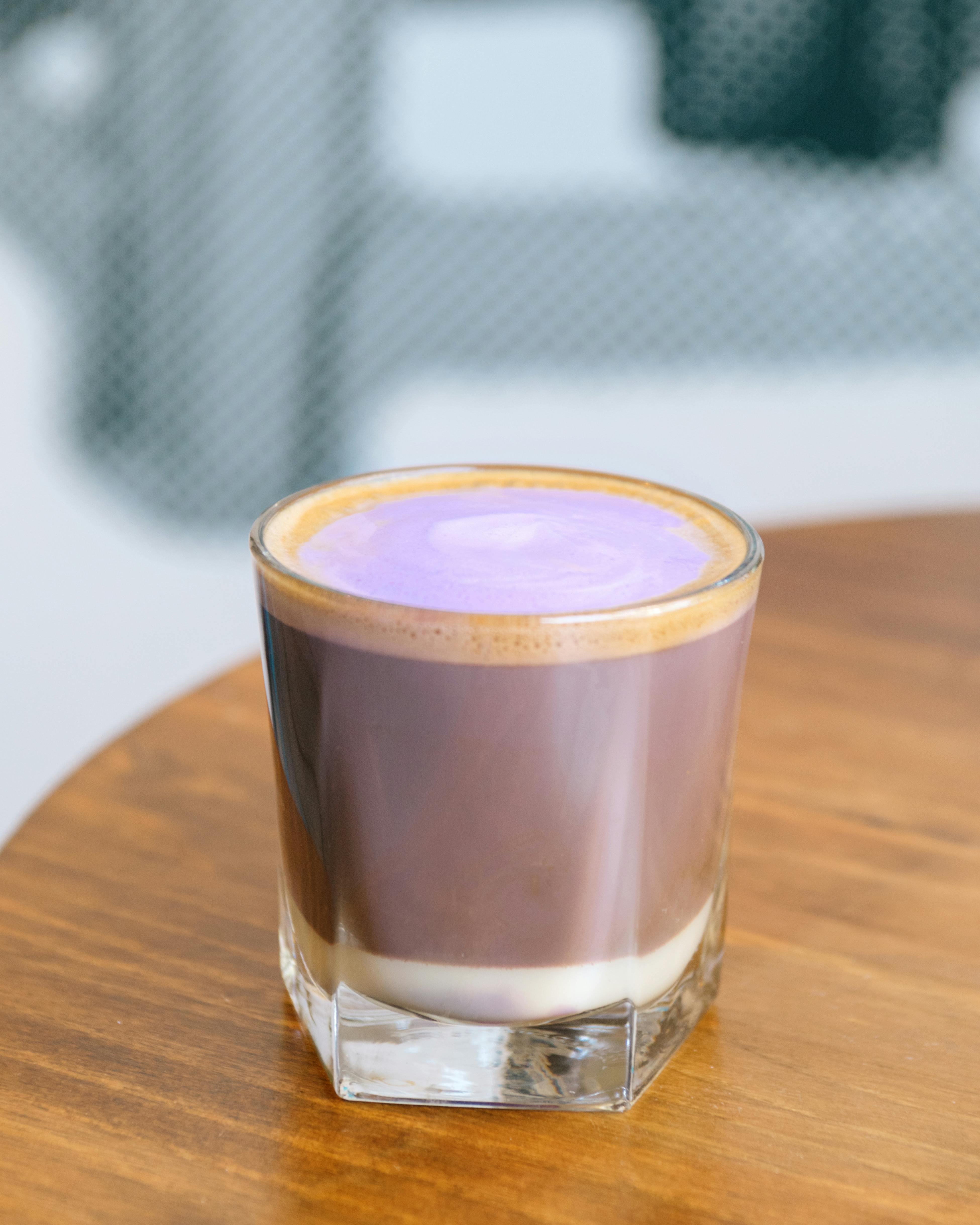 However, bringing traditional drinks to Toronto is not the only thing District 3 wants to be known for. Their modernized, Insta-worthy concoctions add a flavourful twist to the strength of Vietnamese coffee while still celebrating popular Southeast Asian flavours and ingredients. These new instant-classics include the Coconut Latte with steamed coconut milk, Pandan Latte with steamed pandan milk, and the Ube Latte with steamed ube milk.
Under a separate section of the menu is District 3's Signature Cheese Foam items—a series of fun and colourful coffee-based drinks topped with a layer of airy cheese foam, a modern invention that's reached viral popularity in Asia.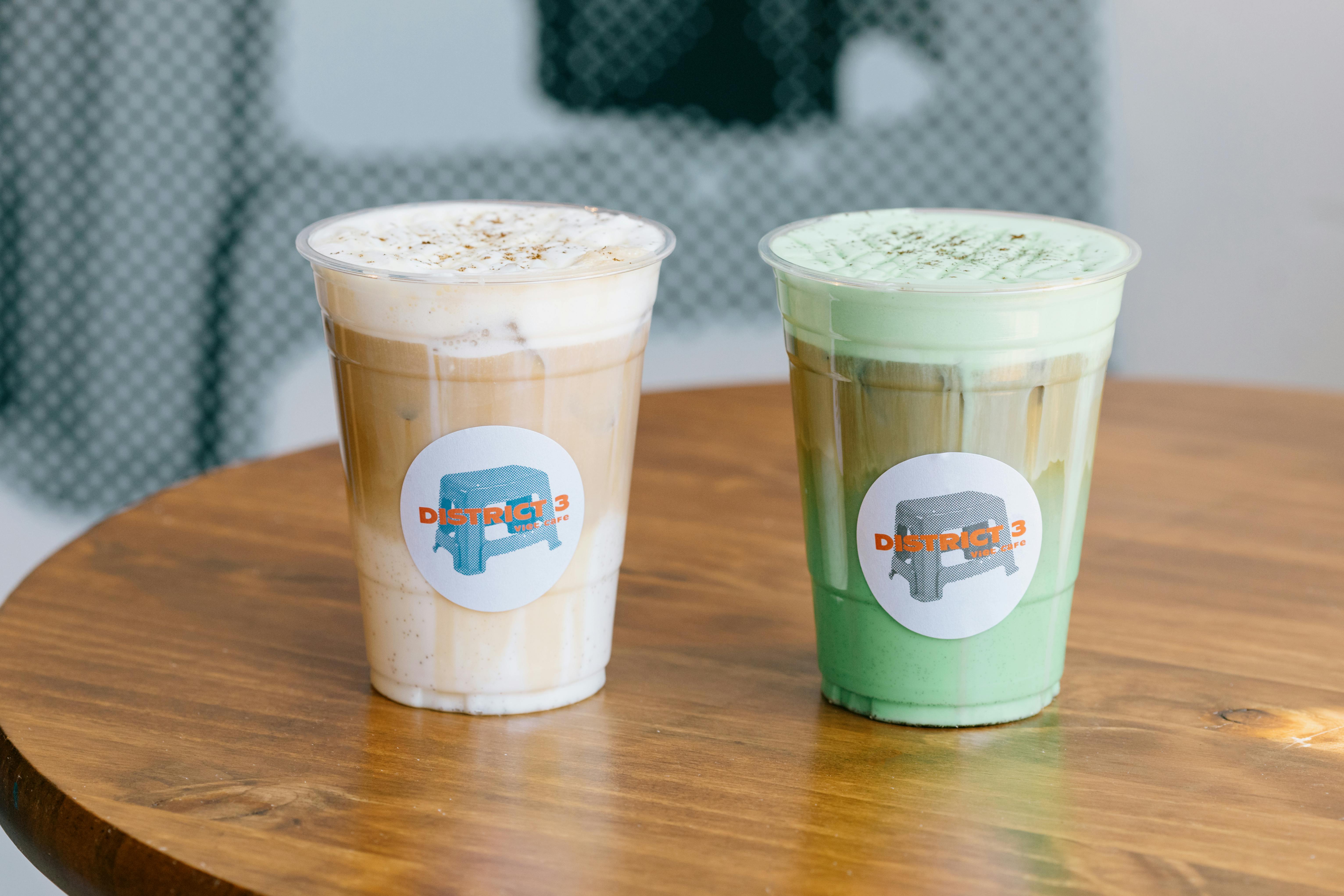 At District 3, you can choose from four different Cheese Foam creations, including the Purple Craze with ube cheese foam and milk, the Pandan Love with pandan cheese foam and milk, the Coco-Nutty with coconut cheese foam and milk, and, last but not least, The District—a tricolor drink with ube cheese foam, pandan milk, and pandan jelly.
Clearly, highlighting Vietnamese coffee in all its modern forms is a main goal at District 3, but another big part of the team's goal is to create an inclusive space where anyone can just come and relax, even if they're not big coffee drinkers.
As a Food Nutritionist, Tam is one of the main drivers behind the café's modernization of traditional recipes.
"Vietnamese coffee is very reliant on dairy products like condensed milk—which we love. But as a nutritionist, I knew this didn't make things very accessible for everyone," says Tam. "During recipe development, I was very adamant on having vegan and dairy-free options on the menu. Right now, we're working on a coconut-based condensed milk substitute that's just as thick, creamy, and flavourful as regular condensed milk. That way, customers with dietary restrictions can still order whatever they want from the menu."
For anyone looking for non-coffee options, District 3 has a list of Specialty Drinks that are equally delicious and eye-catching. These tea-based beverages range from classic Matcha Lattes to the Iced Trà Đào Peach Tea, a traditional Vietnamese tea made with real peach slices. Here, they're made with an extra scoop of matcha, adding an earthy aroma and bright colour to the refreshing, classic summer drink.
Also available is a series of ice Blends (with and without coffee) that incorporate some more seasonal flavours like passionfruit, lychee, dragon fruit, mango, and mung beans.
Even with drinks as varied and interesting as what's on the menu here, the casual Vietnamese experience wouldn't be quite complete without at least a few food items to nibble on.
At District 3, you can expect the same level of flavour and creativity as what's being offered at Dzô, except the items are a lot more curated to satisfy that midday hunger.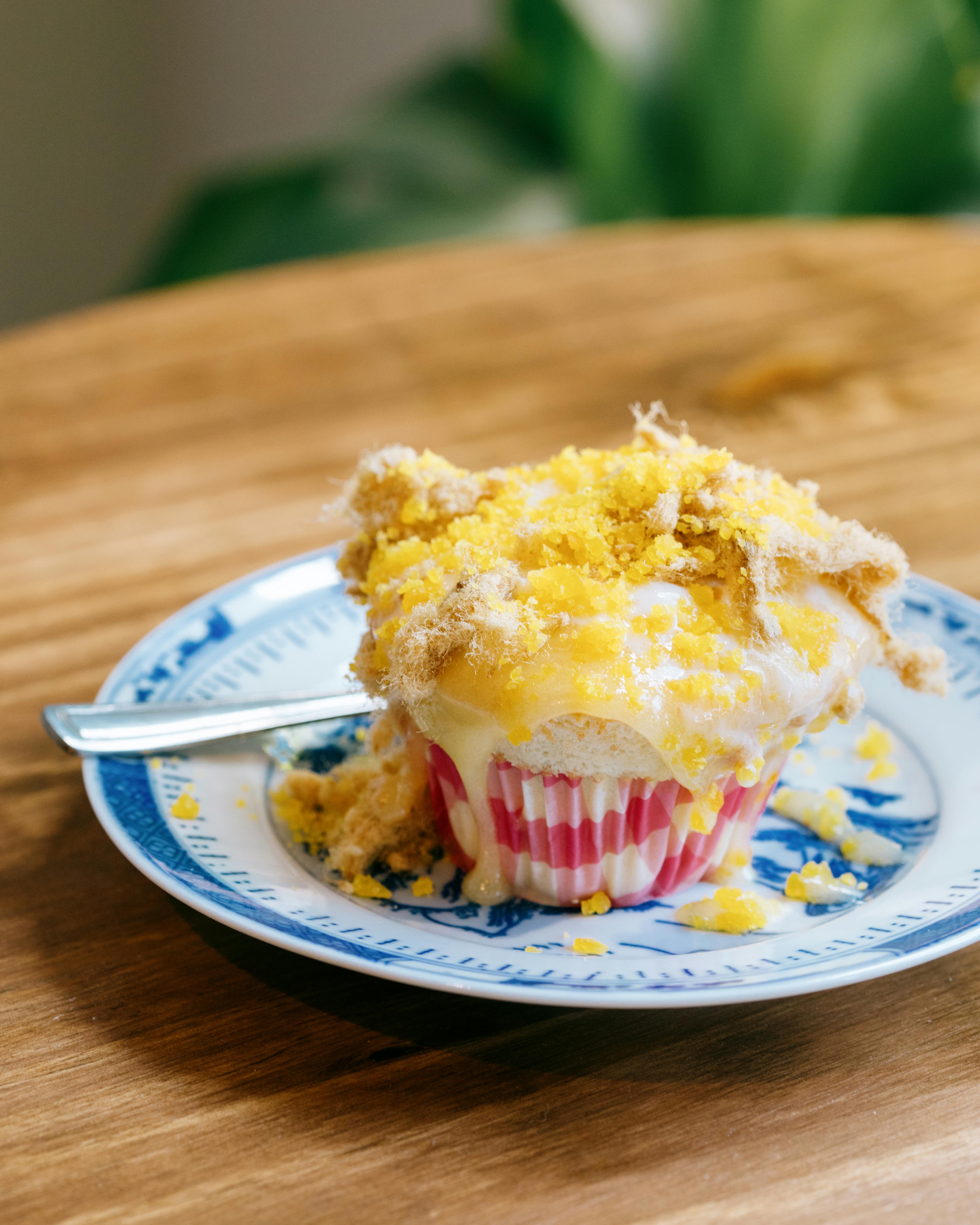 One of the most popular items right now is their Salted Egg Cupcake—a play on classic Vietnamese sponge cake, topped with pork floss, salted egg yolk, and filled with a delectable egg cream.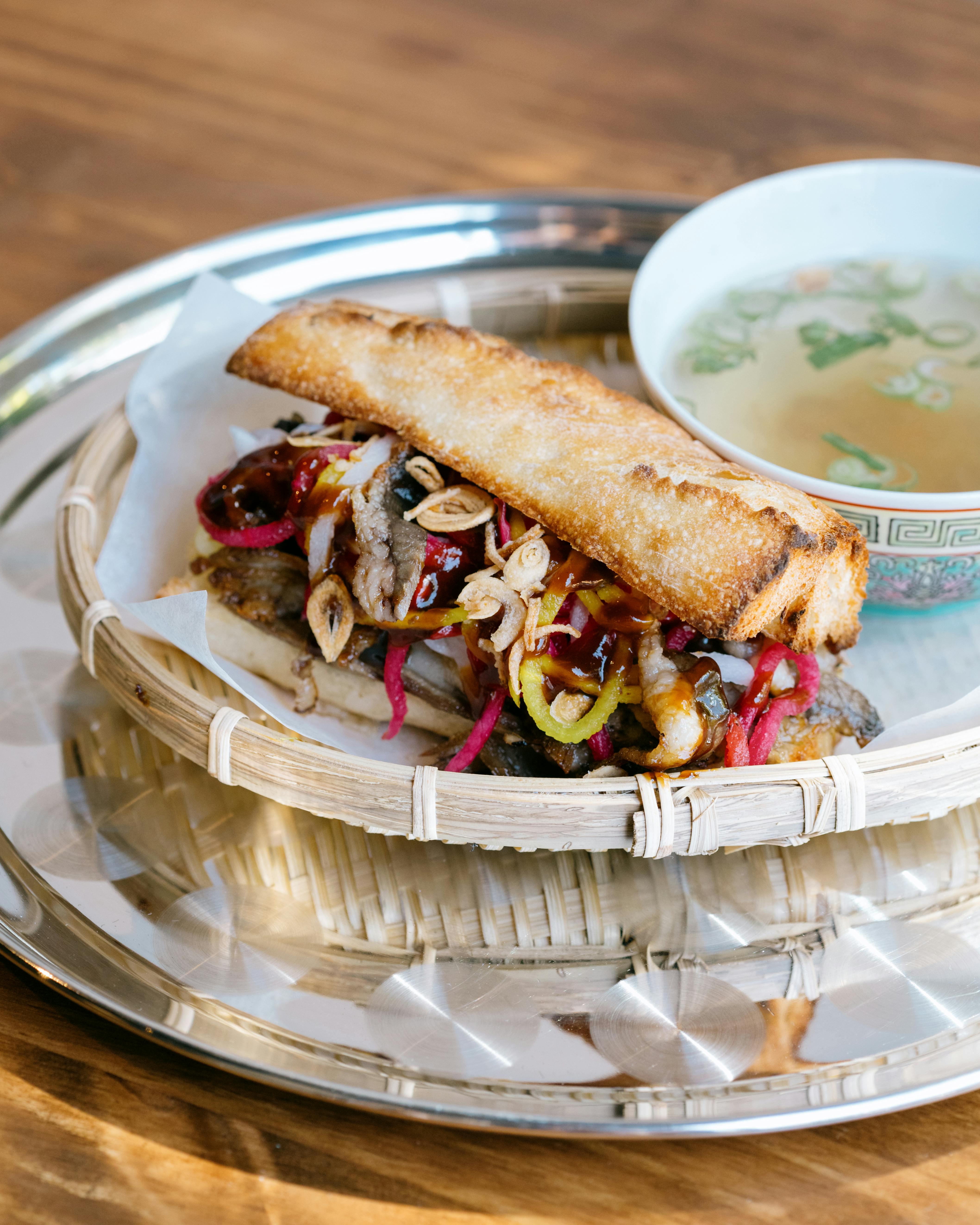 If you're looking for more than a bite, District 3's hand-held sandwiches and banh mi's will definitely hit the spot. The team highly recommends their Pho Brisket Banh Mi, a French baguette sandwich filled with a rich beef brisket that's been slow-simmered in pho broth for eight whole hours. It also comes with a side of the same broth as a dip.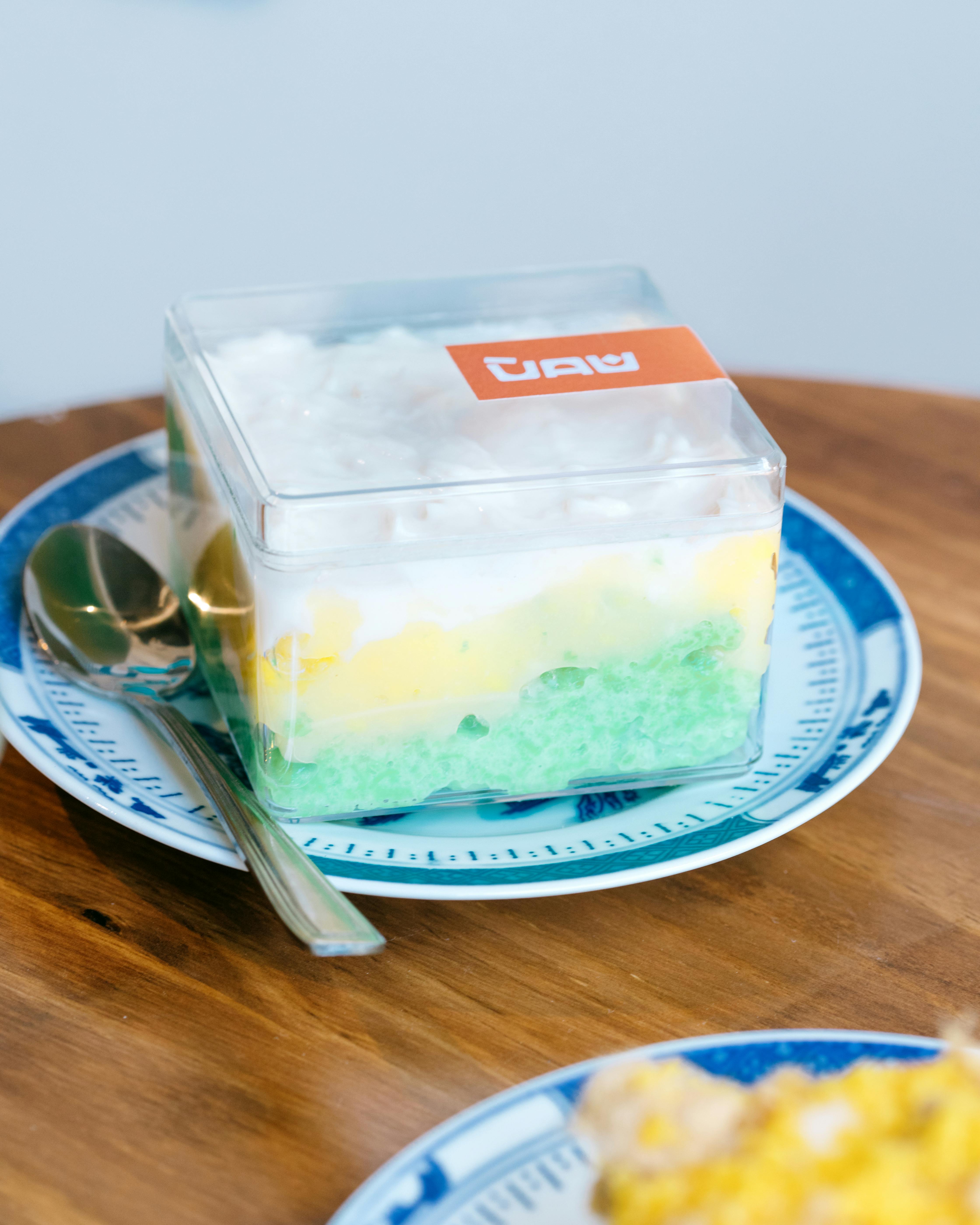 The sweet-toothed will count their blessings with any of the Dessert items, but the one to watch for is the Mini Sticky Rice Cake. Made with ube and pandan sticky rice, coconut cream, mung beans, and topped with peanuts, the box-sized dessert is delightfully satisfying without being too sweet or heavy.
"With Vietnamese food, there's so much diversity and complexity in flavour. That's why I wanted to elevate it so that it's more than just pho and 'hangover food,'" says Tong. "The coolest thing is just to have customers tell me this is something they've never had before. Right now, this Vietnamese coffee movement is fantastic. We want to be a part of that and spearhead it in Toronto."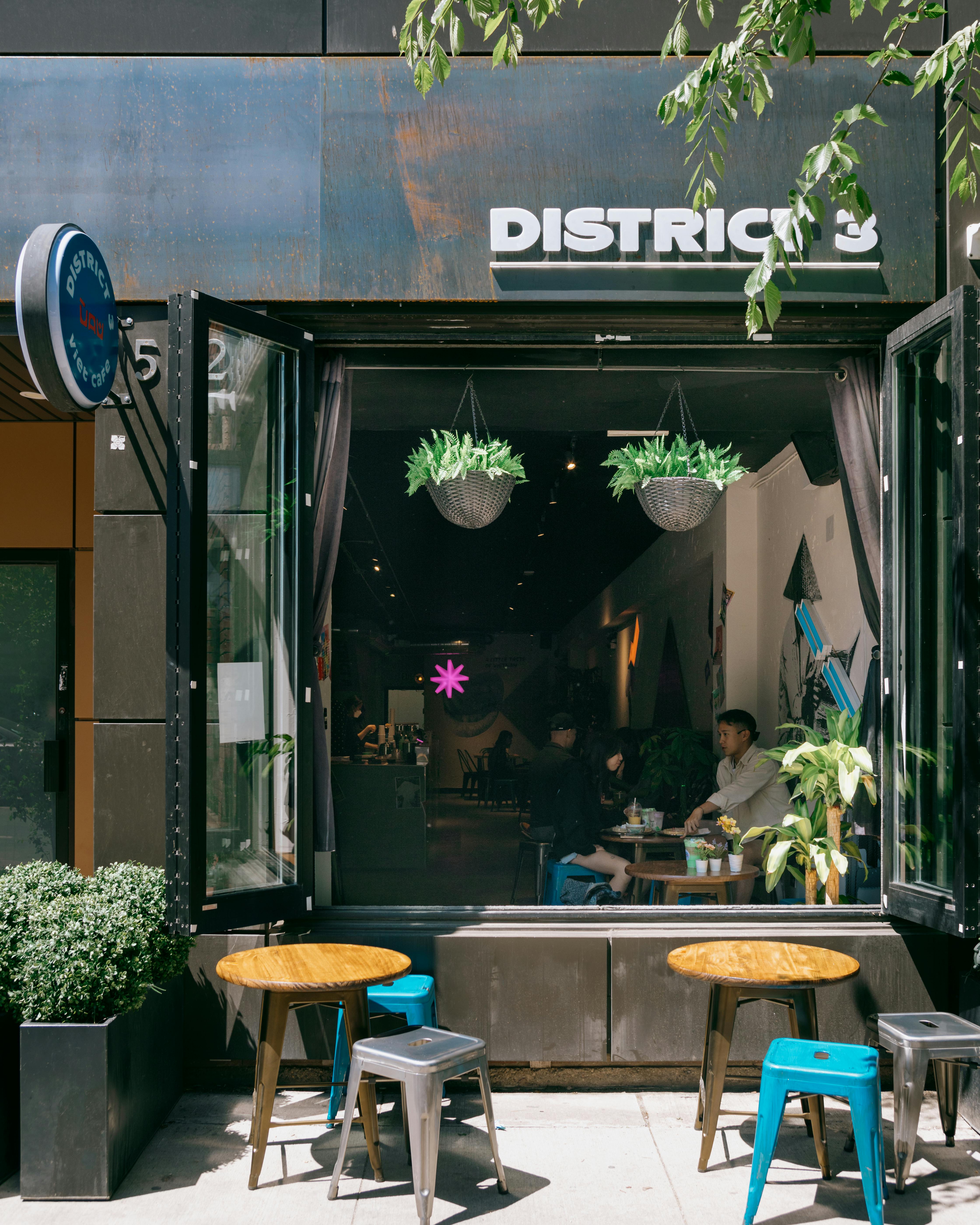 Visit District 3 and pick something off the menu you've never tried. They're located on 532 College St. and are open Mondays through Thursdays from 10 a.m. to 6 p.m., and weekends from 10 a.m. to 7 p.m.