Photographs by Amanda Biffis
Beast Pizza isn't here to cater to your every whim. Want to cherry-pick toppings from an extended list of options? There are plenty of places in town where you can, to your heart's content. At Beast Pizza, settle in and trust the team. A place that combines stellar cooking with an undercurrent of nostalgia, Beast Pizza is cozy, unpretentious, and just the place to visit when you're jonesing for a killer pie.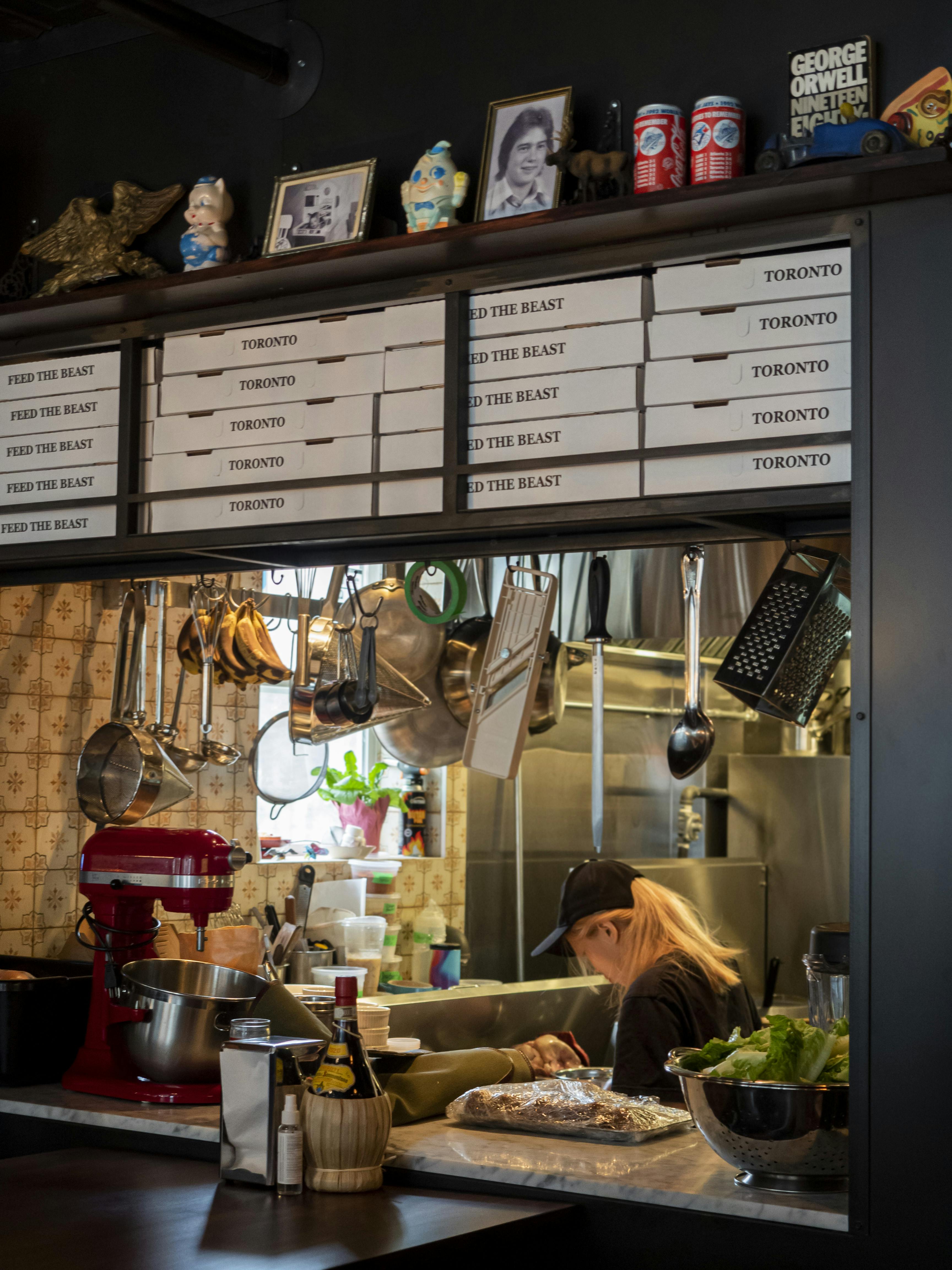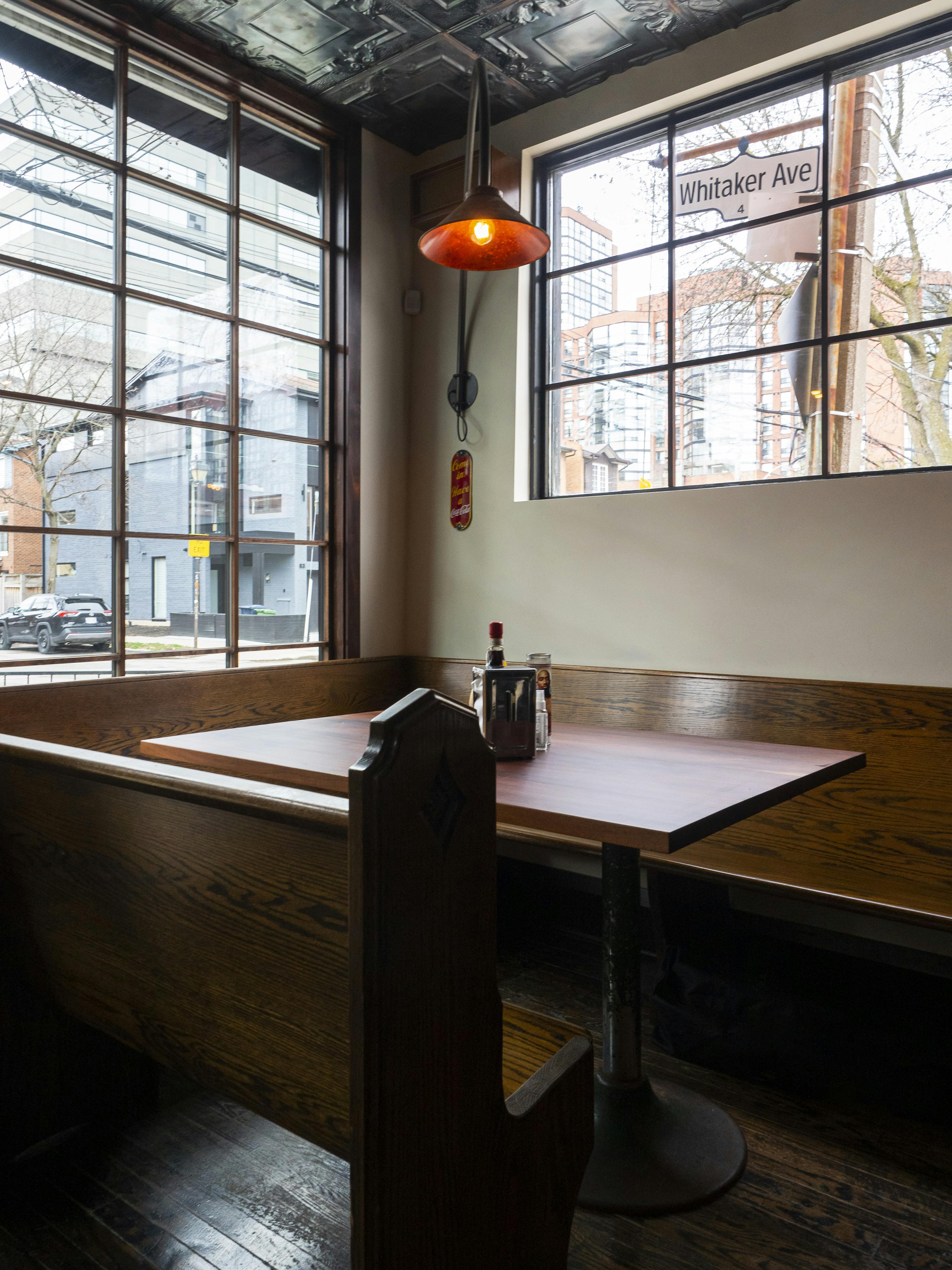 If Beast Pizza sounds familiar, there's good reason. A reincarnation of Beast -- chef Scott Vivian's nose-to-tail boîte that garnered acclaim and attention for a decade on Tecumseth Street -- Beast Pizza has emerged, renovated and with a renewed focus for a new age. "When the pandemic hit," says Vivian, "shortly after, June 2020, was our 10-year anniversary. I think I had planned on doing something different with the restaurant after 10 years. Everything that I had wanted to accomplish, I had. With a baby on the way at the time, it was kind of like, 'How can I make this a little bit more balanced with work and life?'" Though the restaurant became a takeout bodega during the pandemic, Vivian says "it was a good quick fix but definitely not a long-term business plan. That's when we started taking a more close look at what had longevity to it." Vivian and Beast Pizza chef and co-owner Nate Middleton, "noticed that pizza places were doing really well, even better during the pandemic than pre-pandemic. Because it's something that we both really enjoy doing and we'd talked about doing, we'd done pizza parties together in the past, it made sense."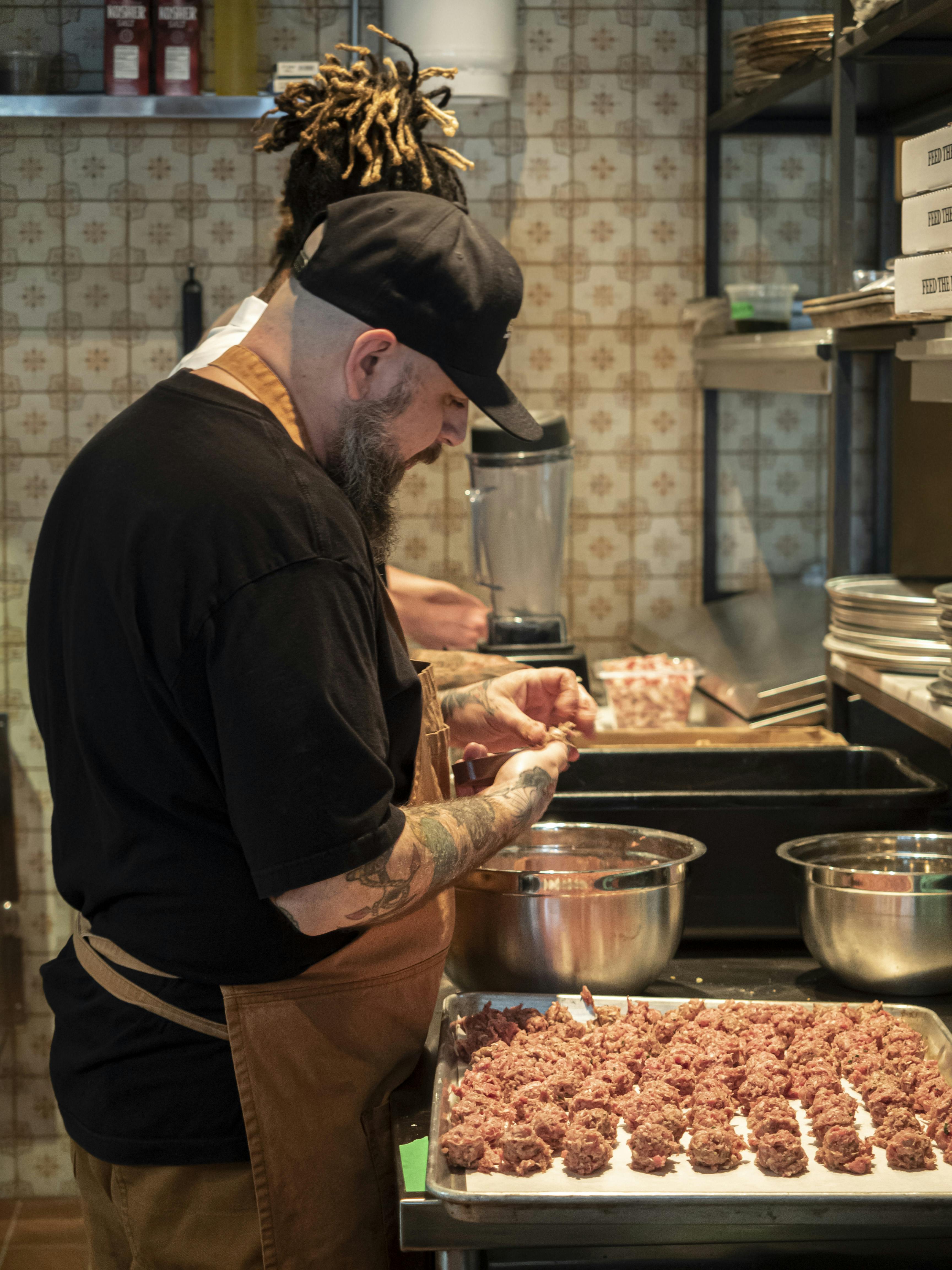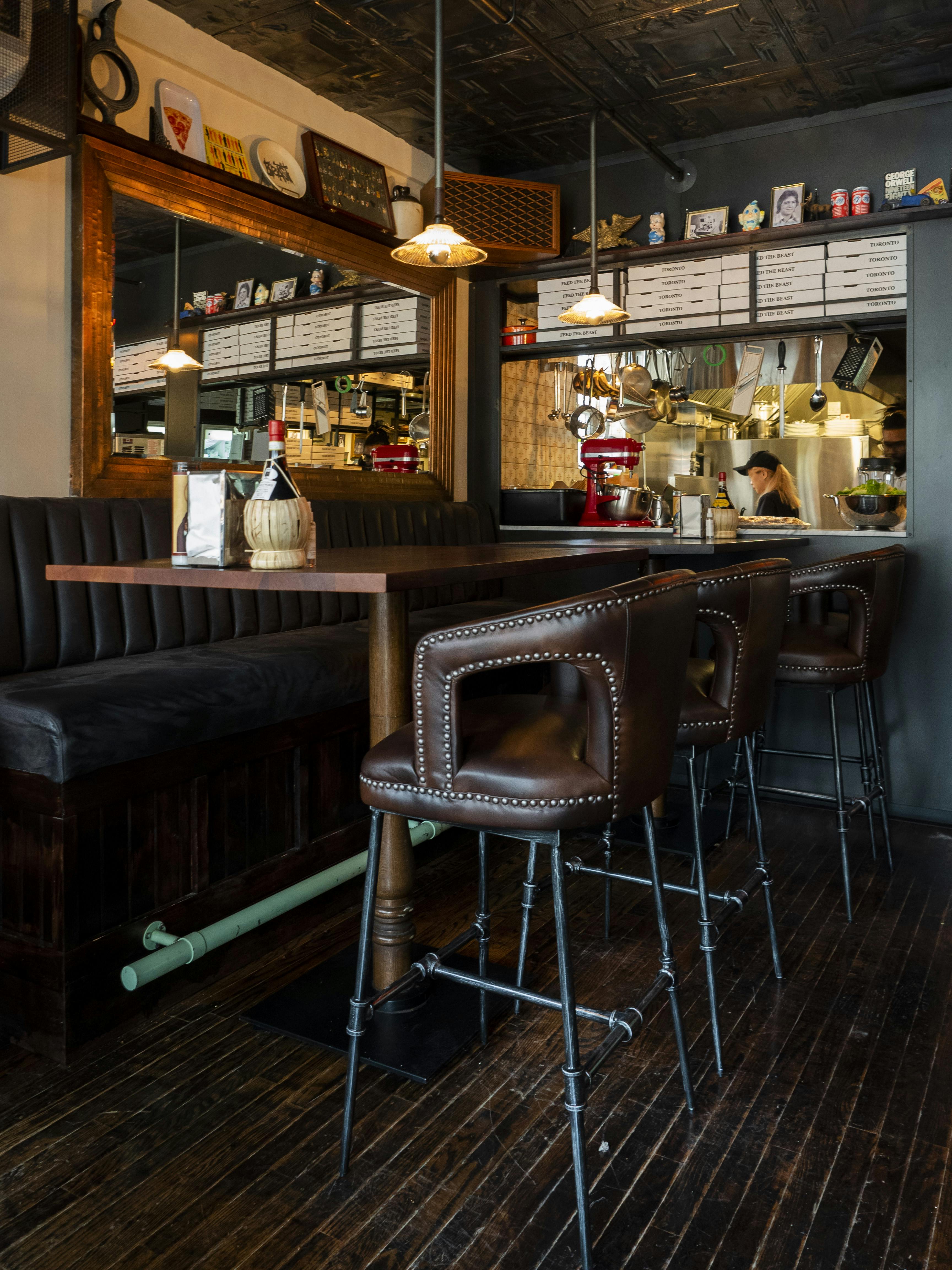 Housed at the same address, at 96 Tecumseth Street, Beast Pizza has been completely refurbished, based on Vivian's vision with help from Solid Design. The open kitchen, now bigger to accommodate Beast Pizza's larger staff, is furnished with state-of-the-art equipment, including a pizza oven from The Montague Company that heats pies to a sizzling 650°F. Large windows and a new door lead to an inviting room housing a full bar with six stools, flat-screen TVs, and a tin ceiling. "We have fewer seats but more staff based on the idea that takeout and delivery is going to be a huge component of the business," says Vivian. Once warmer weather hits, the space will grow to include a sun-dappled patio with red and white checkered tablecloths and retro, pizzeria-style candle-holders. From the beer taps and taxidermy, to the neon signs and cheeky votives depicting deceased celebrities, the mood is haphazard and decidedly welcoming. Family pictures line one wall, with cherished tchotchkes lovingly displayed under lock and key. Part tavern, part pizzeria, part homage to favoured things, Beast Pizza is comfortable, casual and entirely down to earth.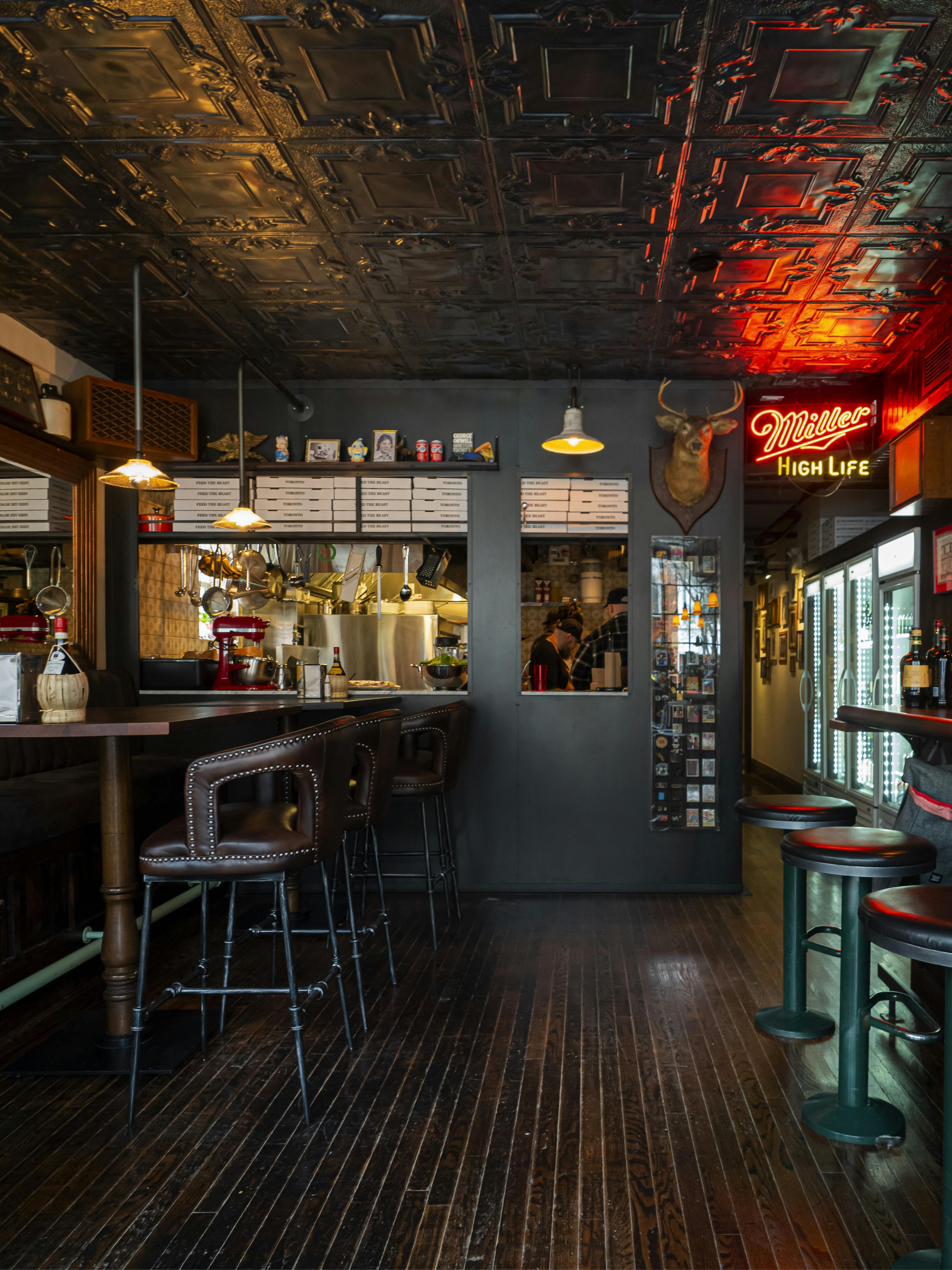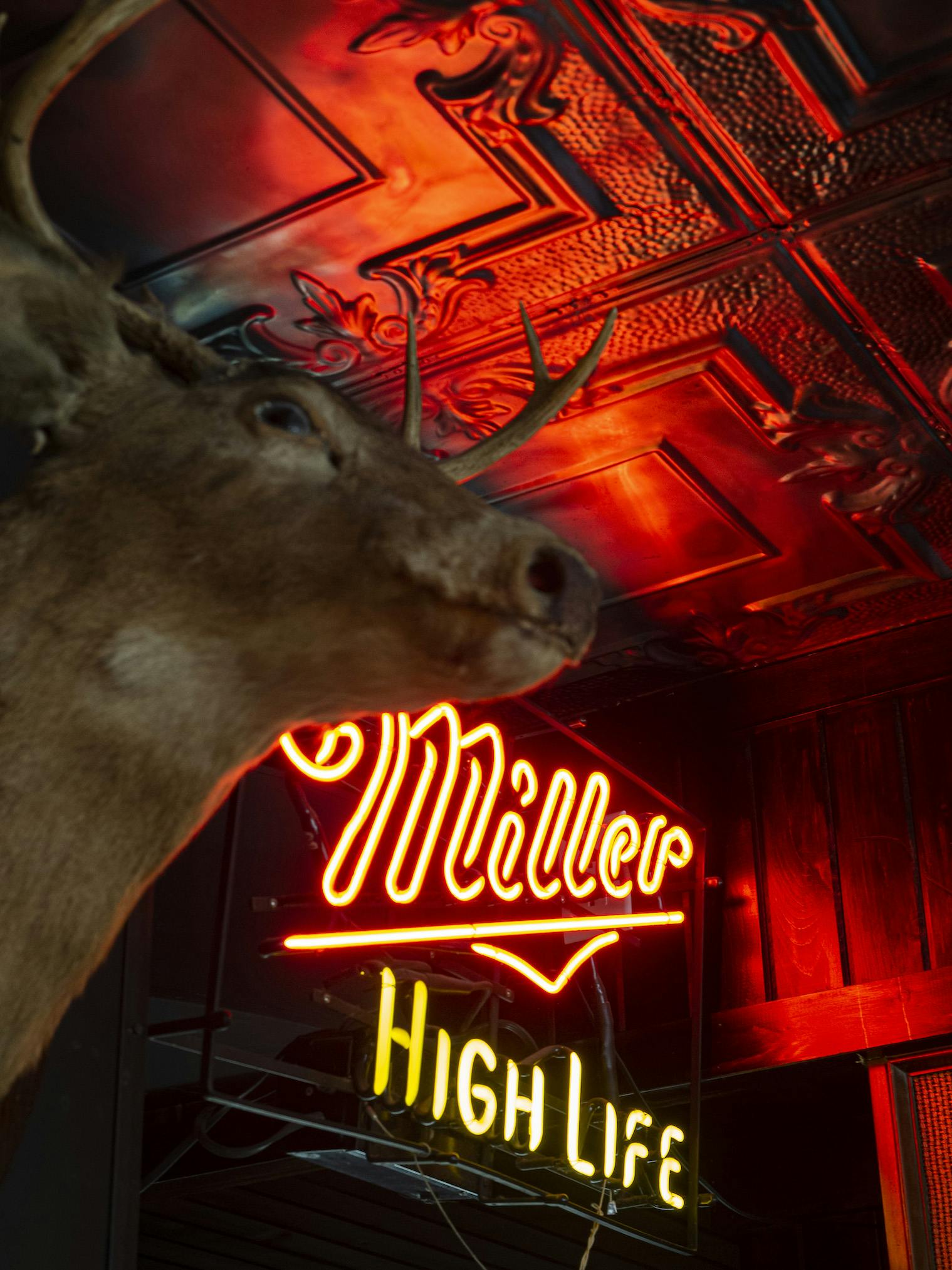 An important part of the redesign was ensuring everyone on the team, not just those in charge, enjoys more work-life balance. For Vivian, that meant taking a step out of the kitchen for the first time in 12 years. "The work-life balance was important to us and it was also important for our staff," says Vivian. "We had the opportunity, with being closed for renovations, to take a step back and make changes. …We were on pause, we thought, 'Ok. We have a fresh start. What do we want our space to look like as far as inclusivity and making sure that our staff are taken care of, feel comfortable coming to work and are paid a living wage?,'" he says, adding that the restaurant is now a certified Ontario Living Wage Employer.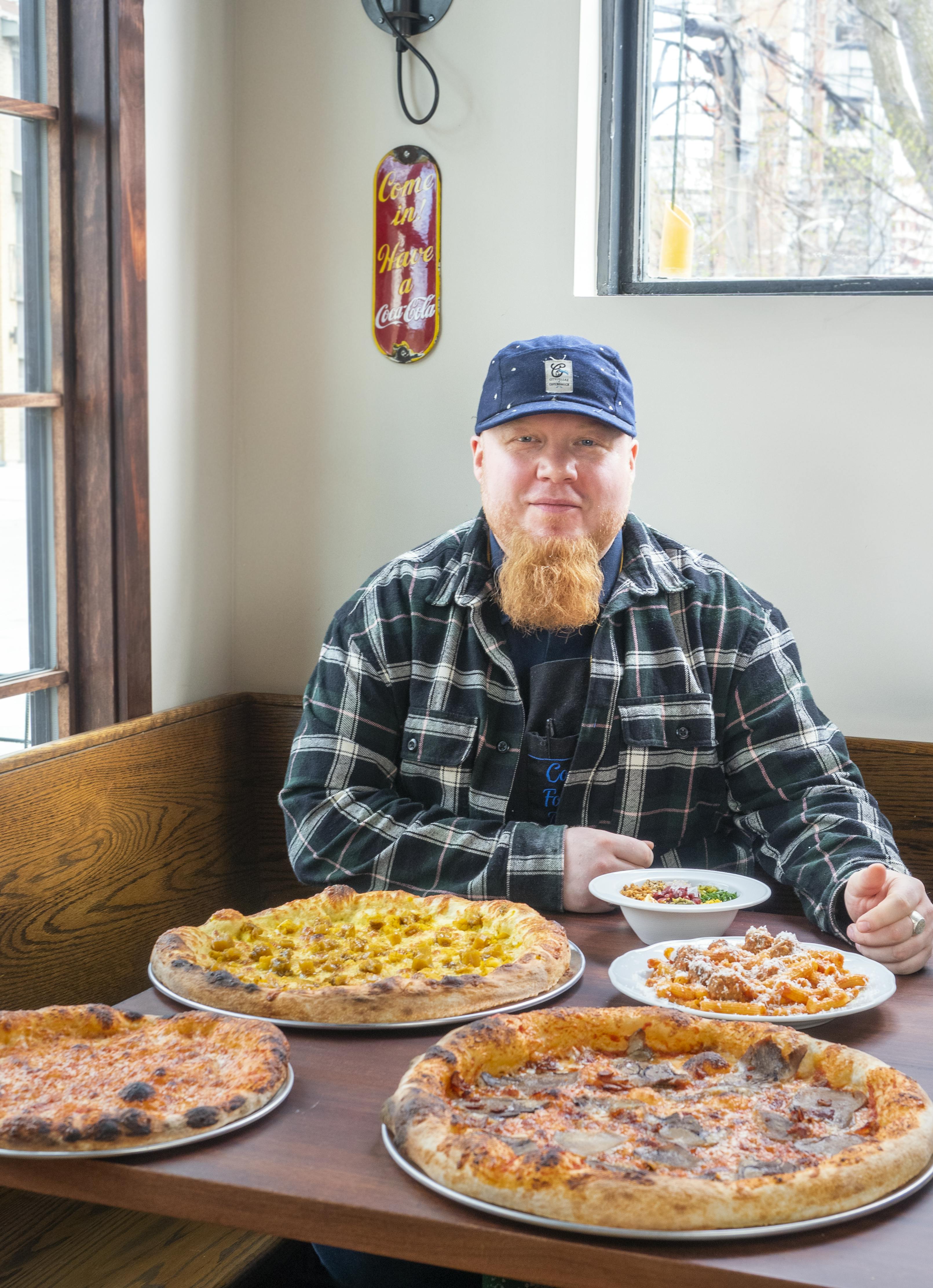 With Vivian working front of house, Middleton is the chef in charge. "The food menu is 100% Nate," says Vivian, adding that the two "bounce ideas off of each other," but that Middleton can take all the credit for Beast Pizza's menu. On that menu, guests will find salads and shareable plates, to begin. Kimchi olives, or cheesy garlic bone marrow with rosemary and sea salt bread ease guests in and make ideal companions to pre-dinner drinks.
A concise number of New York-style pizzas sit alongside specials inspired by the restaurant's whole-animal dinners. A popular feature at Beast 1.0, whole-animal dinners have, happily, survived the redesign. Available for a minimum of four guests, and with a week's notice, each whole animal dinner features the guest's animal of choice (with options ranging from rabbit and pig, to venison, and more) used in each of six courses, sometimes even dessert. "What pizzeria can you go to and have a pizza that has bison, or venison or rabbit, and that kind of stuff?," says Vivian, excitedly. "Eventually, we'll start switching things up," adds Middleton, referring to the pizza menu. "The whole animal dinners will help. We'll have brought in a lot of product and we'll have product left to use."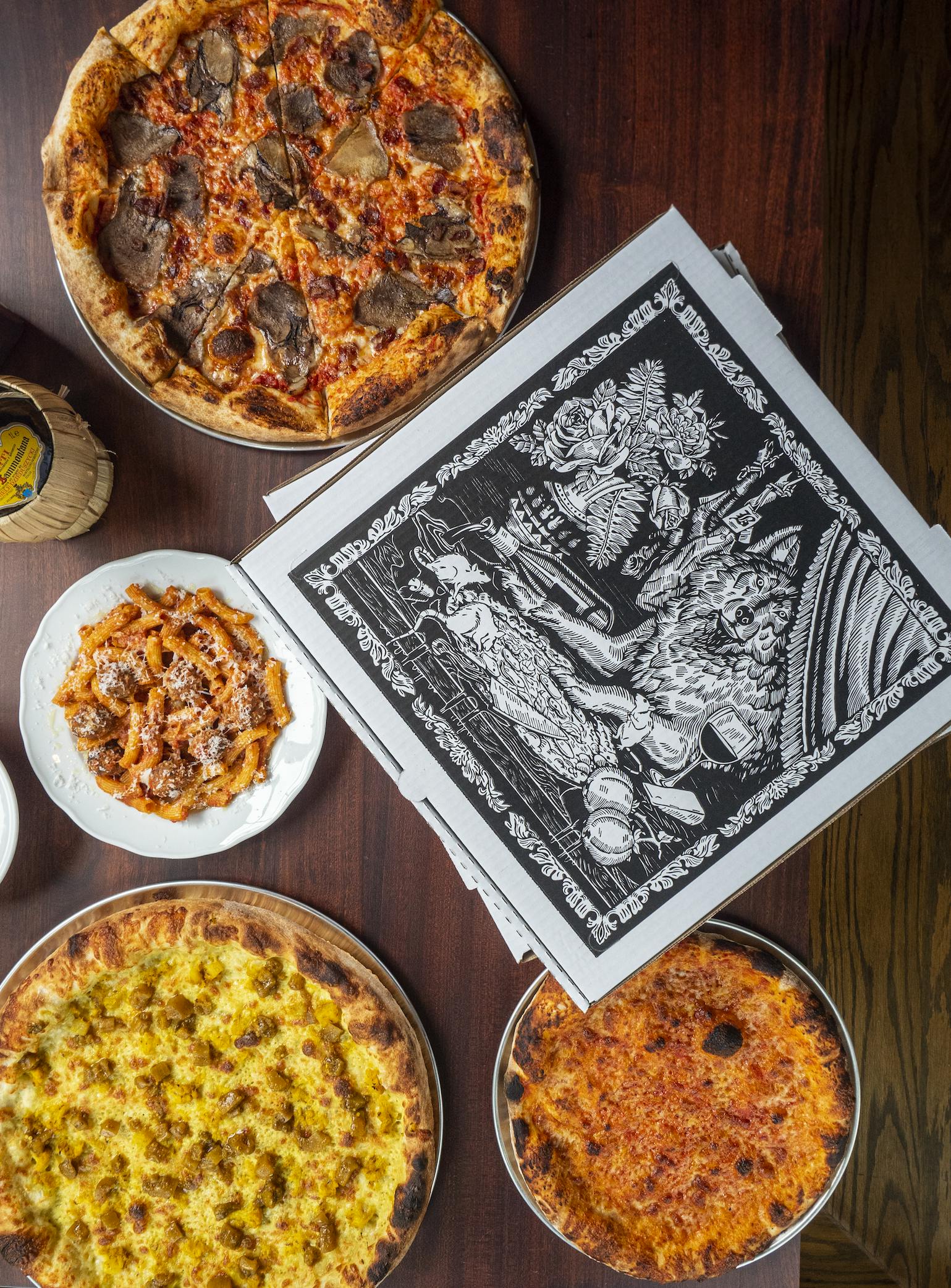 For now, there are seven pies on offer, including two which are only available for customers dining in the restaurant. "You can't escape a pepperoni, or a mushroom," says Middleton. "Same with a white sauce, and a cheese. Those things … I want them. I know everybody else does, too. Outside of that is where we can have some fun and stay true to kind of what Beast is, which is chef-driven, fun pizzas." Built on a poolish dough that takes three days to make, and requires its own dedicated "dough person," Beast Pizza's pies are exquisite. The dough is the perfect thickness to avoid flopping while holding up to a sufficiency of toppings. Easily folded -- in true New York style -- each slice is light, crisp on the bottom, and toothsome. "It has to look big but it's not filling," says Middleton, when describing his perfect NYC pie. "You can have a slice and you're not so full that you don't want to keep eating." Trust us when we say, after one slice of a Beast Pizza pizza, you'll want nothing more than to have another, and another, and another.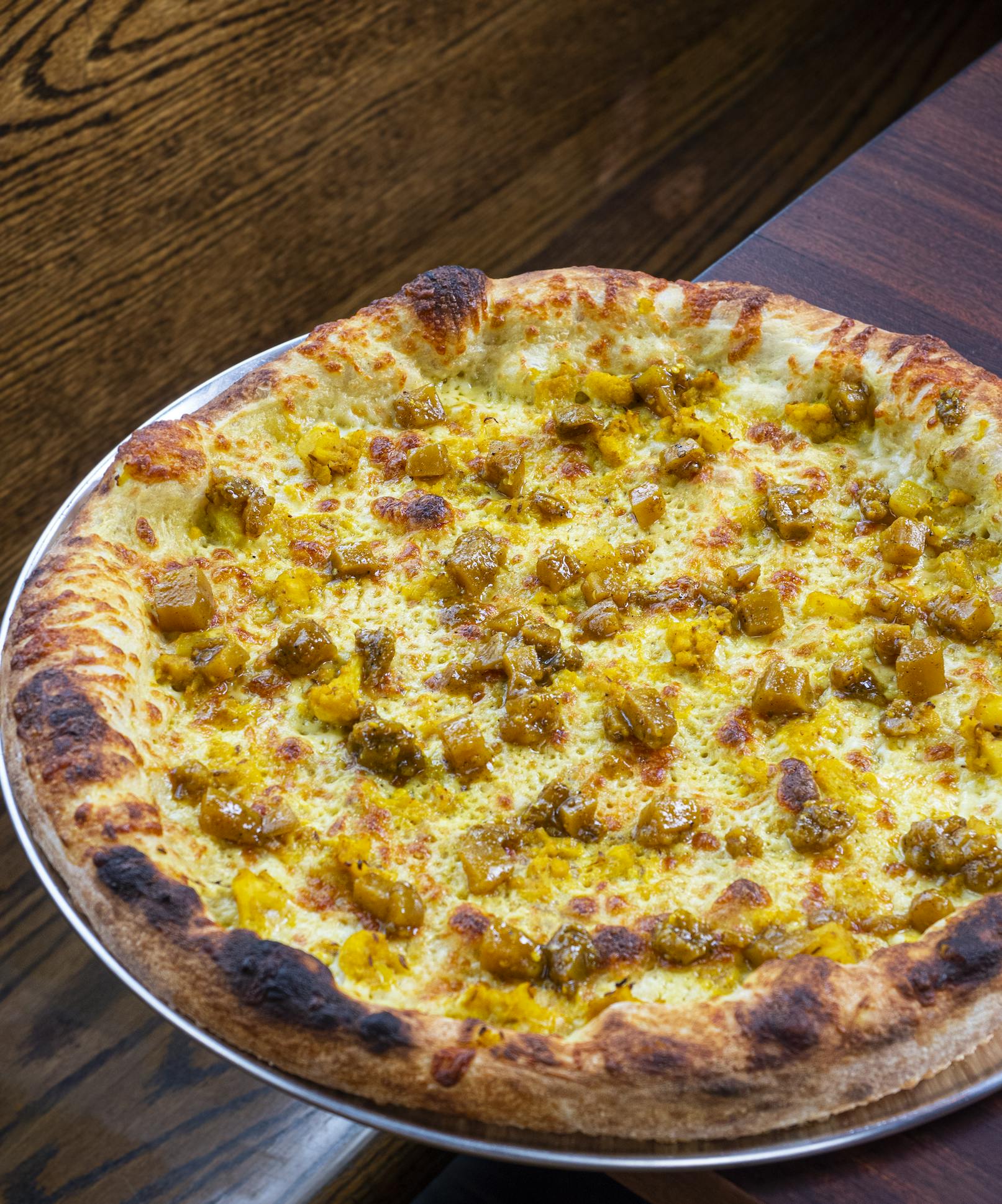 Aloo Gobi combines Vivian's recipe for cauliflower and potato curry with coconut milk white sauce, mozzarella and house-made brinjal pickle. "Pizza is good because it's a blank canvas," says Vivian. As a vehicle for the team's aromatic vegetarian curry, hit with pops of pickled eggplant, it's never been better.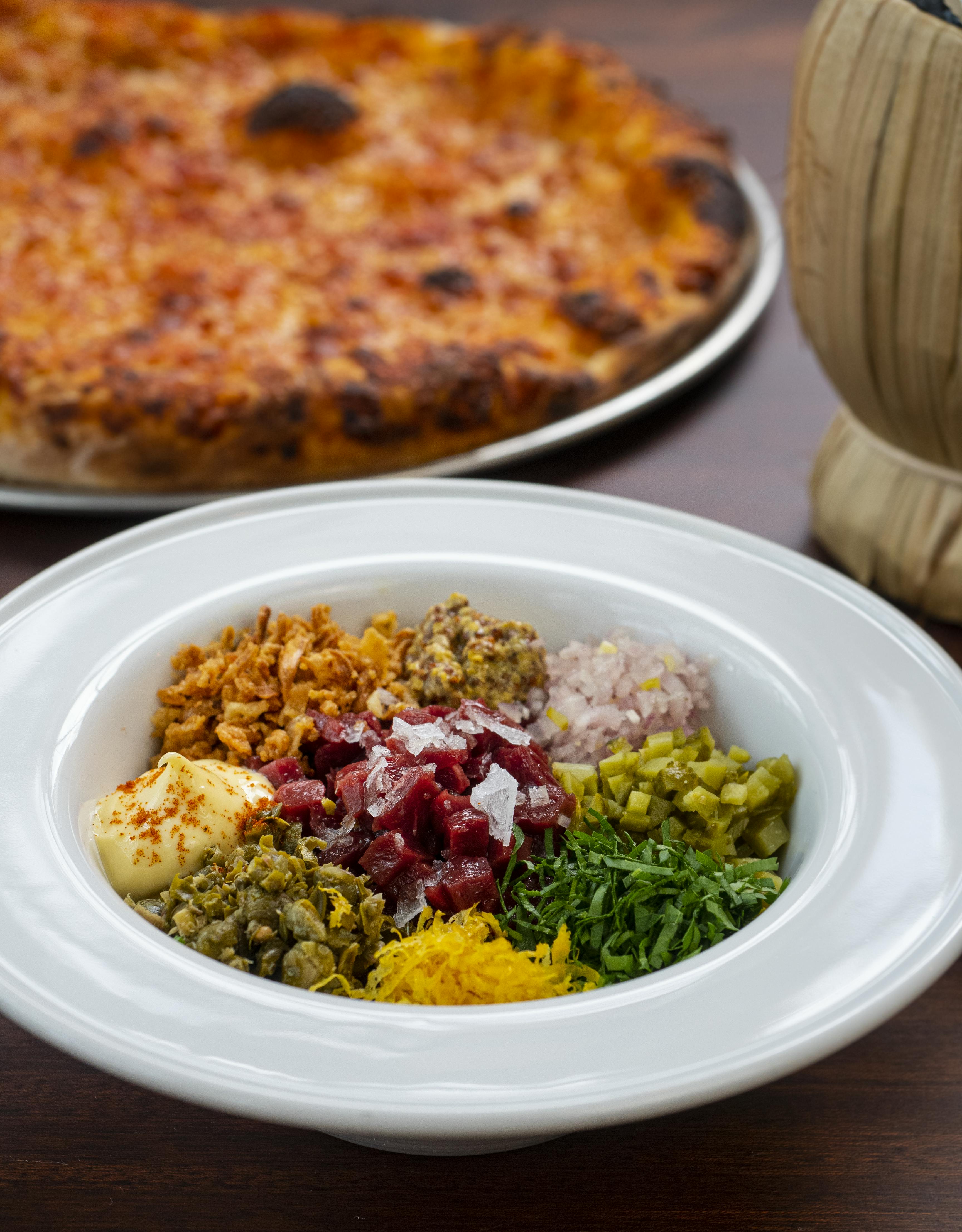 Available for dine-in, the 12-inch Beef Heart Tartare pizza is innovative, and "really f@#%ing delicious," according to Vivian. "Beef heart is very lean. We use full-fat mozzarella to add some fattiness. Neither of us had ever put tartare on a cheese pizza before, but …it made sense, conceptually," he adds. Order one and you'll be presented with a cheesy, molten pizza you'll want to dive into straight away. Instead, dip into the side-bowl of toppings, piled high with the tartare, pickles, red onion, crispy shallots, mustard, Kewpie mayo, and capers, and tailor each slice to your liking. No two will be exactly the same, but between the cheese, the gamey beef, the creamy sauces and briny bites, each one is exactly what you never knew you wanted to eat.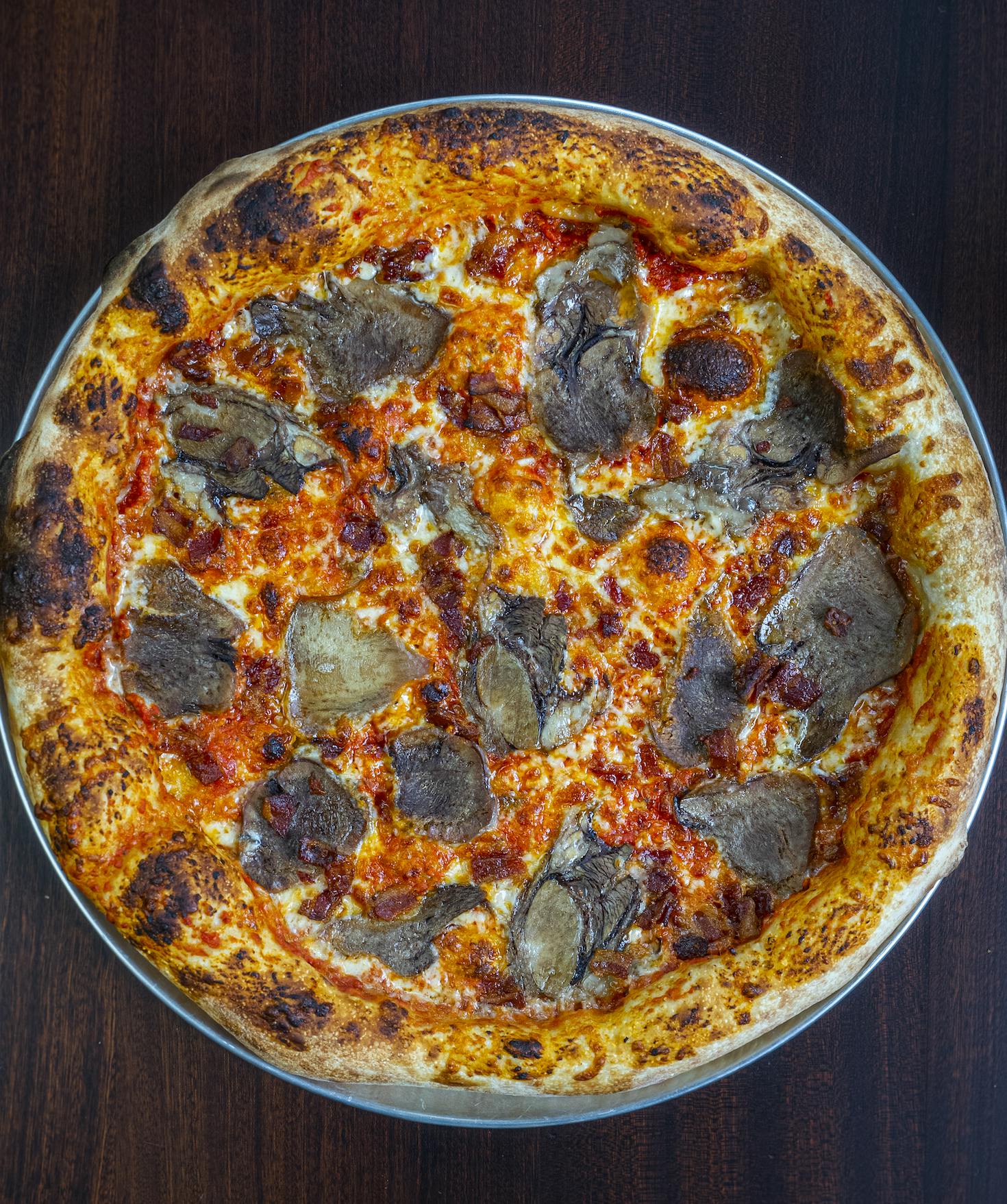 Another pizza that grabs the Beast nose-to-tail philosophy by the … tongue… is the Tongue and Bacon. A seemingly simple offering, it relies on the kitchen's perfect crust, light hand with red sauce, thick-cut, smoky bacon and thinly-sliced organ meat for a winning combo.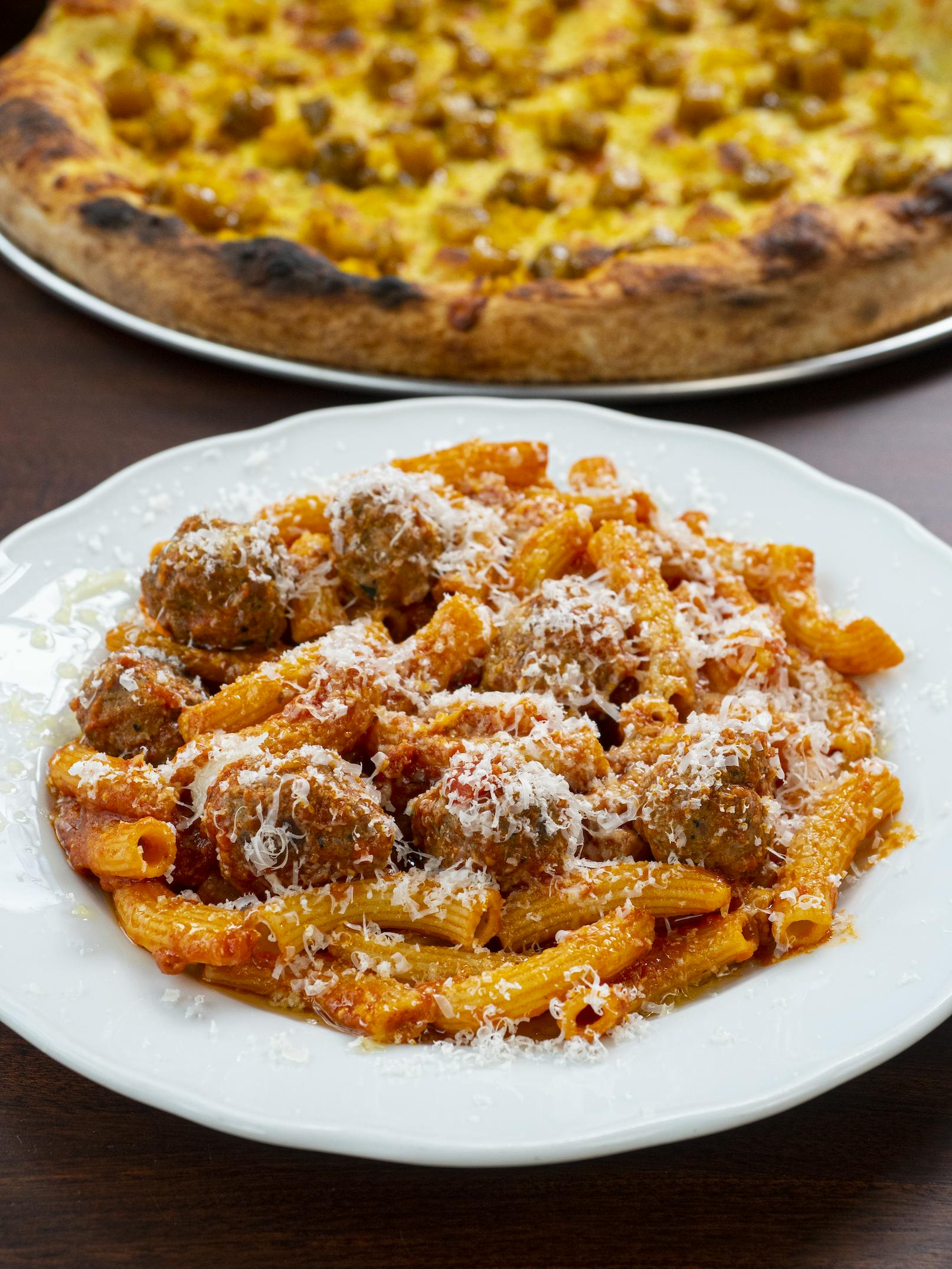 As with the pizza menu, the pasta choices will change based on the ingredients the kitchen finds at their disposal each week. "The pastas will be exciting and different," assures Vivian. "It takes the whole animal dinners to give the whole effect of exactly how we envision this space." Built on fresh-made noodles, and available in two sizes, the house pastas include Fusilli Alfredo, with optional uni, and Maccheroni & Tiny Meatballs. With a mixture of beef, pork and veal, the team's meatballs are light, tender and packed with more flavour than seems possible for their dainty size.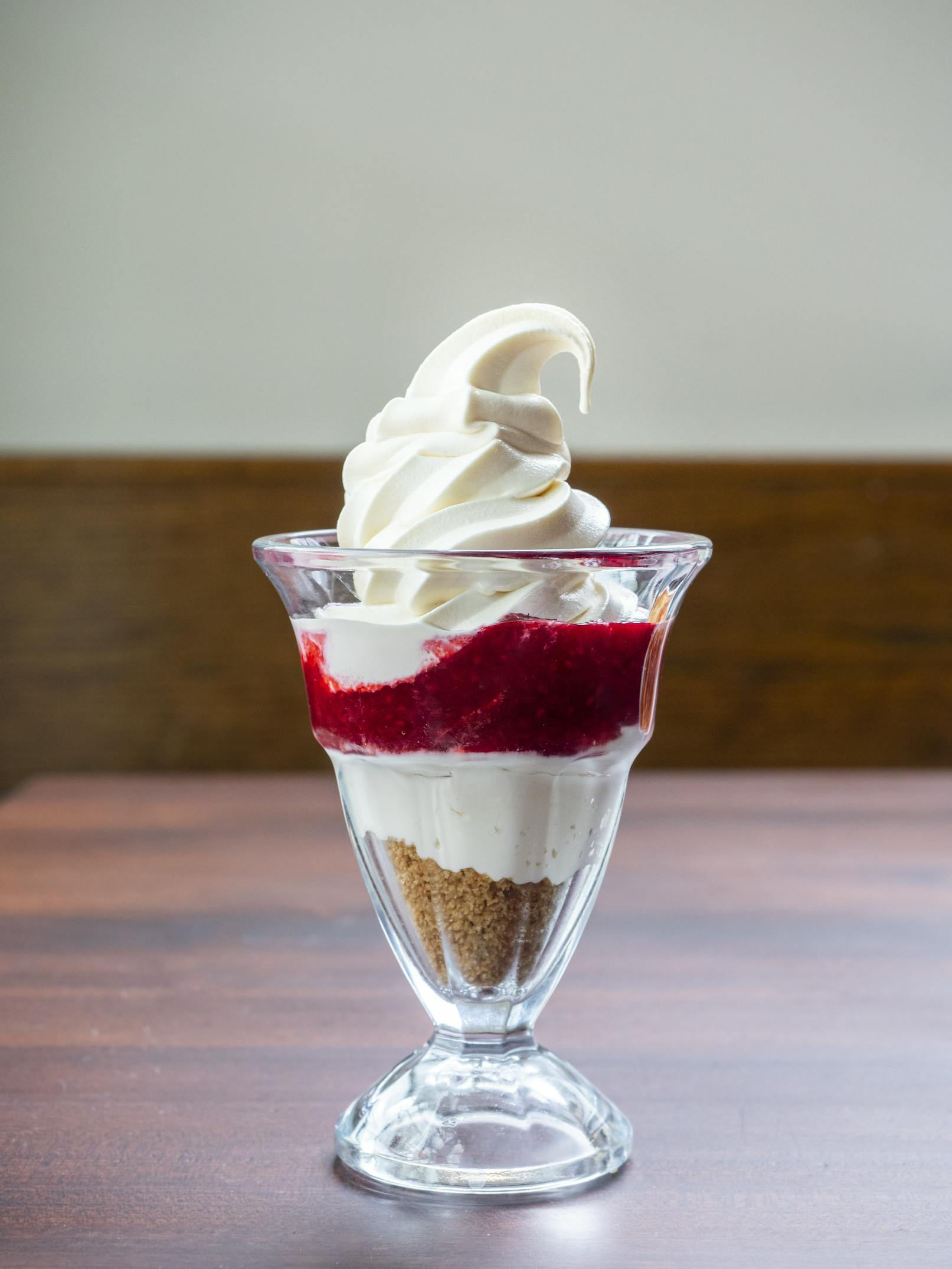 Like the best desserts, Beast Pizza's are unfussy, deeply satisfying sweets that harken back to childhood and rely on beloved family recipes. Middleton's own Grandma Betty is the inspiration behind the Raspberry Cheesecake Sundae, made with graham crumb, house-made vanilla soft serve and raspberry sauce. Twinkie-shaped cakes, meanwhile, are a reinvention of the classic, upgraded with crowd-pleasing flavours. From a Carrot Cake rendition to a Twinkie stuffed with Nutella and crowned with toasted marshmallow, it's clear that pizza isn't the kitchen's only forte.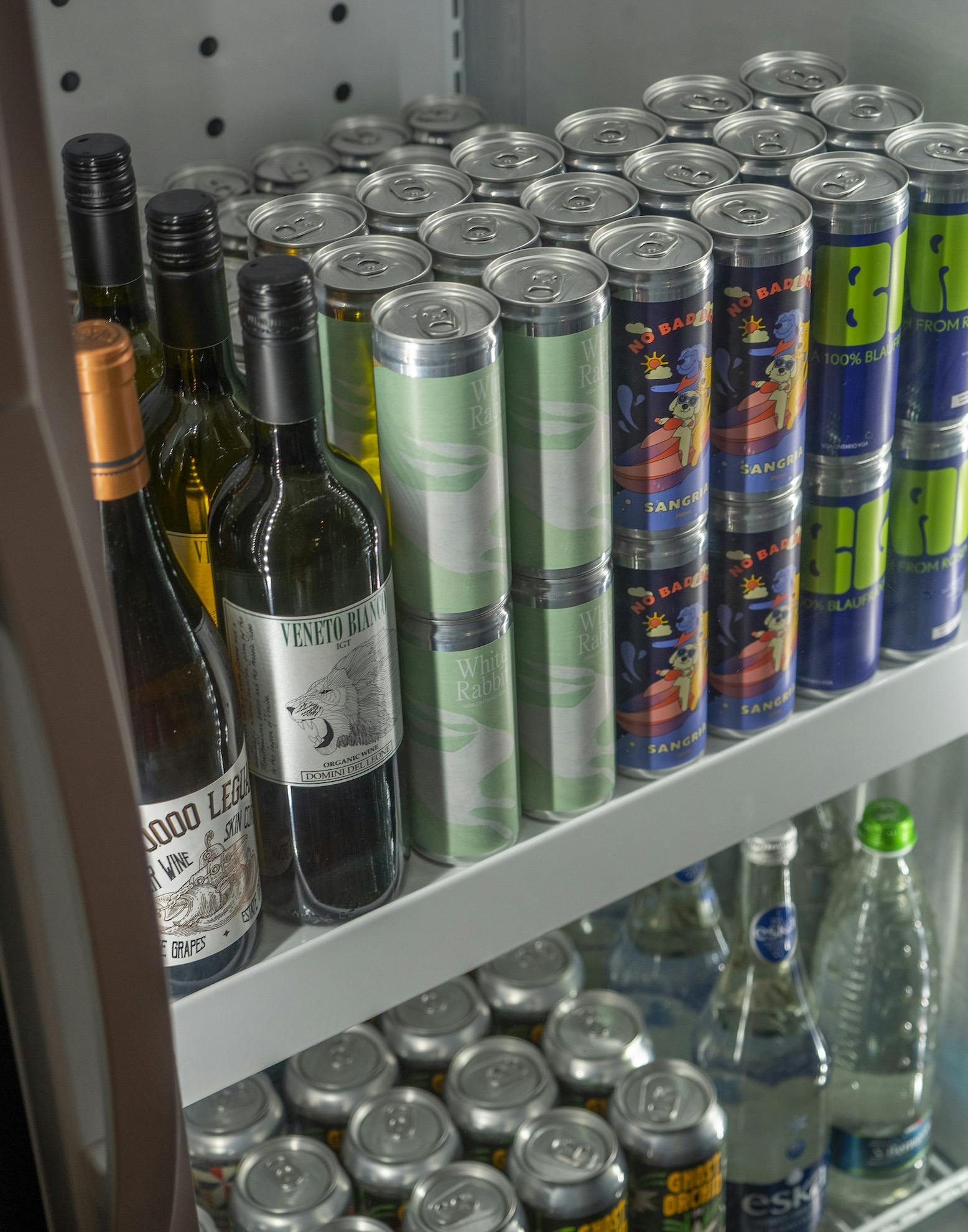 Every drink in the restaurant was chosen because, go figure, it goes well with pizza. Inspired choices include a healthy assortment of locally-sourced craft beers. "We tried to highlight fewer breweries but more beers from those breweries," says Vivian. "We're doing Blood Brothers and Bellwoods, from the west side. Right now, Godspeed from the east side. Two out of town breweries, Beyond the Pale, which is from Ottawa, and Matron, which is from Prince Edward County." Almost entirely natural, the wine list features mostly European bottles, with a few VQA options also on offer.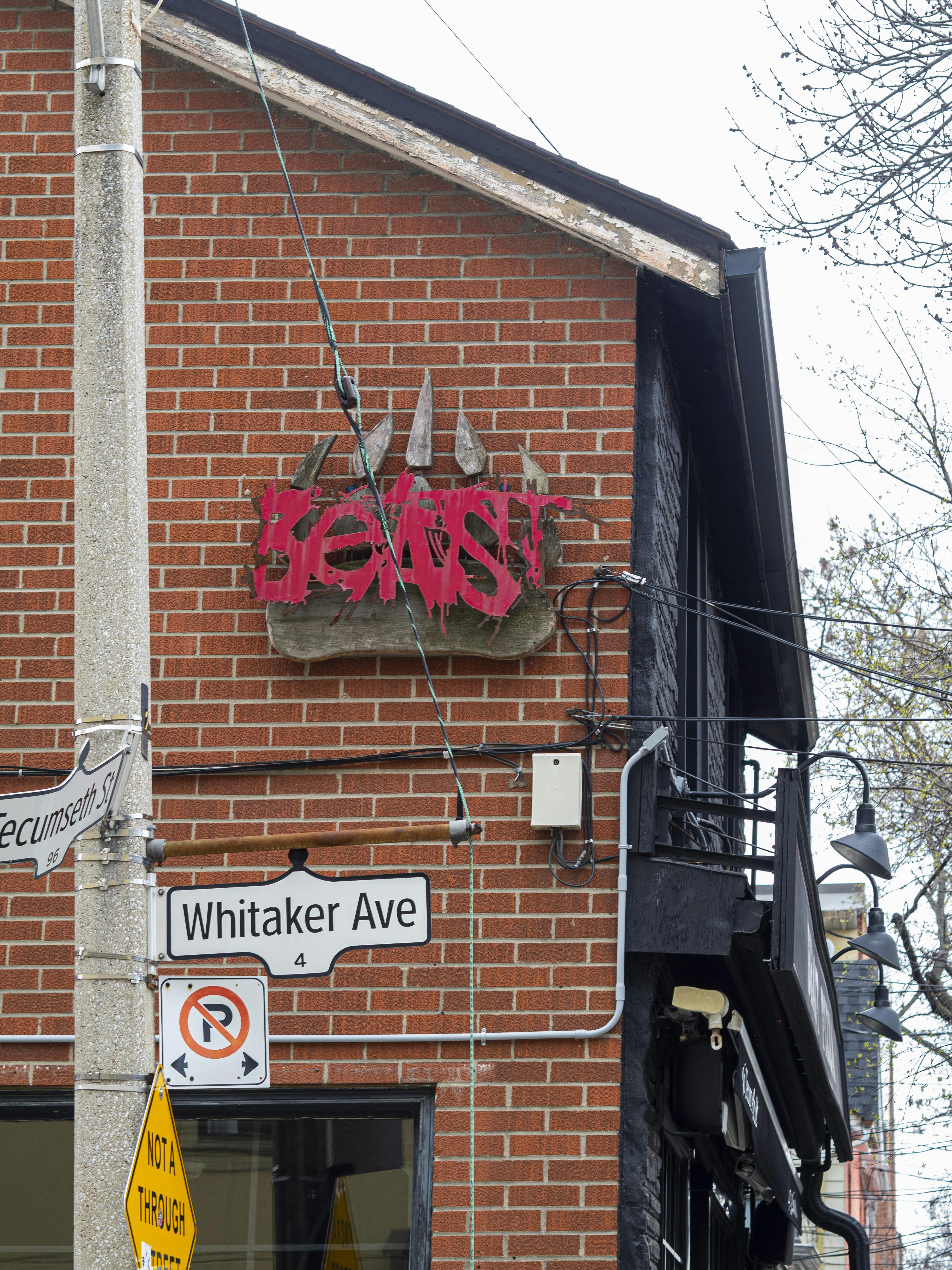 It's clear that the team at Beast Pizza is having fun. It's producing a remarkably delicious, satisfying selection of dishes at the same time as it rides a weekly wave of inspiration based on the protein-rich treasures of the walk-in. "We're trying to stick to quality not quantity. Starting off slow so we can make sure we're doing everything properly," says Vivian. "I learned from opening Beast, sometimes when you rush into things it's more difficult to catch up than it is to do it right from the beginning." When you're as good at what you do as these guys, you don't have to try hard to impress. You just let your beef tongue pizza speak for itself.